Fire: Actress, Model-And "Boxing Diva" Who Wasn't
by Hamilton Nolan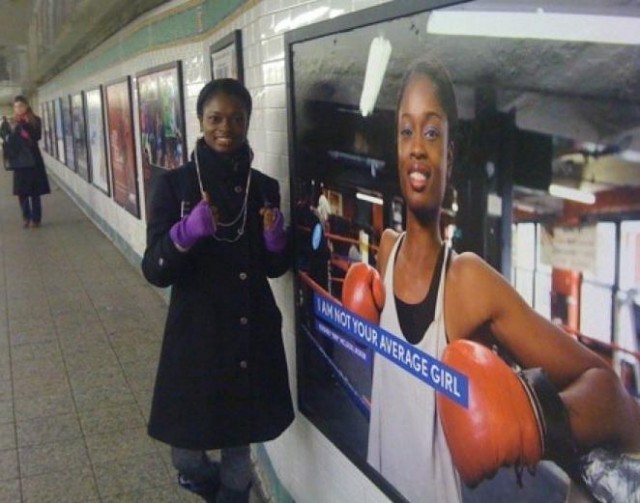 Everyone calls Keisher McLeod-Wells "Fire" — or, more formally, "Fire the Boxing Diva." That second one is a bit of marketing hype, though, as she's generally very un-diva-like, and can often be found working the front desk at Gleason's Gym, perched behind an old desk from some long-forgotten school.
Fire is a rare species: the professional boxer-model-actress. The acting and modeling came first. She's 33, and she's been boxing since 2002, when she wandered into the gym after her agent suggested to her that she'd have a better shot landing a role in Terminator: 3 if she got some muscle on her arms like Linda Hamilton. And boxing just seemed like a natural, for that, though she was "not a boxing fan" at the time. A year later, she had her first amateur title; now she's a pro. She says that the novelty of her boxing career has helped her land modeling gigs (you can catch her plastered all over the New York City subway system right now in ads for NBC New York, bearing the slogan "I am not your average girl." NBC didn't pay her for that one, she noted, a little ruefully). In this sense, she is luckier than the average mono-careerist schlub: she can pursue acting, modeling and boxing, and pick whichever one works out best: "Right now," she said, "it's boxing." Fighting, with fists, for money, has proven to be easier than making a fortune at modeling.
Fire's style, appropriately, does not involve slugging it out until one girl or the other drops with a newly misshapen face. She's all long arms and legs, sticking and moving, using her reach and speed. She had her fifth pro fight on February 9th at B.B. King's, in the heart of Times Square. Hers was the sixth fight on a nine-fight card, and the only female bout. That's good; only three fights were judged to be bigger than hers. Equality creeps into our nation's most testosteroned corners, slowly but surely.
The night began with Allan "El Mexicano" Benitez's pro debut, which was ruined — sombrero and all — by Newark's Joseliz Cepeda, who found the following holes in young Allan's defense: the right to the body, and the right over the top to the head; and, in the later rounds, also the left to the body, and the left to the head. Once Benitez takes care of those flaws, who knows how far he could go?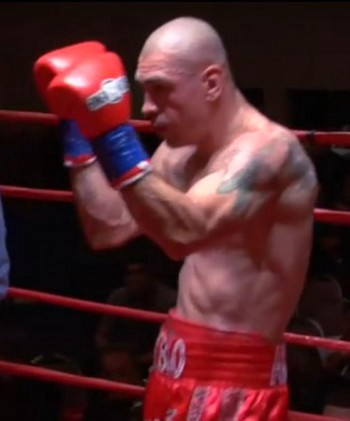 California's Ishwar Amador brought a ton of fearsome accoutrements into the ring with him: his nickname, "El Diablo"; a fierce red-spangled devilish hoodie to match; and cornermen sporting t-shirts from "Capital Punishment Boxing Club," which seems like a harsh brand, even by boxing club standards. When the announcer read his name he held up his arms in a fearsome "X" symbol. His opponent, Steven Martinez, was completely guileless, skinny in plain blue trunks, a downright nice-looking kid, who knocked out El Diablo one minute and eleven seconds into the first round with a hook-right-hook that pounded the consciousness out of him sequentially, so that after the last punch his eyes went glassy, and his body slumped, in what I imagine is the same way someone acts when they die.
Deano "Badnewz" Burrell, half of a London-born pair of twins that have moved to Brooklyn to pursue boxing careers (and, like Fire, train at Gleason's), was up next, with his second pro fight. The way these things usually work is, the prospect (Deano) is eased into his career with ten or fifteen easy fights that he's bound to win, which get progressively more challenging (though not challenging enough to actually lose), until his record is gaudy enough to earn him a shot with a big-name fighter. The way the thing worked on this night was that Burrell was matched up with Sidell Blocker, whose 0–3 record marked him as an easy opponent, but whose egregiously long arms and awkward style marked him as possible trouble.
Blocker's reach was his salvation. He was clearly the inferior fighter, but his arms were so long that, even though Burrell was able to slip most of his gawky, swinging punches, he ended up so far away that Blocker's defense was reset by the time Burrell could step back in range to counter. And even though Blocker whiffed on about four out of five of his big hooks, every fifth one landed. In the first round, Burrell caught one that bruised his right eye, and got mad. He started rushing in, off balance, throwing big overhands, trying to take Blocker's head off. As a consequence, he went down in the first round, and again in the second, both times less a "knock down" than a case of his body getting away from his legs. Burrell, raging, kept loading up on his punches, which served to make them slower, which served to make Blocker look more competitive than he actually was. In the end Blocker won a disappointing decision. Burrell will be fine, as long as his managers line him up some normal, wildly inferior opponents who aren't long-armed enough to keep him out of punching range.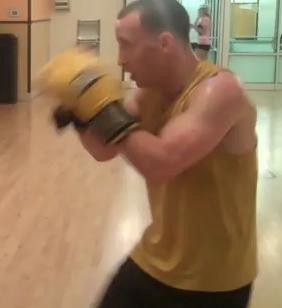 The act that Fire had to follow was Boyd Melson, a thoroughly mediocre fighter but enough of an Inspirational Good Guy to make you sick. Not to go into his whole damn story, but he was an Army veteran and after his fight was over he gave a speech urging everyone in the crowd to donate to spinal injury research, name-checking his wheelchair-bound friend in the crowd while surrounded by more than a dozen West Point cadets. I mean, man: talk about poisoning the well of bloodlust. The only notable thing about Melson's fight was a stern-looking man who I assume was his father (or Father Figure) who kept barking out combo sequences for Boyd to throw during the rounds: "2–3–2! 4–6!" As if he could seamlessly listen, mentally translate those numbers into punches, throw them properly, and score a K.O., thanks to the hollering guy at ringside. (He couldn't; he was busy being in a fight.) Boxing has stage dads too, apparently.
Fire came out in a gold tank top and miniskirt-looking trunks with a red belt, for the full Wonder Woman effect. Her opponent was "Mighty" Melissa McMorrow, a five-foot-nothing fireplug from California with cornrow braids and a Tysonesque pugnacity. The fight was as straightforward as it gets: tall vs. short. Outside vs. inside. Reach vs. power. If Fire could move, stay away and use her reach, she'd win; if McMorrow could go low, get inside and bang hard, she'd win.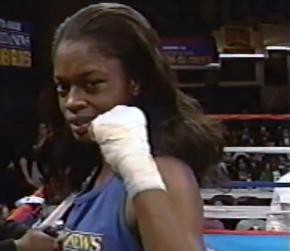 Reach in boxing is what height is in basketball. It's a natural advantage, a factor that will, all other things being equal, allow one fighter to beat another. It's not impossible to overcome by any means; there's a long and proud tradition of short boxers with short arms. There are a few different ways to beat someone with a longer reach than you. You can duck low under their shots and weave your way in, pop up inside, right under their chin, and suddenly their long arms are a disadvantage, being that you're so close and all; you can time them, slipping their long punches and then shooting inside, hitting them, and pulling back out of range; or, if you're of a certain punchy disposition, you can just walk through their punches, taking what they have in order to get close enough to hit them yourself.
But in every contest in which one fighter has a longer reach, there is a zone, a certain box of space between the two fighters, in which the fighter with the longer reach can hit the opponent, while the opponent cannot reach them. Smart fighters with long arms, therefore, endeavor to keep their opponent in this space constantly — they punch, and move back, allowing the opponent to always be moving forward into that free fire zone; smart fighters with short arms endeavor to only be outside that space (farther away) or inside it (closer), but never to spend much time in it.
The drawback faced by the taller fighter, though, is that they end up punching down at their opponent, and downward punches are weak, because you can't put your legs into a punch that's traveling down. (Try it.) Fire spent the first two rounds doing exactly this at McMorrow, and the shorter girl did manage to rush inside and smack Fire repeatedly with overhands to the face. But in the third and fourth, Fire found her groove; she pop-popped one-twos to McMorrow's head as she moved in, then spun away, moving back, keeping her distance. As the rounds progressed, fatigue took hold, and McMorrow's hands began to drop as she rushed in, making her even easier to hit. She did indeed fight mightily, but after a rough beginning, Fire's reach and movement won her a unanimous decision.
The only thing missing was some male ring card models, for the sake of equality.
I'd pitched a story about this fight to a magazine; the magazine declined it on the grounds that they didn't want a story about a girl getting beat up. Fire did not get beat up. But in the next fight, Angel Gonzalez, who looks quite a bit like Radio Raheem from Do The Right Thing, got TKO'ed by Irish Seanie Monaghan. Gonzalez did, in fact, get beat up. When the ref stopped the fight at the end of the third round, he gave an angry, animalistic roar, raging against the man who'd taken away his right to keep trading uppercuts. Gonzalez appeared to have lost a tooth. Or maybe it was already like that.
Previously:
• Boxing Is a Bad Job, Badass
• Douchebag as Role Model: The Case of Paulie Malignaggi
• Five Lessons from the New York Golden Gloves Finals
• The Glorious Racism of Boxing
Hamilton Nolan is the media editor of Gawker.