ChicLeaks: The Wikileaks Fashion Cables
by Mike Albo and Mikki Halpin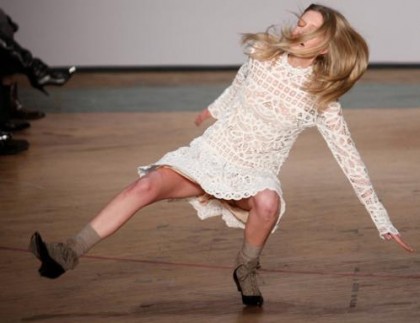 To coincide with fashion week, Wikileaks has released a series of encrypted cables and classified internal memos from the fashion industry. This is an exclusive advance excerpt of their forthcoming massive data dump — sure to shake the community to its core.
HAUTE/USFASHION USUN NEW YORK 1371
2011–01–04
C O N F I D E N T I A L SECTION 01 OF 04 WERQUE 000005
SUBECT: UNDERCOVER SOURCE REPORTS UNREST AT XXXXXX'S ATELIER
REF: SASHAY CHANTE
SUMMARY: Our asset [codename: WESKIT] in XXXXXX's atelier reports that the regime continues to crumble. The rumor we planted on Twitter that the next collection will be a "Jersey Chic" tribute to Snooki has paid off — editors and investors aren't returning his calls and even XXXXXXX is skipping his show. (She's rumored to be back on her meds.) He only has enough money to make it through the end of Fashion Week, even if he cuts back on the tanning salon.
COMMENT Suggest we watch and wait. It's possible consumers will actually want to wear Jersey Chic at $500 — $5000. They wear XXXXX, after all. As a backup, we could escalate the Twitter campaign, start telling people he lives in Brooklyn. END COMMENT
HAUTE/USFASHION USUN NEW YORK 9917
2011–02–10
C O N F I D E N T I A L SECTION 513 OF 02 RAYON 000005
SUBECT: BACKSTAGE INTEL
Classification: BREAKING
The photos you're seeing from the FW2011 shows are only telling half the story. MXXXXX-BXXX has disabled communication in the tents as part of the coverup. XXXXX's models didn't appear disheveled and shellshocked as part of an artistic statement — that look is so over, anyway — the mannequins had rebelled backstage against the 10-inch platform hooves, 30-lb wigs, and 25-lb chain mail onesies they were supposed to wear. Unfortunately, the models were too tired and hungry to make their demands forcefully, and everyone backstage was so busy admiring the authenticity of their sullenness that the uprising went completely unnoticed. It was only when the music began that the stylists realized the girls weren't getting up from their chairs in hair and makeup. XXXXX tried luring the girls to the catwalk with food, but, as one of them texted to her boyfriend, "These getups weigh more than we do!" The situation became critical. Luckily XXXXXX had this great new medicine designed for horses that got everyone moving fast.
COMMENT Suggest we investigate, find out who XXXXXX's veterinarian is. END COMMENT
INTERNAL EMBASSY COMMUNICATION
FROM: PARIS BUREAU
TO: XXXX, STATE DEPARTMENT
Priority: HIGH
Sir,
I regret to inform you that despite the fact that, as you put it, "Those Frogs would be speaking German if it weren't for us," French Vogue has informed me that under no circumstances will they accept your daughter as an intern. It seems your support of their now-deposed dictator has incurred some lasting resentment. In order to assure future junior years abroad for the diplomatic corps, suggest we look into winning back these hearts and minds.
HAUTE/USFASHION USUN NEW YORK 847365
2011–02–4
C O N F I D E N T I A L SECTION 6 OF 02 PLASTER 97A
SUBECT: POSSIBLE CONSPIRACY
Just wanted to inform you that we are investigating several reliable reports that no one in the industry really thinks long skirts are in, and the maxi trend was invented simply to fuck with stockings and sock manufacturers.
HAUTE/USFASHION USUN NEW YORK 4003
2010–05–09
C O N F I D E N T I A L SECTION 513 OF 02 VELVET 000005
SUBECT: REQUEST FOR OPERATION TWEEN CREEK GREENLIGHT
Classification: HIGHEST
SUMMARY We have good intel that 13-year-old blogger XXXXXXXX (codename: LILGRANNY) plans to file for emancipation, move to New York and release her own collection. It's critical that we get an agent in place as the operation ramps up. Having an asset with access to this new player could pay off for years to come. Surely someone has a daughter we can send to the school for reconnaissance, or friend LILGRANNY on Facebook. This is a relationship we need to develop. What about that girl who couldn't get the internship at French Vogue?
E.O. 12958: DECL: 01/04/2011
SUBJECT: An albino trend is affecting magazine production
REF: 09 FNGHUB 1643
Classified By: XXXXXXXXXXXXXX for reasons 1.4 (b) and (d).
SUMMARY An asset we've been cultivating at XXXXX XXXX publications reports that skin lightening is hastening the death of fashion magazines.
Source reports that J.E. Alberti, the hot young albino model, has set off a craze amongst editors for alabaster skin. Top spas have installed skin-whitening vats that are already booked through June, and one magazine lost two-thirds of its staff when their complexions were deemed off trend. Other mastheads are being similarly slimmed-down and Donatella Versace can't get anyone on the phone and everyone is unfollowing her on Tumblr. No one is meeting deadlines and many of the world's biggest fashion magazines are in danger of stopping publication completely. END SUMMARY
COMMENT While this intel is a fascinating look into the behavior of fashion magazine editors, it's ultimately useless to us in terms of providing mission support. No one even reads fashion magazines any more. Have asked source to see whether any bloggers are bleaching their skin. END COMMENT
DIPLOMATIC COMMUNIQUE
VIA COURIER
EYES ONLY
From: XXXXXX
To: XXXXXX
Classification: HIGH QUEEN
We are still awaiting the secret seating charts you promised in exchange for our silence on the matter of your attempt to launch a Golden Girls trend and our offer to pay for removing the life –size tattoo of Estelle Getty you got on your back. We have photos and we will use them if the report is not at the dead drop tomorrow.
INTERNAL EMBASSY COMMUNICATION
FROM: PARIS BUREAU
TO: XXXX, STATE DEPARTMENT
Priority: HIGH
Have it on good authority that Rag and Bone is collaborating with Opening Ceremony, Swarovski, Proenza Schouler and Marni to create a line of fitted v-neck white tee shirts which are so perfect and fitted you will totally die. You have to promise to wear them only once and then destroy them before you can even get on the waiting list. They go for $10,000 each, $25,000 for a three-pack. Have inquired into embassy discount.
HAUTE/USFASHION USUN LONDON 9917
2011–02–10
C O N F I D E N T I A L UNIT 22 MOBILE
SUBECT: BACKSTAGE INTEL
Classification: BREAKING
This just happened: Model XXXXXXXX threw up a piece of felt backstage at the Burberry Prorsum show. Head designer XXXXXX wanted to auction it for charity but his co-designer boyfriend wanted it for their Regurgitation Resort collection. The model is demanding the felt be repatriated — this could be fashion's Elgin Marbles.
HAUTE/USFASHION USUN PARIS 4003
2011–01–31
C O N F I D E N T I A L SECTION 699 DESK 30
SUBECT: DEVELOPMENTS REGARDING XXXXXXXX, (codename: KAISER)
Classification: HIGHEST
The internal tension at the House of KAISER is reaching the boiling point. It's rumored he has spent the past two years in a Diet Coke-fueled delirium, punctuated by the occasional Evian binge. A loyal cadre of supporters has kept him afloat, and the fact that he rarely designs anything original has helped them to keep the situation under wraps. Last week at an intervention, his followers begged him to resign, asking him to heed the large crowd gathering in the square below, calling for his resignation.
But the KAISER is unrepentant, claiming his house is "too big to fail." When I was granted an audience, he ordered me to tell you, sir, that he has been living in France and speaking German for many years now, and been none the worse for it. The KAISER's position is that without the fashion elite to distract the masses from what's really going on in the world, more and more populist uprisings will occur, some in sweatpants or worse, though he declined to elaborate.
COMMENT: Suggest we initiate bailout and that all RTW orders be called home at once for safekeeping. He's right about the uprisings, but he's wrong about one thing — nothing could be worse than sweatpants. END COMMENT
Mikki Halpin is a writer in Brooklyn. She has always wanted to be a spy.
Mike Albo is a writer and performer who lives and loves in Brooklyn. He is also a founding member of the legendary downtown NYC naked glittery dance troupe, The Dazzle Dancers.