The Most Emailed 'New York Times' Article Ever
by David Parker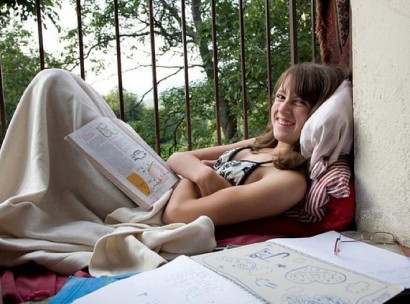 It's a week before the biggest day of her life, and Anna Williams is multitasking. While waiting to hear back from the Ivy League colleges she's hoping to attend, the seventeen-year-old senior at one of Manhattan's most exclusive private schools is doing research for a paper about organic farming in the West Bank, whipping up a batch of vegan brownies, and, like an increasing number of American teenagers, teaching her dog to use an iPad.
For the last two weeks, Anna has been spending more time than usual with José de Sousa Saramago, the Portuguese water dog she named after her favorite writer. (If José Saramago bears an uncanny resemblance to Bo Obama, the First Pet, it's no coincidence: the two dogs are brothers. Anna's father was an early fundraiser for Barack Obama; José Saramago was a gift from the President.)
Anna takes José Saramago's paw in her hands and whispers in his ear. He taps the iPad and the web browser opens. José Saramago gives a little yelp.
"It's entirely conceivable that a dog could learn simple computer functions," says Dr. Walker Brown, the director of the Center for Canine Cognition, a research facility in Maryland. "Word processing, e-mailing, even surfing the web: for many dogs, the future is already here."
In Anna's bedroom, decorated with the trophies and medals common to young achievers, José Saramago is on Facebook, the popular social networking website. He's helping Anna organize an event to raise money for her greatest passion: sustainable ibex farming.
A member of a generation that seems to have lost interest in the idle pleasures of sleepaway camp, Anna has spent the last three summers working on an ibex farm in the Catskills, just ninety minutes from her Manhattan home. Anna's parents, Leslie Wilhelm, an editor of style and fashion books, and Walter Gilliam, a partner at a boutique investment firm, love that they can see their daughter often. (Williams, Anna's last name, is a portmanteau of her parents' surnames.) How often? "The toll collectors on the New York Thruway are becoming close friends," cracks Anna's father, referring to the highway connecting New York City to the Catskills. "We've always let Anna pursue her dreams, but we like to be able to visit wherever they may take her," counters Anna's mother, who has accompanied her daughter on long trips to Uganda, Bangladesh and the Mississippi Delta.
The Catskills ibex farm is owned by an unlikely pair of friends: Steven Jones, an African-American former police officer from Camden, New Jersey, and Marco Levin, a rabbi from Buenos Aires. Jones is one of the thousands of Americans who have turned to alternate investments after losing his savings in the financial crisis. Rabbi Levin is the founder of the Deuteronomy Diet, which recommends eating only foods available to the Jews of the Old Testament.
Levin believes that the ibex, a wild goat defined as kosher in the Book of Deuteronomy, is one of the healthiest foods in the world. "In Biblical times, men and women regularly lived for hundreds of years," says Levin. "If we ate as our ancestors did, there's no reason why modern man cannot do the same."
Anna Williams first came to Yael Farms (yael is Hebrew for "Nubian ibex") after her mother read an article by Dr. Walter Andersen, a clinical physician who specializes in adolescent health. Andersen thinks teenagers today are too focused on their minds, often at the expense of their physical well-being. "Their brains are getting plenty of exercise," Dr. Andersen says. "It's the rest of their bodies I'm worried about."
At Yael Farms, Anna gets plenty of exercise. She spends the day herding ibex, drawing water from a well, and moving heavy stones. After a Deuteronomy-friendly dinner of figs, unleavened bread and honey-drizzled ibex, she practices her Mandarin. Like many of the ibex farms sprouting up across the northeastern United States, Yael offers an intensive Chinese-language immersion course.
"We speak Chinese here," says Jones, the farm's co-owner. "It's just smart business." Foreign policy analysts like Wilbur Jenkins, a fellow at the Council on Foreign Relations, think entrepreneurs like Jones have the right idea. "In China, children are being taught English in utero," Jenkins says. "American teenagers better start catching up."
It's not all manual labor and pinyin at Yael. After three summers in the Catskills, Anna Williams has also become an authority on Borscht Belt comedy. Anna's interest in 1930s Yiddishkeit led her directly to Rebecca Smythe, a blogger from Brooklyn.
On a once-gritty block in Canarsie, Smythe is opening what she says will be New York's first coffeehouse inspired by Yiddish musicals. While Anna helps Smythe book acts for the coffee shop, Sal DiPaolo watches with some concern. DiPaolo has lived in Canarsie for all of his 77 years and worries that newcomers are driving up the cost of living in his neighborhood. Sal's cousin, Anthony, takes a different view.
"Look, it's New York," Anthony DiPaolo says. "I welcome the new blood." DiPaolo has invited many young people, including Anna, to join his bocce club. Bocce, once the exclusive province of Italian men like Sal and Anthony DiPaolo, is becoming popular among a new generation of New Yorkers. Six months ago, Anna started her own bocce club. It's already one of the most popular extracurricular activities at her school.
Will bringing bocce to the Upper East Side be enough to get Anna Williams into Harvard, Yale or Princeton? She'll find out next week. Until then, she's got her hands full: José Saramago just learned how to use Twitter.
David Parker is a writer in New York. His work has appeared in the Wall Street Journal, Newsweek, Politico and the Huffington Post.