Our Critics Will Not Be With Us Forever
by James McAuley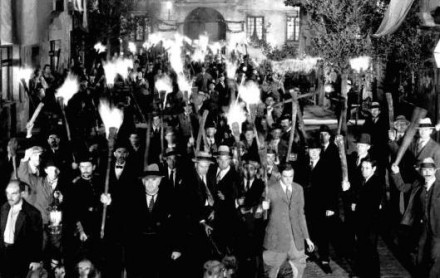 "The age of evaluation, of the Olympian critic as cultural arbiter, is over," wrote Stephen Burn recently in the New York Times Book Review. The sun may be setting on the "Olympian" stature the critic formerly enjoyed, while the age of everyman-as-critic is on the rise. Academic critics may not be in such danger — God did, after all, create tenure. So what of the future of the journalist-critic, the op-ed columnist and the professional cultural commentator?
There's an assumption that most influential opinion and culture critics and commentators have been safely ensconced in the mastheads of prestigious publications forever and have used their fancy office letterheads to cultivate the kinds of reputations that can make or break an up-and-comer's career — and that they have all been with us for what seems like forever, with plans to hold down their chairs far into the future.
Looking at the life-span of our current critics, however, reveals that our current crop has not, despite appearances, been with us as long as it may feel. What's more, a review of the record suggests that a career in criticism can be, as one would expect, quite the gamble.
If the label "critic" can be applied in a general sense to those who whose commentary has shaped public discourse, there have certainly been some long-haul careers out there. Most successful opinion columnists, for instance, do seem to be around forever.
Walter Winchell — whose gossip column was distributed to more than 50 million people every day for over 30 years — worked at The New York Daily Mirror from 1929 until the paper closed in 1963. Later, Pulitzer-prize winning New York Times columnist Anthony Lewis wrote for the Times' opinion page from 1969 until 2001. William Safire's column, which also won a Pulitzer, you will remember, appeared in the Times from 1973 to 2005.
And Art Buchwald's long-running humor column, at one point syndicated in more than 550 publications, was based in the Washington Post from the 1960s until just before his death in 2007. Mike Barnicle's column appeared in the Boston Globe for 24 years, beginning in 1974 and ending in 1998, when he moved on to the New York Daily News and then the Boston Herald.
On the current Times opinion page, most of the columnists seem to have grown deep roots. At that paper, Gail Collins started on the editorial board in 19995, then was an op-ed columnist, then ran the page, and, since 2007, has been a columnist again.
Bob Herbert has been on the page since 1993. Frank Rich moved off the theater beat in which he made such an impact and began in 1994; Maureen Dowd in 1995; Paul Krugman in 1999, and Nicholas Kristof joined the paper in 1984 and, after serving as associate managing editor, migrated to the op-ed page in 2001. Of the others, David Brooks arrived in 2003, Charles Blow in 2008, and Roger Cohen and Ross Douthat in 2009 (although Cohen had been — and remains — a columnist for the Herald Tribune). Who knows? Maybe another Lewis or Safire is in the works. (Trish Hall, the new Op-Ed Editor for the paper, is a similarly a Times journeyperson; she has also been with the paper since 1986, with a brief intermission.) So if you feel like you have been reading most of these people for the last decade or two, you would be correct.
In the larger realm of cultural commentary, careers historically have tended to be long — so long as the critic's opinions are in sync with the larger cultural sensibilities of the times. (Look out, Frank Rich!)
It turns out there may be some works of art that a critic just can't afford to be wrong about.
A good example of a turning point that started and ended several long careers in film criticism, for instance, was the appearance of Bonnie and Clyde in 1967. Bosley Crowther, film critic for the New York Times since 1940, had enjoyed a long career of chiding overly patriotic movies. At the end of 1967, the year in which he wrote his scathing review of Bonnie and Clyde, he was shown the door. Sample: "This blending of farce with brutal killings is as pointless as it is lacking in taste." (Or perhaps it was his review of Valley of the Dolls? "Shot in New York, New England and in and around Hollywood, the scenery is authentic in color. All else is false and fake.")
Bonnie and Clyde, as it happens, was the same film that established Pauline Kael's credibility at the New Yorker, where she remained, with brief intermissions, until 1991. You could even say that it was her famous first piece for the magazine — a 7,000-word defense of Bonnie and Clyde — that helped her to become perhaps the most revered movie critic of the twentieth century. Kael's career didn't start with the New Yorker; she'd already written for The New Republic, The Atlantic, and Partisan Review before she started. But it was her alignment and engagement with the values and ideologies of her times that afforded her the influence she later came to enjoy.
Janet Maslin had been a Times film critic since 1977 but, in 1999, at the age of 50, left the beat, shortly after praising Eyes Wide Shut. (This was right after Frank Rich left his post in theater, and restaurant critic Ruth Reichl left the paper and when Anna Quindlen quit the op-ed page — a time of that seems from this vantage point like a momentous upheaval, the likes of which is rarely seen.) She's now still in the Times' book department, along with Michiko Kakutani — who Norman Mailer famously called a "one-woman kamikaze" and who Jonathan Franzen called "the stupidest person in New York City" (impossible, of course) — who's been with the paper since 1979 and has been reviewing books for thirty years.
More frequently, cultural commentators find themselves subject to the values of whichever editorial regime under which they happen to find themselves. The most famous obvious purge in recent history probably occurred during Tina Brown's stint as editor of the New Yorker, during which she did away with a wave of folks who'd been with the magazine for decades. (Get ready, Newsweek!) Most audaciously, in 1997 she pushed out George Steiner, the celebrated book critic and public intellectual who'd written reviews for three decades. Also shoved aside: Terence Rafferty, Pauline Kael's chosen heir; Wilfrid Sheed; music critic Paul Griffiths; theatre critic Mimi Kramer; and TV critic James Wolcott (whom she herself had brought in).
The post of the film critic, it turns out, is a particularly tough gig to keep or to enjoy if you are not so disposed — especially at the Times. When Bosley Crowther was let go, the paper hired Renata Adler as his replacement. She did only about 18 months before going back to the New Yorker. (She quite enjoyed Chitty Chitty Bang Bang!) One of Maslin's replacements — hired along with Scott in 1999 — was Elvis Mitchell from the Fort-Worth Star Telegram, whose reviews, or perhaps conduct, were a bit too free-floating for the paper; they parted ways in 2004.
And now? The New Yorker film critics Anthony Lane and David Denby began in 1993 and 1998 respectively. A.O. Scott, Manohla Dargis, and Stephen Holden are now the Times' film critics, and have been on staff since 1999, 2004, and 1988, respectively. (The hiring of Dargis was the last big outside critical hire in major New York publications in memory; the promotions of critics like Sam Sifton and Dwight Garner have all been evolutions of Times careers.) Alessandra Stanley, the paper's television critic, took on that role just back in 2003.
Among the art critics, change has not been so fast. Holland Cotter has been in his post since 1998; the formerly fearsome and now slightly less-scary Roberta Smith began at the paper in 1986. Grace Glueck has been roaming that department for decades. There was, however, actually movement when Ken Johnson went off to the Globe in 2006.
So while it may feel that most of our critics have been around forever, installed on the various soapboxes of the New York media world, most of their reigns have been long but not actually anywhere near endless.
There is a way in which the origins of the perception of the critic as permanent, elevated and all-powerful come from writers, not readers.
When novelists like Alice Hoffman and Alain de Botton go so far as to, say, tweet the phone number and email address of a reviewer who has mildly criticized her book, or to post a nasty blurb on the reviewer's personal blog, the critic ends up seeming all that more influential, a person whose opinion is important enough to warrant public outrage and attack.
In the age of Amazon and reader reviews, that kind of outrage may actually be the secret ingredient to the stature of the critic. How many readers today really care about what a big-league critic thinks about Freedom? Few — unless the critic's work inspires a big stink? Sir Walter Scott may have warned writers not fear the critic's brow, but, in this time of notoriety and opinion echo chamber, that fear may be all that makes critics influential.
James McAuley is a student in Cambridge, Mass.