A Supposedly Fun Mixtape I'll Never Make Again: My 50 Favorite Rap Songs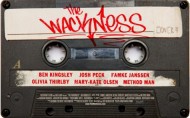 I just made a mixtape for a friend of mine. Which is something I should never do. Because I become obsessed with the choosing of songs and end up not getting anything else done for a week and losing sleep and making myself crazy with second guessing and internal back-and-forth-and-back-again. It's not healthy.
I've known this for a long time. When I was in sixth grade, I kept a notebook with pages and pages of lists ranking my favorite everythings: animals, cars, baseball teams and players, TV shows, foods, movies, rock bands, rock songs, rock albums. Pretty common behavior for a boy, I know. Nick Hornby and Rick Moody have both written well about it: the compulsion to catalogue and make lists and rank everything, how it's connected to our sense of identity, the feeling that who we are is what we like. But I made myself a mess with it for a summer, working myself into a tizzy, bringing myself to the verge of tears, just because I couldn't get straight in my head stuff like whether I liked the Doors better than Led Zeppelin better than Duran Duran, or whether Duran Duran belonged ahead of Led Zeppelin but behind the Doors, but how could that be, because, actually, when I thought about it, I liked Led Zeppelin better than the Doors but I liked Duran Duran better than Led Zeppelin but I liked the Doors better than Duran Duran! You see the difficulty. (And the deeper underlying confusion: Led Zeppelin and Duran Duran?) I remember, one afternoon, telling my father that I couldn't go and do something with him that I was supposed to go and do because I had to stay and figure this out. I was paralyzed, and on the verge of hysterics. I remember him telling me that he thought this was a problem.
Eventually, I realized he was right. And so for a long time, I consciously avoided this type of thinking, suppressing the urge to categorize all the different things in the world into hierarchical rankings. It really is a weird, stupid, binary way to think. This is better than this/but this is better than this. Beep. Boop. What comes sixth? The world is more complex than that. Everything is more complex than what can be compressed into an ordered list.
Then, as a grown-up (or, sort of grown-up) I started working at a music magazine. And lo, just these types of dangerous projects were often part of the job. It's not the making the lists that's so terrible. I like brainstorming. (Or brain drizzling, as the case may be.) The ranking is what gets me in trouble. Or the size limit, the cut-off point where a decision must be made; when one something has to go so another can stay. If I just dash it off it's better. Or if I'm given a strict time frame, ten minutes, say, so that I can give myself the excuse of, "Well, this is just off the top of my head, nothing's written in stone, don't me hold me to it…" (I say to myself), then it's better. But given some time, and the opportunity to really try to get it right, to make some kind of definitive statement, I'm screwed. At Vibe, in the '90s, I spent far too many nights staying way too late at the office arguing with other people who took these types of trivial tasks similarly seriously. We chose the 100 greatest love songs, the 50 best singles of the year, the best voices, singing or rapping, the best driving songs, the best actors. Marking the millennium was the worst, Jesus. We put together a 100 best albums of the 20th century list. (A funny idea in itself, since there were no albums recorded before the 20th century. So you might as well call it the 100 best albums of all time list.) Whatever you call it, it was very stressful. Three of us ended up there until four-o'clock in the morning one night before shipping, standing at the big island over the filing cabinets with 150 CD cases spread out in front of us, rearranging them like a giant tile puzzle under the gross flourescent lights, hoarse from defending our picks, repeating the same arguments over and again. It was great fun in lots of ways, too, of course. But totally insane-making.
This is why I never fill out the Village Voice's annual Pazz & Jop poll. Which I always feel a little guilty about. Because I like reading it every year, enjoying the fruits of what I know is other people's making themselves crazy. (Or maybe not. Maybe other people are better at dealing with things in life that really shouldn't be that hard to deal with. They probably are. I hope they are.) I did it once, and it made me crazy. And after I'd sent it in, I remembered something I'd forgotten, or wanted to change something but couldn't, and so was made miserable and more crazy.
So what I'm taking a very long time saying is: I try not to engage in this stuff if I can avoid it. But I did it this time. Because my friend, who's like a soul-music expert guy, and has turned me on to lots of great music like Syl Johnson and O.V. Wright and Candi Stanton, but who doesn't know so much about rap, asked me to make him a two-CD "desert island" collection of my favorite rap songs. I said yes. I feel like I owe him.
He didn't give me any other guidelines. So I certainly didn't rank them in order. But the two-CD limit was a problem enough, demanding enough of the same what's-better-than-what decisions. There are a lot of great rap songs. And plenty of other problems that I knew would be problems. For starters, the matter of what should be the real organizing principle. Should I be focussing on what I thought to be the "best" rap songs, or the "greatest" rap songs, or my absolute "favorite" rap songs? (I know this probably sounds like silly semantics when we're talking about the subjective experiencing of art, but here's how I would define the distinction: "Favorite" implies what is often vague and mysterious personal preference. "Best" refers more to clinical appreciation of technical excellence. "Greatest" carries some inclusion of the notion of over-all cultural impact. "Greatest" is easier to have and win or lose an argument about, as there are some factual barometers that come into play. So, for example, Ghostface Killah is my favorite rapper of all-time, while I think Biggie is the best, and Jay-Z the greatest.)
My friend used the word "favorite" in his request, so I chose to lean that direction. But not too far in that direction, because, depending on my mood, that could too easily result in, like, ten songs each from Mobb Deeps' The Infamous and Raekwon's Only Built for Cuban Linx… Which would be boring. And I did want to treat the project at least a little bit academically. Education, or at least widened exposure being part of the idea. I wanted it to represent rap music in its fullness, with historical breadth and regional balance. I wanted to give examples of the important artists and stylistic trends that have shaped the genre's three decades of existence. I tried to keep it to one song per artist, though group members' solo work and guest appearances made for exceptions — and I cheated a bit in favor of Ghostface, by choosing a Raekwon song, one on Only Built for Cuban Linx…, that happens to feature Ghostface and not Raekwon. And I sequenced them chronologically. (Loosely, by memory, I didn't pull out the CD cases and check every release date.) So, hopefully, the collection will serve as a sort of history of rap as told through Dave Bry's favorite songs.
There will definitely be problems in this regard. Some major omissions. Where are Tupac and Eminem, most glaringly? Answer: As hugely important as Tupac is, and as technically brilliant as Eminem is, neither of them has ever been a real favorite of mine. No songs produced by Timbaland or the Neptunes will strike more pop-oriented fans as strange (it strikes me as kind of strange), none by Pete Rock or J Dilla will bother heads on the other side of the spectrum. The cities of New Orleans and, to a lesser extent, Atlanta, are under-represented. And the fact that there is a grand total of zero songs by female rappers on this list is definitely pretty lame. I'd point out the fact that Lil Kim raps on "All About the Benjamins," and far better, actually, than the person to whom that song is officially credited ever could in a million years, but I'm probably better off just copping to the lameness. And noting again the terrible space limitations under which the project was conducted. As a whole, the list is definitely weighted toward New York rap, and that of the mid-'90s. I suppose this speaks to my age, and where I grew up, and where I have chosen to live. Less clear is why so many of my favorite artists have chosen stage names that begin with the letter "G." Ghostface, Grandmaster Flash, Geto Boys, Gangstarr, Goodie Mob — and GZA and Gucci Mane were both late scratches. G, it turns out, is the greatest letter in rap history. Which makes sense because of the fact that it starts the word "gangster," but only the name of Gangstarr has anything to do with that. I'm also sure I simply overlooked some songs that, given the hindsight that I will have soon, I would have wanted to include. So I will surely want to kill myself a little bit after publishing this.
In the end, I made him three CDs. Two CDs would only fit maybe 35 songs. And the first draft of a list I made was up around 70. Fifty songs, I figured, was a good number. And one that, after the culling, as my iTunes system tallied it, clocked in at 3.9 hours. Perfectly fitting on three 80-minute blank CDs.
Except that it didn't. Right at the end of the process of burning the list onto the CDs — the third of them whirring towards completion, the other two already done and ejected and cooling on the side of my desk — I learned that the last song, Kanye West's "Runaway," that nine-minute miracle of melody and melancholy, did not, in fact, fit.
So, of course, now the whole thing's fucked.
But here's the list anyway.
"The Message," Grandmaster Flash & the Furious Five
"Beat Bop," Rammelzee vs. K-Rob
"It's Like That," Run-D.M.C.
"Rock the Bells," LL Cool J
"P.S.K. ('What Does It Mean?')," Schoolly-D
"Top Billin'," Audio Two
"Life Is… Too Short," Too Short
"The Symphony," Marley Marl featuring Masta Ace, Craig G, Kool G Rap & Big Daddy Kane
"Ain't No Half-Steppin'," Big Daddy Kane
"Microphone Fiend," Eric B. & Rakim
"My Philosophy," Boogie Down Productions
"It's My Thing," EPMD
"Talkin' All That Jazz," Stetsasonic
"Black Steel in the Hour of Chaos," Public Enemy
"Straight Outta Compton," N.W.A
"Mind Playing Tricks On Me," The Geto Boys
"High Plains Drifter," Beastie Boys
"The Last Song," Above The Law
"Excursions," A Tribe Called Quest
"Who's The Mack?," Ice Cube
"Come Clean," Jeru The Damaja
"Millie Pulled a Pistol On Santa," De La Soul
"Deep Cover," Dr. Dre featuring Snoop Dogg
"Time's Up," O.C.
"Sound Bwoy Bureill," Smif-N-Wessun
"Eye For A Eye (Your Beef Is Mines)," Mobb Deep featuring Nas and Raekwon
"Mass Appeal," Gang Starr
"N.Y. State Of Mind," Nas
"Cell Therapy," Goodie Mob
"One Day," UGK
"Blue Flowers," Dr. Octagon
"Wisdom Body," Raekwon featuring Ghostface Killah
"All That I Got Is You," Ghostface Killah
"Where I'm From," Jay-Z
"What's Beef?," The Notorious B.I.G.
"It's All About the Benjamins," Puff Daddy and the Family
"Impossible," Wu-Tang Clan featuring Tekitha
"Keep It Real," Young Bleed
"Return Of The 'G'," Outkast
"Throw Your Hands Up," Eightball & MJG featuring Outkast
"What Ya Life Like," Beanie Sigel
"Peanut Butter & Jelly," Cadillac Don & J-Money
"The Corner," Common featuring the Last Poets
"Still Tippin'," Mike Jones featuring Slim Thug and Paul Wall
"No Problem," Lil Scrappy
"Let the Beat Build," Lil Wayne
"Know What I Mean," Freeway & Jake One
"Gun Sounds," Waka Flocka Flame
"Pop the Trunk," YelaWolf
"Runaway," Kanye West featuring Pusha T