Harlem Rapper G. Dep Confesses To A 17-Year-Old Murder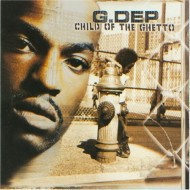 Wow. This is very crazy. Even by the very crazy standards of the very crazy rap game. Harlem rapper Trevell "G. Dep" Coleman, who had a sizeable hit in 2001 with a song called "Special Delivery" and released a good and under-appreciated album, Child of the Ghetto, that year for Bad Boy Records, walked into the 25th precinct on 119th Street on Wednesday and confessed to a murder he committed in October 1993, when he was 18 years old. As the New York Post reported this weekend,
"Coleman, who grew up in the projects, told cops he was riding a bike when he rolled up on Henkel, 32, on Park Avenue and East 114th Street and announced a robbery. Coleman told Detective William Dunn that Henkel resisted and grabbed his .40-caliber gun. He allegedly admitted that he pulled away and shot his victim three times in the chest. Coleman said he fled and tossed the weapon into the East River. Henkel was rushed to St. Luke's Hospital, where he was pronounced dead."
Here's G. Dep, performing "Special Delivery" two months ago.
Here's the original.
Here he is performing a remix version with P. Diddy, Ghostface, Craig Mack and Keith Murray in 2002.