Lil Wayne Is Free And Wall Street's Back!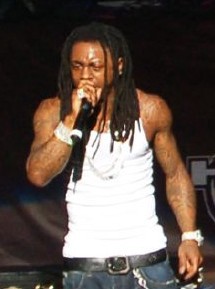 Lil Wayne was released from Rikers Island this morning. He'll now head to Las Vegas, where he'll apparently join his protege Drake on stage Saturday night, and then to Miami, for the traditional welcome home party at a strip club Sunday night. According to Mack Maine, another rapper on Wayne's Young Money label, the crew plans to "just treat him like a king, like the royalty that he is and make him feel like we really missed him and welcome him back to the family, basically."
Also, Wall Street has its "groove back." The Times reports that executive bonuses will be fat and juicy this year. And traders and investment bankers are already celebrating. "We are seeing a lot of luxury purchases, like vintage Bordeaux, things that we haven't seen sell well in a few years," said restauranteur John Delucie, who recently sold a sold a 1982 Château Mouton Rothschild for $3,950 at his Greenwich Village spot The Lion.
"Senior executive pay will go up more than the rest," said Wall Street compensation expert, Alan Johnson. "I think executives are saying 'I didn't get paid much for two years and now I want something.'"