by Jasmine Moy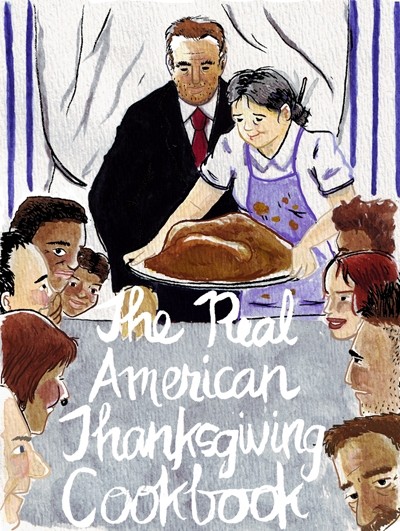 Even on Thanksgiving, I've always thought turkey was a bit boring. I eat chicken year-round and they're basically the same thing, right? I show up mostly for the sides. I get more excited about cranberry sauce from a can than is natural for any person who eats good, non-processed food on a regular basis.
After my mother moved to California and my brother moved to Houston, I was the only one who still went back to Chicago for the holidays. Since it was just me and my grandparents, we started to switch things up. One year we had filet mignon with lobster tails. Another year we had Niman Ranch pork chops with applesauce. Last year I asked for pot pie.
I'm not sure where this recipe comes from but my grandmother was raised in Ohio (Dayton, to be exact) and it was a family recipe for her as a little girl. This has no chicken and it's not baked. It's not really a stew or totally a pot roast, but it's a bunch of things, all of them delicous. My grandmother served this at least once a month during my childhood and also during my mother's. A cursory google says that this dish is of Dutch origin and is actually called bott boi, but has been bastardized by Americans (what's new?) and is now sometimes referred to as "slippery noodle pot pie" to distinguish it from the baked actual pie-looking thing, but I digress.
The next day I get an e-mail from my mother:
I talked to Grandma. She doesn't seem to remember what pot pie is. I told her I'd give her the recipe and walk her through it, but she seemed to think she could serve it with the pork chops you sent, but I told her it has to be with pot roast. She seems to be struggling a little. She sent Aunt Debby 2 cards on the same day and spelled her name wrong on one of them. She couldn't remember Ken's middle name either. Grandpa doesn't seem to think it's a problem. He laughs it off and says she's a gem. Just wanted to give you a head's up.
Those were the first signs of what was to become my grandmother's full-fledged Alzheimer's diagnosis. My grandfather was in denial until my grandma got in the car, drove it a mile to the next town over and stopped because she had no idea where she was going, or where she'd been. She got out of the car and started wandering. A good samaritan called the police who helped her home.
She no longer cooks and is quietly, fraily, confused. My grandfather has been full of impatience and frustration, toughness that masks his fear. All she prepares now is frozen food that can be microwaved. He doesn't cook. From either coast my mother and I need to remind him to remind her that she needs to take a bath at least every other day.
She may not remember how she used to pull a chair up to the stove for me to stand on, and let me add the noodles to the pot. Taking the diamond-shaped chips one by one and dropping them gingerly into the broth point first, like little divers, to avoid any splash. In fact, she may not remember this dish at all. But this season I'm taking the reins. What was an old standard that everyone took for granted is now a recipe to be passed on and treasured.
Start by making a pot roast. Preheat the oven to 350. Two to four pounds of chuck roast serves 4–8 people. Brown the meat in a skillet with a touch of oil, a few minutes on each side. Put it in a roasting pan, season with salt and pepper and a few bay leaves if you have them. Toss in a couple quartered white onions (carrots too, if you want). Fill the roaster about half way up with water (I add a few beef bouillon cubes for flavor), then cover tightly and bake in the oven for 3–4 hours until tender. Keep an eye on the liquid level and if it looks like it's evaporating, add more water to the pan. When done, the meat should fall apart when poked with a fork. Let it rest for 30 minutes before serving.
The juice left in the pan (if there is any) can be made into a gravy with small additions of a flour and milk, mixed until you reach your desired thickness.
While the roast is in the oven, make the noodles. You'll need:
2 tablespoons Crisco
3 egg yolks (save the whites and make meringue cookies!)
1/4 teaspoon salt
1/4 teaspoon baking powder
4 tablespoons milk
2 cups flour
Mix the milk and yolks together. Next, mix the dry ingredients. Then combine the two. On a floured board, start kneading. The dough should be fairly gummy, if it feels too dry and isn't coming together, add a little more milk. Roll the dough out until you've reached the thickness of a Kraft Single and slice into two-inch-long diamonds. Let the noodles dry for at least 30 minutes on a piece of waxed paper.
Bring a stock pot 1/2 full of beef broth (or water with bouillon cubes) to a boil. Add 4 tablespoons of butter and drop the noodles in a few at a time to keep them separated. Cook for 20 minutes.
To serve, spoon out some noodles and enough broth to cover the plate. Top with some pot roast and a scoop of mashed potatoes.
Jasmine Moy is ready to roll.