Things I'd Like to Tweet About Beyoncé's Maybe-Baby
by Jackie Jennings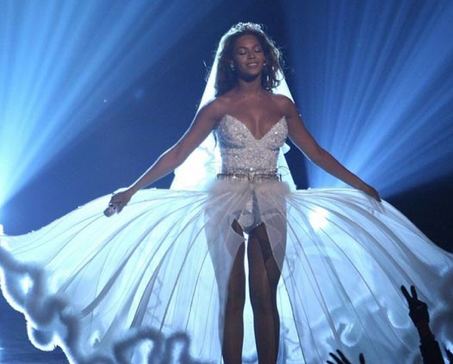 Beyonce may or may not be pregnant — she says she is not, and presumably she would know — but is she Hard-Knock(ed) Life up? See? There is so much to be said about the most anticipated baby in the history of man (sorry, Jesus). But is it worth the inevitable follower loss that would accompany an all-day Tweetathon of nothing but remarks about Beyonce's unborn diva fetus? Well of course it is. Still, in the interests of good social media hygiene, I have instead gathered said Tweets into this compendium, to be consumed all at once. Just like with tapas, it's always super-annoying when they bring out the dishes one at a time.
Suggestions for Beyonce's baby's alter ego: Diaper Blaze, Placenta Magenta (applicable in utero only), Alexis Snapdragon #beyoncesbaby
Roberto Cavalli onesies arriving soon. #beyoncesbaby
Destiny's Grandchild #beyoncesbaby
Alter ego monikers CONT': Baby Supernova Sequins, Baby Bitch Beast, Christiana Sparkleburst
Is it possible to sashay down the birth canal? #beyoncesbaby
Zuma Rossdale. Beyonce's baby. Suri Cruise. Willow Smith as babysitter. Bam!#beyoncesbaby
Is glitter hereditary? #beyoncesbaby
Is it possible for Mariah Carey & Nick Cannon's future offspring to be jealous before conception? #beyoncesbaby
I wonder if it's a girl or the most fabulously gay boy ever? #beyoncesbaby
What if he/she cries in vocal runs with diva hands? #beyoncesbaby
Will Beyonce use a midwife or will Elton John, Lady Gaga and the cast of Glee simply 'fabulous' the child from her womb? #beyoncesbaby
If this baby doesn't work out, they can always tell people it quit and replace it with a cuter, more talented baby. #beyoncesbaby #latoya4ever
Good genes from your mom, tacky jeans from your grandmom's (clothing line) #beyoncesbaby
You can install a crib on the deck of a yacht, right? #beyoncesbaby
Somehow I am scouring Amazon to preorder the autobiography of an unborn child. #beyoncesbaby
Jackie Jennings is a graduate of (The) Johns Hopkins University where she never once toyed with the idea of going pre-med. She now performs comedy at venues across NYC and has written for various publications including The Daily Beast and Glamour. Contact her at JackieEllenJennings [AT] gmail [DOT] com.