SPONSORED POST: Favorite Places In New York Sponsored By The New Kia Sportage -- Economy Candy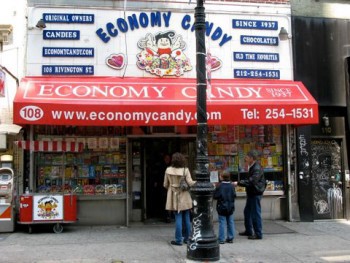 Just a little East-er and a little Lower-er than the trendy part of the Lower East Side, Economy Candy (108 Rivington Street) is probably one of the most awesome places in all of New York.
Its name and signage might make you might think Economy Candy is just an outlet for knockoff, generic-branded versions of your favorite candies, but no: this place has almost anything and everything you'd ever want, sweetswise-including obscure and vintage candies. Did you even know such things existed?
As soon as you walk in, there's this waft of candied sugar (more like a wall of smell, really) that can only really happen in the presence of a serious assortment of candy. But do not fear, health enthusiasts! There are also containers of dried (and some candied — obvs) fruit and nuts that are all very delicious and really reasonably priced. But the candy! The candy! Honestly, I cannot emphasize it enough: Economy Candy has any kind of candy you'll ever need. What I'm saying is, they've got a lot of candy.
This content series is brought to you by the All-New 2011 Kia Sportage. Welcome to the Next Level.