Case Studies in Successful Self-Publishing: "To Slow Down the Time"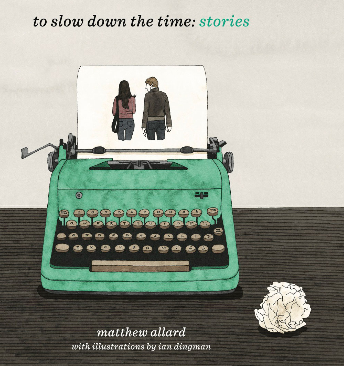 To Slow Down The Time is an illustrated collection of short stories, written by Matthew Allard. Each of the stories was inspired by an illustration by Ian Dingman, who works widely as a professional illustrator and as a fine artist. The book was produced in two editions. The first was a hand-bound limited edition of 100 books, priced at $35 each. That edition sold out in a week, and a paperback print-on-demand edition was created.
After reviewing costs and quality, CreateSpace, Amazon's publishing arm, was selected. (Other comparable companies have jacked up their small-run print-on-demand rates in the last six months.) The paperback is full-color, 8.5″ square, and because of that sells for $19.99. There is also a digital edition priced at $9.99. (The book design and the accompanying website were donated by an experienced friend of the author's.)
The project is extra-complicated for a print-on-demand project, due to the color illustrations and for the hand-made edition. If the book were black and white, profits would have tripled-but then also, it would surely lack some of the buyer interest.
The paperback is also sold on consignment at a few independent bookstores. The trick with POD and consignment is, well, you have to have printed some, you see.
"We made money. I had no expectations for what would happen," Allard wrote in response to questions. "I just wanted to be able to say, 'Look what I worked hard on; I think it's neat.' But, there was interest and support." He noted that the book was purchased by strangers. The magic of the Internet! "The pre-order was smart in hindsight, especially with POD," he wrote. "I didn't spend a dime up front on the project…. I used the pre-order money to print an initial round of books that I'd already sold, plus a few extra, and turned some of them into hardcovers."
Such a product isn't going to provide a living, quit-your-job salary-not necessarily, or right away. But the benefits include near-immediate gratification and personal investment in the book as a business entity, both things that traditional publishing alienates authors from. "I was making something and I didn't want to wait for someone to tell me that I *could* make something," Allard wrote. "I made money right away. It's not a 'salary' and I still have to work. But it's money to say that no matter what happens in the future, this little book was a success."