The Dorothy of South Street Seaport
by Ben Cohen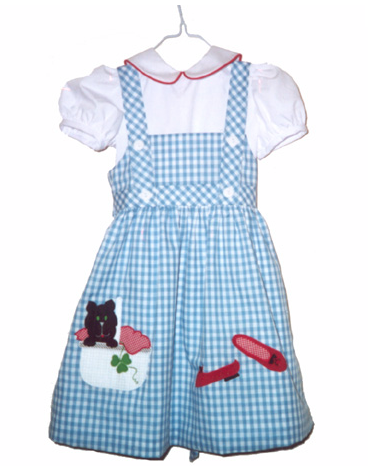 "Ladies! Dorothys!" yelled Mary Shriver at nine dark-haired young people. She is one of the producers of "WiZaRD," an upcoming off-Broadway musical loosely built around the music of "The Wizard of Oz." It was 9 a.m. on Thursday at the South Street Seaport, and the nine women were sitting on benches about 100 feet from a makeshift stage, which was built between a schooner and a mall. The bright-eyed actors carried bottles of water and cups of hot coffee, and some even wore pigtails.
On stage, George Bugatti, wearing shamrock green chinos, was excited about the remnants of Hurricane Earl coming up the East Coast-not quite a tornado, but good enough. "It's perfect!" he said.
New York City was the last stop of an 11-city tour to find the young woman who would play Dorothy, the only role up for public audition in the jukebox musical based on the music of Harold Arlen, who composed the score for "The Wizard of Oz," with Yip Harburg as lyricist. The show is set in the studio of a mythical radio station called WZRD. The characters are archetypal, Bugatti explained. The radio DJ is the wizard, he said, and "then there are three crooners."
The day previous, fifteen Dorothy hopefuls showed up-more than 100 had registered, actually, but most canceled-and six had been cut. So yesterday, Bugatti was hoping to find one last Dorothy wannabe to pit against contestants from Jacksonville, Las Vegas and New Jersey. "We're assuming New York will have a winner," he said, pacing, even though he had barely sipped his Starbucks coffee. "I mean, it's New York."
The four would then go up for a national vote, via Facebook, to conclude last night at 7 p.m., and, finally, Bugatti would have his Dorothy. The show starts in December.
One at a time, each Dorothy slipped into costume: a white blouse, puffy at the bicep, underneath an egg-blue dress. She read a scene with another Dorothy wannabe, who assumed the part of the cowardly lion. (They took turns.) It was a cold reading; none of the women had seen the lines before. The lion fill-in left the stage, leaving Dorothy to perform her classic monologue, ending with the line: "There's no place like home." From there, she dived into "Over the Rainbow," the tune that, depending on the performance, can tread from perfect to painful.
After acting and singing, the contestant would be evaluated by three judges: Bugatti; Hilary Gardner from "Come Fly Away," Twyla Tharp's Frank Sinatra Broadway musical; and Jerry Rosenberg, an associate producer. They sat at a table just a few feet away with Tom Gregory, the contest's host and chief personality, wearing a lightweight floral-print jacket. "I would love to take a tour of his California closet," Rosenberg whispered.
The judges offered comments, as if they were on "American Idol," and then they jotted down their written rankings of the actors' stage presence, acting, charisma and voice on a sliding number scale ranging from 1 (not for this) to 5 (outstanding). The judges were kind but dismissive when appropriate. They made occasional allusions to Judy Garland. Her name made the contestants blush. They commented on all facets of the presentation, from vivacity to vibrato, with a parade of adjectives: lovely, round, exquisite, gorgeous, marvelous, unique, captivating, warm, velvety, special, distracting, beautiful, incredible, opulent, unforced, natural, unstoppable and, once, referring to the cadence of a dialogue, "David Kelly-esque."
Sometimes, they would peek over their shoulders and spot packs of tourists gawking, with the approval of their umbrella-toting guides. It's not every day, after all, you visit New York City, let alone see costumed teenagers singing a showtune, backs to the water, facing the FDR Drive. It was something of a spectacle, not all that conducive to song. Planes buzzed overhead and bobbing boats hummed all around. After the first contestant performed-in her own sparkling red flats-Bugatti admitted that the aesthetics were a hindrance.
"I probably need to build helicopters into the scenes," he said.
"Like 'Miss Saigon,'" said Gregory.
"That's right," Bugatti said. "Dorothy in Saigon!"
Maybe it was the setting-probably not, though-but the first five contestants didn't do much to distinguish themselves. They looked alike and sounded alike and acted alike. It was when Alexandra Fassler took the stage that it was obvious that New York City would, in fact, have a regional winner, someone who would earn the pair of sequined red heels resting atop a fluffy gold pillow on the judge's table. (She won't click them in the actual production, as the Dorothy from Las Vegas took the nationwide vote last night.)
Fassler was, to use a word the judges didn't, dazzling. Her acting was deft, her monologue genuine. With "Over the Rainbow," she embellished the sheet music, in a good way. When she was done, Gardner and Rosenberg heaped praise on her, and the panel turned to Bugatti, the Simon Cowell-equivalent in authority.
"With Richard Rodgers, if you didn't sing what he wrote, well-" He pounded the table to feign Rodgers' disgust, and the standing microphones amplified the ugly noise. "But Harold Arlen, he used to say, 'When I write a song, it's like a bird, waiting to fly away.'" It was a compliment.
Ben Cohen writes about sports for Deadspin and the Wall Street Journal.