Shock Polls Show Deeply Vulnerable Andrew Cuomo Crushing Carl Paladino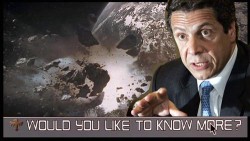 Oh no, Andrew Cuomo is in trouble! Take it away, Fred Dicker:
The startling new Quinnipiac University poll has pierced the veil of Andrew Cuomo's electoral inevitability, shaking his campaign to the foundations in the process.
The good news for Attorney General Cuomo is that while bomb-throwing Buffalo businessman Carl Paladino is breathing down his neck, Cuomo has plenty of time remaining to change campaign strategy before the Nov. 2 gubernatorial election.
The bad news is that Cuomo will have to replace his notoriously cautious and controlling style with a genuine sense of outrage and passion if he wants to connect with the voters' anger and demands for change that have made Paladino a serious contender.
Oh wait, Andrew Cuomo is fine! Take it away, Fred Dicker:
Maybe Carl Paladino shouldn't get his hopes up after all.
A day after a statewide poll showed Paladino within striking distance of Andrew Cuomo, another survey out today shows the Democratic attorney general with a runaway 33 percentage point lead over the bombastic Buffalo developer.
Let's all meet back here when the next poll comes out to see if "serious contender" Carl Paladino has managed to cut into Andrew Cuomo's "runaway lead." I bet there will be plenty of advice either way!