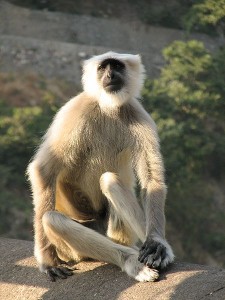 The Commonwealth Games-the quadrennial athletic competition between current and former members of the British empire-begin this Sunday in Delhi, India, and have been plagued with difficulties, particularly at the athletes' village, which is still under construction. The athletes are also being bothered by snakes, stray dogs and, of course, monkeys. And how do you solve a problem like monkeys? Bigger monkeys!
Reports yesterday said officials had hired a number of snake charmers to work around the village, trapping snakes for the sum of 1,000 rupees (£14) for each reptile. An animal rescue organisation, Wildlife SOS, is also working to catch snakes. At the same time, officials have increased the number of langur monkey handlers working around the Games site. Delhi is besieged by hordes of simian hooligans in the form of common rhesus monkeys who clamber over buildings and pester people, but which are scared of the larger langur monkeys.
Around 40 langur handlers are now to be employed at various venues. "These langurs will be deployed at strategic points that will scare away the monkeys," an official told the Hindustan Times newspaper.
Up next: finding something bigger than a langur monkey. I mean, right?