Footnotes of Mad Men: Mrs. Draper, You've Got a Lovely Daughter
by Natasha Vargas-Cooper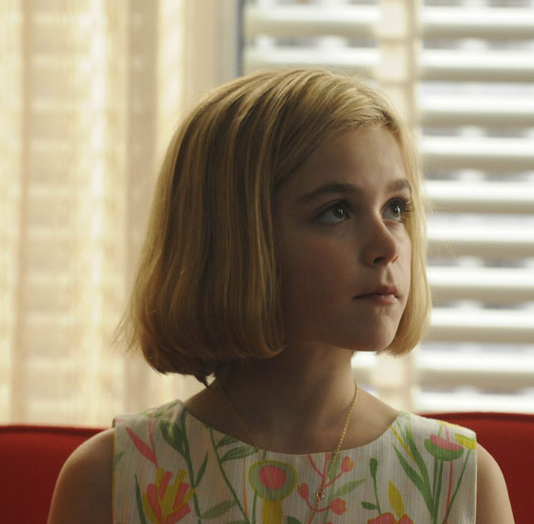 I don't need to tell you what going through puberty feels like, with all its urgency, eroticism, and ugliness. You went through it yourself. If you didn't go through it as a female, I can tell you that the desire to appear adult is consuming. Whenever there's role-playing to be done, the pubescent female will assume the role of Teacher in School, Doctor in the Hospital, Mother in House-and beware the girl who played student, patient, baby. For young girls, the thinking goes, if they exude an air of maturity, they'd be chosen to enter the world of adults. A young girl's desire to play cook is not only a demonstration of her ability to be an alchemist, converting raw globs of yoke and salt into something edible, but also to show that she can successfully manage adult responsibilities. This is to wriggle into the world of grown-ups. So there's no greater shame to be exposed as a fraud-when, despite a girl's best efforts, she finds herself reflected in the pitying leers of adults. There are few positions more shameful than face down on the hall floor of your father's office.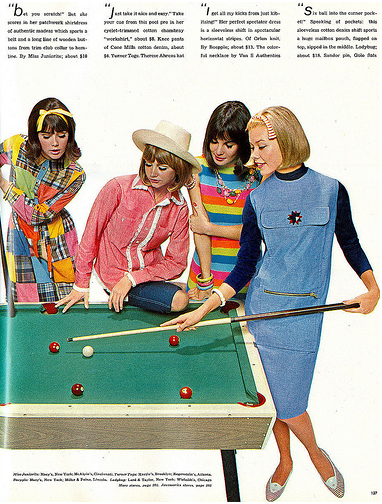 • Let's spend time in Sally's pre-teen world. It was likely that she would have subscribed to or at least thumbed through the teen magazines-an enduring badge of maturity for the aspiring adolescent. The most widely read teen glossy of the era: Seventeen. Also popular were Mademoiselle and Charm. While Mademoiselle modeled itself as a miniature Vogue-a self-serious catalogue of fashion, décor, and girl glamour-Seventeen followed in the tradition of Woman's Home Companion: home-spun advice on manners, recipes and thrifty clothes-shopping (not "fashion"). Fashion trends were acknowledged: for example, the cover girls, always with energetic smiles instead of a smoldering stare or pout, would be in step with the times (cropped clam-shell coifs were replaced with flips and bouffants), but the emphasis of the magazine was on wholesome living. In the essay "Up the Ladder: From Charm to Vogue," a history of women's magazines, Mary McCarthy described Seventeen this way:
Thoughtfulness is the motto. The difficulty between being both good and popular, and the tension between the two aims (the great crux of adolescence), are the staple matter of the fiction; every boy hero or girl heroine has a bitter pill to swallow in the ending… Poorly gotten out and cheaply written, it has, nevertheless an authentic small town air….
Another major motif of Seventeen is groupy-ness. "Get your gang together!" Each issue had a litany of projects that required every one's cooperation: games to play, after school theme parties, management of a high school prom-and even "how to stop a family quarrel."
• As far music goes, we can only imagine the sophistication Sally's musical palette. But if she's like most tweens of that era (with little cash to burn on obscure musical acts) then her tastes would be guided by what was popular and accessible. The Beatles were at their squeakiest in 1965 with "I Want To Hold Your Hand." In 1965, there was huge glut of girl groups, thanks in part to the success of the Supremes, who by that summer were having their fifth number-one hit. The major themes of the girl groups were ready-made for teenagers: puppy love, anxiety over chastity, loneliness, hopes of marriage, talk of boyfriends. The groups ranged from the soulful New-Jersey-founded Shirelles, who had sex laced throughout their lyrics, to the more proper lyrics of the Bronx-born Chiffons. Compare the lyrics of the Chiffons' Carole-King-penned "One Fine Day"….
One fine day
You'll look at me
And you will know
Our love was meant to be
One fine day
You're gonna want me for your girl
The arms I long for
Will open wide
And you'll be proud
To have me by your side
One fine day
You're gonna want me for your girl….
To the Shirelles, on the opposite tip, from 1963:
Foolish little girl, fickle little girl
You didn't want him when he wanted you
He's found another love, it's her he's dreaming of
And there's not a single thing that you can do
"Forget him cause he don't belong to you"
"It's too late he's found somebody new"
"There's not a single thing that you can do"
But both groups were on their way out with the tide-even though Motown was just five years old. Jefferson Airplane was forming. Phil Spector was about to retire (for the first time). The Rolling Stones were on the top of the charts.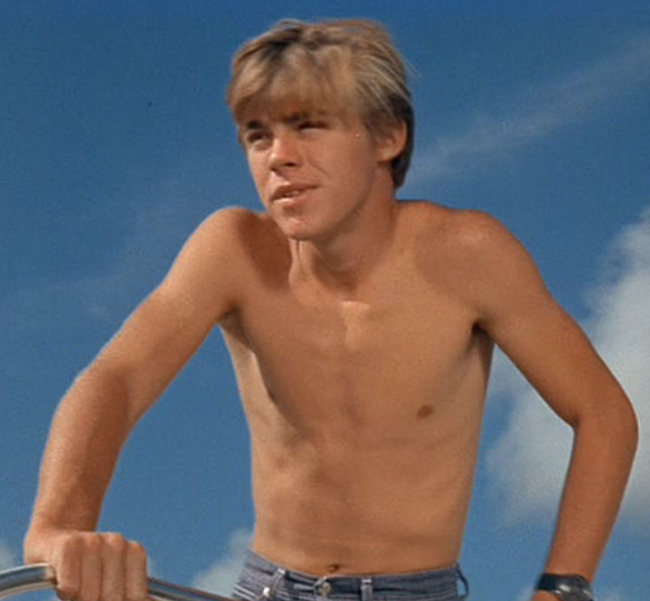 • Speaking of boyfriends, we already met the man who brought Sally to slip her hands under her nightgown: David McCallum, our man from UNCLE. Another male who could have seized her heart (and hands) was Luke Halpin, the often-shirtless, tawny star of "Flipper," both the films and the TV series that began in 1964. Halprin was the Zac Efron of the afternoon airwaves.
But Sally has already displayed a taste for more mature objects of erotic fantasy. For Sally's gaze, then, Warren Beatty.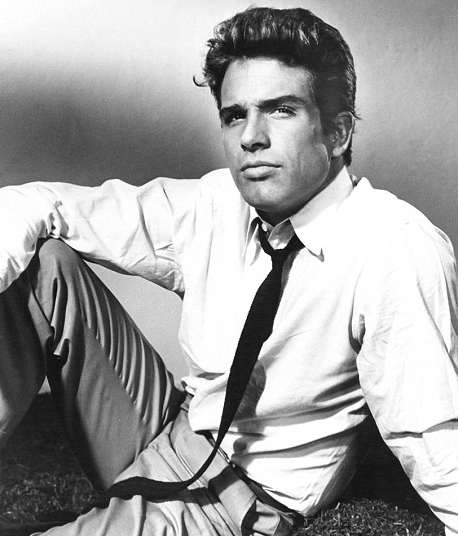 He had become one of Hollywood's most formidable sexual personae (cough) by 1965. He was still boyish, still too young to be considered anything but beautiful. He was fresh off his turn as a gigolo in 1961's "The Roman Spring of Mrs. Stone" (co-starring Lotte Lenya!), in which his sex appeal could not be undone by his horrible Italian accent. Though Beatty oozed sex more freely than Brando or Dean, he was withholding, mischievous, cerebral, a bit troubled on screen. Critic David Thomson wrote of Beatty, in 2004: "Beatty was not open or generous. He seemed reluctant to yield himself up… Despite valiant efforts, Beatty the actor never persuaded me that he knew how to lose control… Control is his thing and maybe his curse."
You can always find more footnotes by Natasha Vargas-Cooper right here, or, you know, you can get a whole book of 'em.