DJ Kitty: The Rally Monkey Of 2010, Complete With Video Game Tie-In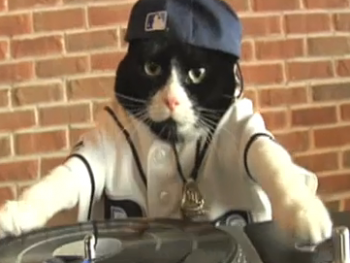 After staring down Derek Jeter's dramatics and holding on to beat the Yankees last night, the Tampa Bay Rays have edged into first place in the American League East — although their on-field performance might not be reflected by the anemic attendance numbers put up at their cavernous home, Tropicana Field. Perhaps that lack of in-person support is why the team has decided to employ a time-tested method of getting people to look up and say "awww" in its general online direction: Cats!
Behold DJ Kitty, outfitted in team gear and being contorted in very uncomfortable ways so that it looks like he's "scratching" the clean version of The Movement's "Jump." Kitties! Stadium techno! How can it go wrong? Although I do wonder if the placid expression on the cat's face will have quite the same rallying effect as the yawping monkey that the Los Angeles Angels Of Anaheim rode to victory a few years back. At least the fact that someone in the team's marketing department hung on to their copy of the much-maligned DJ Hero should pick the Rays up a few fans at Activision.
(Possibly obligatory disclaimer: I have a long-standing affection for the Rays, thanks to being indirectly in their employ a few years ago. Also, vanquishing the Yankees? Come on, who can argue against that?)