The Slap That England Deserves
by Daniel D'Addario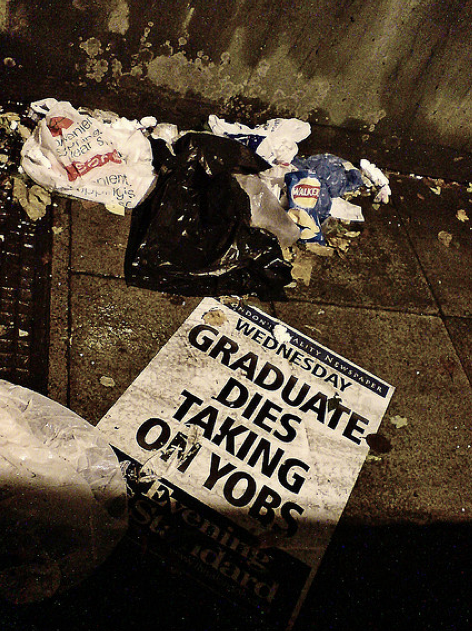 I had hoped to soak up as much contemporary British culture as I could while spending the summer working in England. It helped that I'd spent the lead-up to my summer reading Booker-ratified authors like Peter Carey (Australian, yes) and Ian McEwan-I wanted to be ready for the Anglophilic culture that produced such minds.
My trip got off to a disillusioning start, though, and not when I realized that the nation's top pop star sounds like Dick van Dyke in Mary Poppins. While the students I was chaperoning had gone to an arcade, I sat at a picnic table with coworkers when a band-not a group, certainly a band-staggered up. All were clearly drunk. It was about seven p.m.
"Where the fook are y' from?" the talkative member of the group asked me, putting his leather-jacketed arm around me.
"New York," I said. I didn't presume he would know Connecticut.
"Fookin' Central Perk! Who's your favorite Friend?"
I wasn't sure of the right answer. Say Matthew Perry and be condemned as a ponce; Lisa Kudrow makes the respondent a bit too freaky; Jennifer Aniston seemed the go-to, but also, obviously, unthinkable. "I don't really watch Friends," I said.
"More of a Will & Grace man, are ye!" he shouted, patting my shoulder quite a bit too hard to make sure I knew what he meant. His friends formed a tight, snickering circle. There they stood, saying little that had not already been said but saying it again and again, until the waitress threatened to call the police, and they went to the next table to flirt with some thirtyish women.
* * *
Those men, the leathery chap with his friends and his Friends DVDs, have been on my mind since the Booker longlist was released late last month. Which seems weird: the dominant narratives in this year's race, covered assiduously as ever by the British press, were the "surprise" exclusions (Amis, McEwan, Rushdie) and the possibilities for Lakers-like Booker perennial Peter Carey and the just-the-right-side-of-mainstream favorite David Mitchell.
But a pub crawl on paper has made an impact on the longlist too. It is the top seller of the group and the talk of the press and readers, a sign of its endurance beyond the prize season as well as its formidability in it.
When I bought Christos Tsiolkas's The Slap, the Waterstone's clerk popped his eyes out, giving a testimonial, beginning with a low groan, that felt rehearsed. "You'll love it. You'll just love it. Ooh! It's just…" He paused. "Ripping." The novel is that. It is, from its opening pages, the sort of quick-paced, juicy read that rarely gets nominated for prizes. Both the Guardian and the Telegraph took note of The Slap's exalted status among book clubs in their initial reporting on the longlist.
The Slap is a bodice-ripper, the sort of novel a college professor of mine would mistakenly/correctly call a "plotboiler." The inciting incident to the novel's action is a slap delivered to a misbehaving child by another adult at a barbecue in Melbourne. Tsiolkas declared in a tense, defensive interview with the Guardian after the longlist dropped that the incident came from life: "Tsiolkas's mother, who emigrated from rural Greece in the 1960s, cuffed, lightly, a three-year-old who was getting under her feet."
No one cared, Tsiolkas says, in real life, but then, in real life, the child wasn't the manic spawn of an alcoholic and a flower child and the "cuffer" wasn't a wife-beating nouveau riche prick.
Or, if they were, the bystander didn't have Tsiolkas whispering in his ear. The verve of The Slap comes from the author's heavy hand pushing the reader through the repercussions of the title event-and the tangential sub-events largely pertaining to characters' love of speed, drink, and sex-through multiple narrators' consciousnesses.
What worlds, then, is the reader privy to? In the novel's first paragraph, Hector, the barbecue's host, farts in bed, "the clammy methane stink" swamping his bedroom, before accidentally saying aloud "sweet young cunt." In a chapter devoted to the teenage owner of that saccharine organ, sub-YA narration abounds:
Jenna's tone was bitchy. The two girls looked at each other: Jenna's speckled green eyes were cool and hard but Connie smiled. Her friend was jealous.
Hector's wife finds out about his affair:
The bastard had no idea how that made her feel. She looked down at her long-limbed body. She could tell herself that she was attractive, but it would not matter. She did not believe it. Her skin was still smooth, the cellulite hardly visible, her tits had not yet started to sag.
Perhaps the greatest surprise in the Guardian interview was Tsiolkas's announcement that he is gay, when he writes about a gay character so unconvincingly and women's bodies so compulsively.
The slaps in the book are grinding and frequent, as Tsiolkas himself acknowledges when he states "the book's biggest slap" is a fundamentalist Muslim telling the slapped child's mother that she is a bad person. (She is as weak-willed as an Ayn Rand villain and has already fantasized, out of the blue, about fellating him: "What if I got on my knees for you? She suddenly thought. What if I sucked your cock?") The book is less one slap than a fraternity rush, where a bunch of brothers paddle you over and over and tell you it's for your own good. Tsiolkas's Melbourne is a stand-in for an apparently too-multicultural and therefore dangerously unpredictable world. And it's a satisfying world for which reader?
This is vicarious reading-these characters hold a lurid not-me appeal for one type of reader (the purportedly anti-American Vernon God Little was the previous standard-bearer for such Booker controversy). Another type that feels that vulgarity is equal to honesty, the end result of the Friends fan telling me repeatedly, each time more angrily, that he was just taking the piss. It was just the way Brits had fun.
Booker winners in the past have had inane and cruel protagonists (The Line of Beauty and Amsterdam), and there would hardly be a British literature if there were not human venality. But with The Slap, the culture of Britain, having exhausted its ability to describe itself and turned south, finds a staging-ground for nasty thoughts about children, Muslims, women, drinkers, Greeks, and so on. Other characters hate them more than you ever could-and it's okay that they do, because the children, Muslims and the rest are, individually, bad and cruel and ugly people.
Beyond any question of style is the fact of this book's sheer nastiness. The Slap's not anti-anything-it's anti-everything, the work of the moment for a nation that I met more at the pubs and picnic tables of England than in any other book I've read. It's the book of the great muttering resistance of England, a dark-witted, vote-nay group who could rival the American Tea Party for influence if they could only agree on a bar at which to meet.
Elsewhere on the Booker longlist is the literary fiber. The Slap is for a reader who wants a "ripping" read-and I, having left Parrot and Olivier in America in America and saved The Thousand Autumns of Jacob de Zoet for autumn, am hardly superior. The Slap is humanistic only in comparison to an American sitcom; it's escapism into a world where every person's mind can be read. Spoiler alert: they're all thugs.
Daniel D'Addario is back now.
Photo of London by Fabio Venni, from Flickr.