The Secret Kanye West Show at The Box Last Night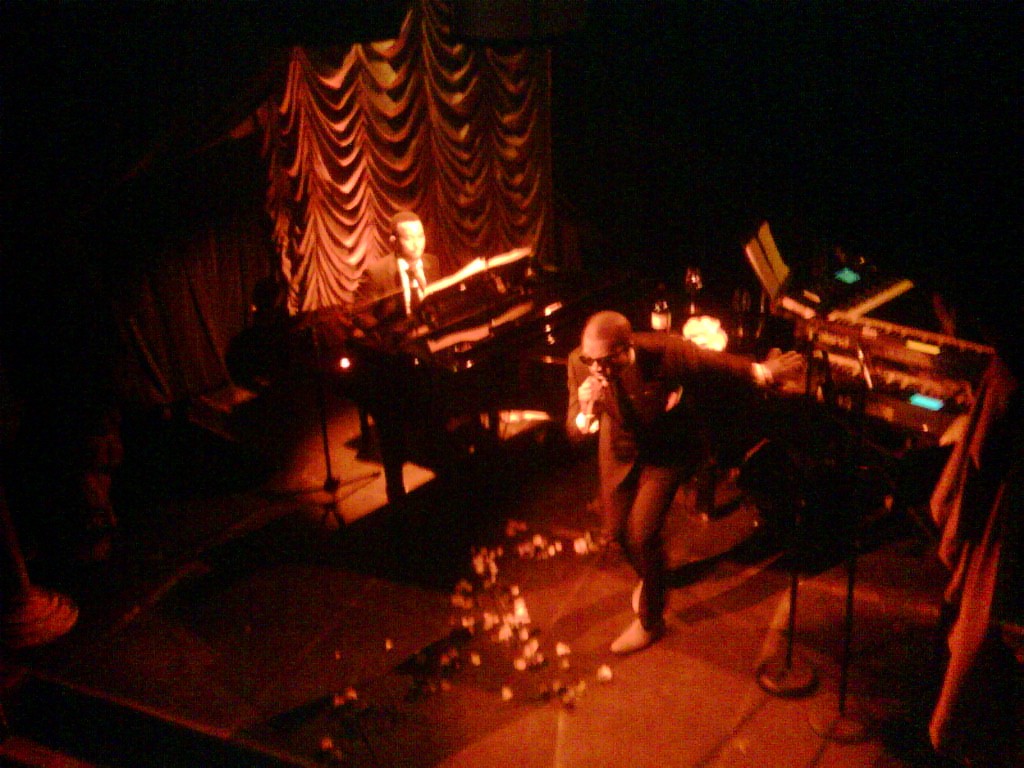 Sometime around when he joined Twitter, Kanye West started something called "The Rosewood Movement." Before last night, this was widely accepted as just an excuse for Kanye and his friends to wear nice suits and to have a name for being all-around classy guys. As it turns out, the "Movement" is more than that. In a "secret" and private party at The Box last night, Kanye West and John Legend performed what they called the first in a series of intimate concerts. The only caveat for the attendees was that they all wear formal attire-specifically, that all the gentlemen in attendance wear suits and "hard bottoms," more commonly known as dress shoes.
The happening of the secret concert seemed to actually be kept a pretty good secret as there were only a few people who tried to crash the door. Presumably if this were not the case, it would have been more of a madhouse, but whether it was the rain or the tight lips of those involved in the Rosewood Movement, the whole thing was not particularly overcrowded. That being said, there were a few people who weren't on the list who tried to make their way inside. One particular social media technology founder and his party were originally denied at the door and then, after business cards were exchanged in a "Do you know who I am? I am this guy!" sort of way, a compromise was reached and two people from the party of five or six were allowed to enter.
Although the party was supposed to start at midnight, Kanye and his friends did not get there until around 1 a.m. Until that point it was unclear as to what was happening, whether it was just a party, whether there would actually be performances, or if a lot of people who weren't used to wearing suits would have to continue standing around awkwardly wearing suits for an indefinite amount of time.
Around 1:30 a.m., Kanye finally took the stage. His labelmate and longtime friend John Legend was on a grand piano as an accompanist, and there was a third person who was behind several keyboards. The show itself started as a series of stripped down hits from Kanye's repertoire, and the first quarter of the set was pretty mellow, as though the fact that everyone was wearing suits meant that things weren't going to get particularly exciting.
After five or six songs, as he brought out Estelle for 'American Boy,' the energy level of the show hit another gear. Kanye started going through his more upbeat numbers including performances of the song he produced for Drake, 'Find Your Love,' and he also used a sample machine on stage to create new interpolations of his own hits like 'Flashing Lights' and a new song that samples the Billy Joel song 'Movin' Out (Anthony's Song),' which is about a boy who doesn't like the new male companions of his newly divorced mother. It was very, very good, but it's also hard to go wrong when using that chorus.
One of the highlights was a performance of 'Say You Will' off "808's and Heartbreak," in which he explained the inspiration for the song; that it was mostly to do with women who were indecisive in committing to sexual endeavors. Examples cited were girls who on a Friday night said they would come over to have sex but changed their mind at the last minute, leaving Kanye in a lurch. He was also not thrilled when girls would not send him sexts (dirty pictures via e-mail or MMS) when he was on the road. It sounds like a stupid complaint, but it was much more reasonable sounding the way he articulated it. It seemed like a very annoying problem to have!
What resonated through the whole show was how much fun Kanye was having. As the crowd was small, probably no bigger than 200 or so people, many of whom were personal friends of his, he was just playing music he was very proud of and enjoying the adoration and positive energy of the small room. Even as the planned set ended, he kept going through the MPC to find new songs he could do-and it should be noted that John Legend and the keyboardist were insanely impressive as they kept up with his ranting, changes to songs and random jamming out with his samples. At one point, Kanye started pounding on the keys so hard that at the end of the song he came out looking hazy, and he said he felt like a drummer who was on the first night of his tour and had just completed his first solo.
There were a few very minor missteps on the night. First was the fact that Mos Def was in the building, but not near the stage when their collaboration 'Two Words' was being performed, and so Kanye was looking around for the rapper to no avail. Next was the fact that the drink of choice, at least by the Rosewood Movement, was the creatively named "Rosewood." It is: sauvignon blanc, cranberry juice and a simple syrup. You can guess how that tasted.
The dress code was pretty heavily enforced, but the only men who seemed to enter sans suit were David Beckham and his hanger-on buddy. Pulling the "It's not really that cold and other people are actually sweating but I'm still going to wear a beanie" move, he was perched up in one of the upper booths with no Victoria Beckham in sight, though he did have some cute-ish British girls with him. To his credit nothing particularly salacious was happening with their party-and the background on his new Blackberry Torch was a picture of his family.
After the performance was over, Kanye and John Legend walked off the stage to join their friends who were there supporting the Rosewood Movement, including Pusha T of the Clipse, Big Sean, Mr. Hudson, longtime manager and friend Don C, Ibn Jasper and Virgil Abloh. After a little more lounging, the venue started to empty out. Kanye started towards the exit, through the crowd, and he went out of his way to thank people individually, friends and strangers alike, for coming to his show. He seemed genuinely very, very happy.