The Most-Stolen Books At McNally Jackson
by Nate Freeman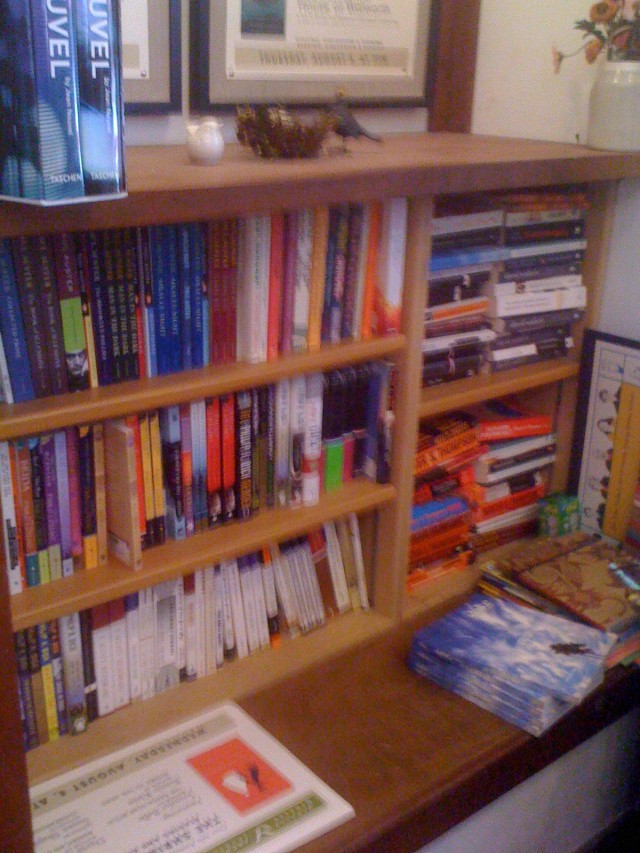 For some customers of delightful Prince Street bookstore McNally Jackson, the 20% discount on offer in July just wasn't enough. Some customers would just rather steal. Turns out, there's a certain subset of literature that really brings out the sticky fingers in people. When the staff discovered which books were being slipped into backpacks and satchels with the most regularity, they moved these titles to a protected section behind the counter. Books on lockdown! So-here are the books all the kids are stealing these days!
Paul Auster, "New York Trilogy" and others. ("I never thought Paul Auster was five-finger discount stuff," said Brook Stephenson, a bookseller.)
Bukowski, "Tales of Ordinary Madness," "Ham on Rye."
Hunter S. Thompson, "Fear and Loathing on the Campaign Trail," "Hell's Angels."
Paulo Coelho, "The Alchemist."
F. Scott Fitzgerald, "The Great Gatsby" and all the others.
Various Hemingway, including "A Moveable Feast" and "The Sun Also Rises."
David Sedaris, "Naked," "Me Talk Pretty One Day." ("Yeah, I don't understand that one," Stephenson said. "David Sedaris? Really?")
Jack Kerouac, "On The Road." ("With the beatnik writers they want the beatnik price," Stephenson said.)
Bookseller Yvette Grant told me Don DeLillo used to be back there, too, but he was moved to the shelves because of "space issues." She mentioned, however, that there have been no incidents of people trying to steal his books since they've gone unprotected. You're losing your edge, Don!
The culprits of these literary heists don't risk returning to the bookstore. "We have a list [of people who have been caught]-it's over ten," Stephenson said. "We have mug shots of them, a wall of shame."
But really-what kind of soulless creature would steal a book? "You might find students, you might find adults," Grant said.
"It might be a couple with a baby and a stroller!" Stephenson said. "I'm serious!"
Stephenson walked to the shelf and un-wedged a paperback from the row. "And these aren't expensive books," he said, flipping on to its back. "For Whom The Bell Tolls? This is 16 bucks! C'mon-are you serious?"
Carlos Solis, another bookseller, crouched down to examine the titles. Most of them fall squarely in the canon of books that have become a cliché to read.
"It also means kids are fairly unimaginative," he said.