Teenage Botox Vs. Baby Skinny Jeans: The Outrage-Off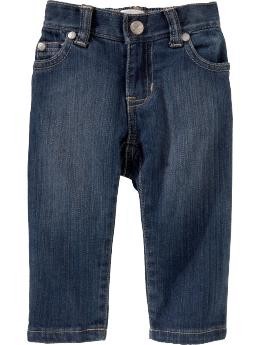 The more one reads the Times' Styles section, the more one is convinced that it is a week-in, week-out exercise in trolling — giving bloggers topics to opine on and get lathered up about, as predictable in call and response as the Barbra Streisand references in the old Saturday Night Live sketch "Coffee Talk." That silly article on Sunday about the completely publishing-devised nontrend of "Formerly Hots" was but the most egregious example of the Times trying to get the self-appointed commentariat riled up — and succeding. And don't think the Wall Street Journal, which has been attempting to gain ground on the Gray Lady, hasn't noticed! Indeed, today both papers have pieces that seem tailor-made for spiking comment-section traffic all around the Web, with one looking at why teenagers get Botox (NYT) and the other examining babies who have been forced into skinny jeans by their parents (WSJ). How do the stories stack up against each other in stoking outrage? Let's see!
THE PRICE
NYT: "$800 Botox procedure" … "the treatment is about $100"
WSJ: "At babyGap and GapKids, prices for skinny jeans range from $19.50 to $39.50."
OUTRAGE EDGE: At least your $39.50 skinny jeans can be handed down to other kids. The botulism? Not so much.
THE WAY LIFE IS DIFFERENT FOR KIDS
NYT: "'A lot of teenagers tease each other about things that as adults we may not consider as important,' Dr. Lam said, adding that he has performed cosmetic surgery on teenagers, including nose jobs and an operation to create creases in the eyelids of minors of Asian descent."
WSJ: "For skinny jeans, 'we talked for a long time about how much stretch, what should that feel like?' [Michelle DeMartini, senior vice president of Old Navy kids and baby design and merchandising] says. 'Adults might want to forgo comfort for fashion, but children will not.' "
OUTRAGE EDGE: The Times is victorious here by a mile, if only because of the way the doctor's statement can serve of a searing reminder of how horrible adolescence can be, thus allowing you to get mad at society all over again!
THE EXPERT OPINION
NYT: "Even the celebrity blogger Perez Hilton was apoplectic, pronouncing what Ms. Pempengco had done, 'SICK!!!'"
WSJ: "'I have pretty normal-sized kids,' says Nora Leibowitz, of Portland, who does not wear the style. 'That means they're not skinny in any way.' Ms. Leibowitz, a senior policy analyst for the state specializing in federal health reform, says comfort is her main goal in dressing her 5-year-old daughter and 1-year-old twins.
OUTRAGE EDGE: The Journal, because shut up Perez.
THE 'OH, HONEY' MOMENT
NYT: "Some teenagers mistakenly think that Botox can prevent wrinkles."
WSJ: "Children's clothing fills an important spot in the life cycle of some trends: After reaching young women, fads often swing downward to tots, and then back up to their parents. That's because many moms are more willing to be fashion-forward with their young children than with themselves, Ms. DeMartini says."
OUTRAGE EDGE: Yeesh. Call this a draw. Also, can everyone grow up? Thanks.
THE POTENTIALLY MITIGATING CULTURAL FACTOR
NYT: "At the heart of Ms. Pempengco's 'Botox apocalypse,' as one headline from the Philippines dubbed it, is 'a collision of cultural norms,' said Dr. Richard G. Glogau, a clinical professor of dermatology at the University of California at San Francisco. Reshaping the lower face with Botox is 'not an uncommon goal if you happen to live in Southeast Asia or China,' he said."
WSJ: "'People tend to put their kids first,' says Mark Breitbard, executive vice president of GapKids and babyGap. 'They'll pass on something for themselves to make sure their kids are still looked after.' "
OUTRAGE EDGE: Are you being culturally insensitive by sneering at this Botox-for-teens thing? That uncertainty will sure put a damper on your outrage!
THE KICKER
NYT: "'A 16-year-old in New York getting a rhinoplasty, it's a birthday present,' said Dr. Glogau, a paid researcher for the makers of Botox and Dysport. 'If you told teenagers in Southeast Asia that, they'd probably be aghast. It would never occur to them.' "
WSJ: "In the pipeline: Jeggings for babies."
OUTRAGE EDGE: WE MUST STOP THE JEGGING CRAZE BEFORE IT BECOMES INESCAPABLE. Uh, I mean, the WSJ!
THE WINNER
The WSJ came on strong at the end there, but this one has to go to the Times. Sorry, Journal. Next time, maybe you should try and find a target that's a little bit more injectable!
[Pic via]