"Like Eating Fridge Magnets": A Journey To Pop-Tarts World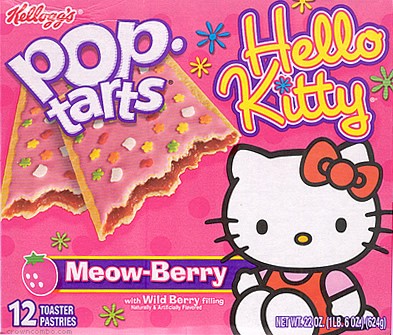 Mary HK Choi: SO DAVID CHO.
David Cho: Yes?
MHKC: We had a fascinating evening last night didn't we?
DC: : Stop burying the lede.
MHKC: Ahahahah
DC: Let's talk Pop-Tarts Toaster Pastries.
MHKC: OMGAWG HOW AMAZiNG WAS POP-TARTS Toaster Pastries WORLD?
FIRST IMPRESSIONS
DC: What is your past history with Pop-Tarts Toaster Pastries?
MHKC: Well, I deliberately never ate Toaster Strudel because i was a Pop-Tarts loyalist
MHKC: I enjoy them immensely.
MHKC: But I did, admittedly, stop eating them with regularity when I graduated college.
DC: What is your favorite flavor?
MHKC: S'mores.
DC: ME TOO.
MHKC: Because it is DELiCiOUS
MHKC: That's the thing
MHKC: AND I always eat one toasted
MHKC: And the other cold
DC: That's just weird.
MHKC: AND I think it's excellent for morale that there are two to a packet
MHKC: It's like Twix
MHKC: Another excellent foodstuff
DC: I think the reason that S'more Pop Tarts are the best tasting ones, is because it is the least contrived of all the Pop-Tarts.
MHKC: Contrived is an interesting word.
DC: So like, all the flavors in a S'more Pop-Tart are like, exactly what they should be.
DC: In a grape Pop-Tart or a blueberry Pop-Tart, there's no real grape or blueberry in there.
DC: Or if there is, it's really limited.
MHKC: Exactly.
MHKC: I think it helps that it isn't like some facsimile of a food that exists in life
MHKC: OR they have to stabalize it in some form.
DC: In a S'more Pop-Tart it's like, chocolate, marshmallow, and graham cracker.
DC: That's just straight up what it is.
MHKC: YES.
MHKC: And it's riddled with preservatives and artificialness in its "natural" state.
MHKC: Less variables
DC: And the execution is more on point than it would be even if you were trying to make it at a campfire.
DC: Has anyone ever made a really good S'more at a campfire?
DC: Like, toasting a marshmallow is hard!
MHKC: Well
MHKC: I have
DC: Shut up.
DC: No you haven't.
MHKC: But i don't use pedestrian ingredients
MHKC: I use marshmallows and Petit Ecolier cookies
MHKC: It's unorthodox
MHKC: But it's absolutely retarded tasty
DC: I mean, regardless of the composition.
DC: Toasting a marshmallow is legitimately really hard!
DC: And you have to be really patient.
MHKC: Yes.
MHKC: It's like smoking meat.
MHKC: Low.
MHKC: Slow.
MHKC: Rotation is also key.
DC: I DON'T HAVE TIME TO HOLD A MARSHMALLOW ABOVE AMBERS FOR 5 MiNUTES!
DC: GIMME A S'MORE!
DC: OH, HELLO, POP-TART.
MHKC: Oh david
MHKC: How Millennial
DC: ANYWAYS
DC: Onto the store!
DC: /World!
MHKC: YES
THE VARIETIZER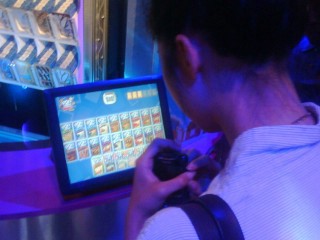 DC: So let's talk about the Varietizer!
MHKC: So the Varietizer allows you to create a 12 count box of any flavor you like in packages of two
MHKC: And it looks like a MONDO big vending machine basically
DC: What did you think?
MHKC: I think it's attractive. But then again i would since everything in that store looks like a Trapper Keeper and i enjoy that immensely
DC: The store looks like Lisa Frank threw up everywhere, but in a good way.
MHKC: Absolutely
MHKC: MAN LISA FRANK IS AMAZiNG AND IT IS SO SAD THAT HER EMPIRE iS ALL FAKAKTA AFTER HER DiVORCE.
DC: Focus.
DC: What did you put in your box?
DC: (LOL!)
MHKC: LOL
MHKC: What did i put in my box?
MHKC: Well, we consulted a great many people
MHKC: Asked some hard-hitting questions
MHKC: Really analyzed the flavors
DC: Wait
DC: Sidebar
MHKC: Yes?
DC: Can we talk about how you were grilling the guy who was showing us around?
DC: "What sort of blanks are these shirts on?"
DC: "How did you pick the employees who worked in the store?"
DC: "Etc. etc."
MHKC: Well, I knew it would be our only shot to get some face time with the big guns (the brand manager for Pop-Tarts' parent company)!
MHKC: I wanted to know how deeply involved he was in the process!
MHKC: These details are HUGE for the overall user experience
DC: He answered all your questions!
DC: Kudos to Andy!
MHKC: Oh totally
MHKC: In fact not only did he answer all my questions, he answered them quickly
MHKC: I think he appreciated the chance to flex a little
DC: I took some notes and one of the things i wrote was: "Mary was sort of aggro w this guy"
MHKC: I wasn't aggro at all
MHKC: That's inaccurate!
MHKC: People aren't aggro at PTW
DC: Shrug, i just call it like i see it
MHKC: i wanted some answers
DC: You didn't let yourself go at Pop-Tart World
DC: You were so nervous to let them in.
MHKC: You don't think it's important to know that they're not cutting corners by printing on Hanes beefy tees for their blanks?
DC: All I'm saying is, it's like, you can trust them.
DC: They've never wronged you in the past.
MHKC: No way man
DC: I don't know, I think you just have to be more willing to let them in. Lower the barrier to entry.
MHKC: They're purveyors of deliciousness that I want.
MHKC: I'm immediately suspicious when the power dynamic is not in my favor.
DC: Sure.
DC: Anyways, what did you put in your box!
DC: (LOL AGAiN)
MHKC: PUT IT IN YOUR BOX.
DC: Just answer the question.
MHKC: Well, I decided right away (after asking Andy about limited-edition offerings) that I'd get an Orange Creme since that's a Quickstrike that is specific to the store opening event.
MHKC: So duh, I got an Orange Creme and an Ice Cream Sandwich, Blueberry MUFFIN (not to be confused with regular Blueberry), S'mores, Brown Sugar Cinnamon FROSTED, and Strawberry Milkshake
MHKC: ALSO, we were instructed to put the orange cremes in the FREEZER which was a nice servicey touch from the Varietizer operator.
MHKC: David
MHKC: What did YOU get?
MHKC: OR PUT iN YOUR BOX
DC: Stop it.
DC: Grow up.
MHKC: *eyerollz*
MHKC: *flicks Silly Bandz*
DC: So unlike you, I am more into having things that other people can't have.
MHKC: Because you are a fucking hypebeast.
DC: So I made half of my box the LIMITED EDITION Orange Cream ones.
DC: The other three packs I got were: Chocolate Chip Cookie Dough, Strawberry Milkshake, and Ice Cream Sandwich
DC: That being said, Orange Cream is one of my favorite flavors of all time.
MHKC: Right. And gloating is one of your overall favorite activities of all time.
DC: I would open an Orange Julius franchise on St Marks if I could.
MHKC: That is a million dollar idea
MHKC: But it would be a shitshow
DC: Yeah, I mean, I don't have a Twitter so that I can tell people my hopes and dreams.
DC: It's primarily so that people will know that ME (David Cho) is doing something that YOU (AVERAGE PLEBE) can't do.
DC: And what is that?
DC: EATING 6 ORANGE CREAMSICLE POP-TARTS, LOSERS!!!!!
DC: Anyways, yeah, so that was my box.
CUSTOM T-SHIRTS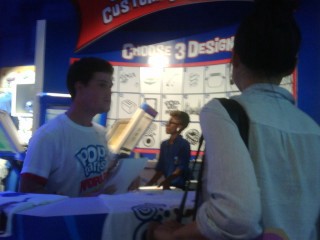 DC: Explain the t-shirt customizer.
MHKC: So, first off, they print on American Apparel blanks and it's $20 a go
MHKC: And you get to select designs from, ooooh, like 20 different options, and they silkscreen it onto the shirt for you.
MHKC: There are like half eaten Pop-Tarts
MHKC: Sprinkles
MHKC: Toasters
MHKC: Cinnamon rolls
MHKC: THE NEW YORK CiTY SKYLiNE
DC: What more could a person who likes Pop-Tarts want!
MHKC: EXACTLY
MHKC: So you get to make a fancy design and, boy, it's like the permutations are ENDLESS!
DC: Fun fact: I'm wearing my Pop-Tarts t-shirt right now!
MHKC: You're wearing your Pop-Tarts t-shirt? You know what your Pop-Tarts t-shirt looks like? MY POP-TARTS T-SHIRT
MHKC: Remember when i labored over my design
MHKC: And you COLD BIT IT?
MHKC: Because you went after me
DC: The only qualm i had with the Pop-Tarts t-shirt customizer
DC: Is that you can't pick the colors for each design, each design has a specific color associated with it.
MHKC: Right
MHKC: Because we both LOVED the pink
DC: (This is obviously to save costs on screens and avoid logistical hurdles, because you can only have one ink color per screen, or else you would have to have a design for each design and screen, which would mean instead of having 20 screens, you would have to have like 100)
DC: (I used to run a t-shirt company!)
MHKC: (you would! *hypebeast*)
MHKC: And weirdly one of the Pop-Tarts (kinda the cutest one in fact) you could only get in black.
DC: Wait, we didn't both "LOVE" the pink
DC: Also, as far as "biting your design goes"
DC: All i did was, take the design that was on the back of my shirt and put it on the front
DC: You originally had a toaster on the front and then put a Pop-Tart on the back
DC: And what you did was audible your design after I had put in my design to completely change yours
DC: To what mine actually was.
DC: No one cares about this though.
MHKC: I WILL KILL YOU
DC: Go to Pop-Tart World and make a t-shirt everyone, they're great!
MHKC: They're totally great
THE CAFE
MHKC: Dude
MHKC: Pop-Tarts sushi?
MHKC: Not really fucking with it
MHKC: BOOM
DC: Then what was your favorite thing you had?
MHKC: I really liked the cinnamon roll crunch and the sour apple cobbler situation
MHKC: They were pretty and SUPER artificial tasting. It was like eating fridge magnets.
MHKC: In a good way
DC: I really liked the peanut butter and jelly Pop-Tart thing
DC: In fact, i had one when i got home last night and then again for breakfast this morning!
DC: It was two grape Pop-Tarts acting as the bread of a sandwich with bananas and peanut butter in the middle.
DC: I actually did like the sushi though.
DC: I love Fruit Roll-Ups but I also love traditional Japanese cuisine, so obviously that was right up my alley.
MHKC: I needed a more aggressive crunch factor for the sushi. I too adore Fruit Roll-Ups but everything gets way too squishy. But yeah for sure the Elvis thing was DEELiSH.
MHKC: Ew, how gross was ants on a log though?
DC: I didn't even eat that.
MHKC: it was REAL celery
DC: I did not go to Pop-Tarts World to eat celery.
MHKC: Yeah it was incongruous
MHKC: I mean, does Kellogg's know where celery even lives?
DC: OK
MHKC: BUT
DC: Final thoughts?
MHKC: NO
DC: yes?
MHKC: MORE
DC: Oh, ok.
MHKC: OK, i think it is significant to point out that they will have soft serve ice cream with Pop-Tarts crush ins and SPRINKLES
MHKC: I think it might be the closest thing to a Dairy Queen Blizzard that we have
MHKC: Like, i'm not thinking they will be THE SAME THiNG because DQ is this whole other 'nother beast
DC: Coldstone exists too though?
DC: I think?
DC: On like Broadway and Astor Place
MHKC: Fuck a Coldstone
MHKC: Fuck outta here with a Coldstone
MHKC: Nah dude
MHKC: Textural differences
DC: Although it might have closed.
MHKC: GOOD
DC: What's the difference, it's ice cream with stuff in it.
DC: Oh, also at the cafe, you get to make your own Pop-Tart
DC: With Toppings
MHKC: And the icings
MHKC: Yes
MHKC: That was cool
MHKC: Mine rules
MHKC: You hate coconut though
MHKC: Which i get
DC: Yeah i really hate coconut.
DC: I don't like anything about it.
MHKC: It's unpleasant to chew
MHKC: But i like it
DC: The texture, the flavor, everything.
DC: Although I kind of like how they look.
MHKC: Hmm…
DC: I like the colorway of a coconut.
MHKC: THAT is interesting
FINAL THOUGHTS
MHKC: OH
MHKC: DUDE
MHKC: The music!
MHKC: We HAVE to talk about the original songs selected from teen artists from YouTube and Facebook
MHKC: There was that fake Jason Mraz Pop-Tarts song
DC: It was called "Start the Day"
DC: Can i tell you something though?
MHKC: Yes.
DC: So when we were at the computers where you could browse what Pop-Tarts was doing with social media (Fun fact: Pop Tart is a top 20 American Facebook fan pages with almost 2mm fans)
DC: There was a YouTube page that I was browsing
DC: But before you came over, i actually was looking at someone whose name was "David Choi" and i like, quickly scrolled down the page from that because I didn't want to hear your "ribbing" about how his name and my name were similar.
DC: Sorry, i just had to get that off my chest.
DC: Anyways
DC: Would you recommend Pop-Tarts World?
MHKC: Um not to anybody i know
MHKC: BUT
MHKC: I definitely have seen people in the greater Times Square area who would lose their damn minds and have a crazy good time
MHKC: AND
MHKC: I also think they need to pop up some varietizers in different parts of town
DC: Haha stop.
MHKC: Chuck one in the BAMN automat!
DC: That place is a Baoguette now
MHKC: OH RIGHT
DC: You can get overpriced Banh Mi there
DC: I would recommend people go check it out for the sake of seeing it and being like "Hey, i went to Pop-Tarts World"
MHKC: Yeah
DC: But gauge your expectations appropriately
DC: It's a store that sells Pop-Tarts, you know?
MHKC: Totes
DC: Also, if you go up there, check out Szechuan Gourmet
MHKC: PORK
DC: It's a Chinese place on 39th street between 5th and 6th with two of my favorite things to eat of all time.
MHKC: I went home thinking about the pork
DC: Sliced pork belly with chili leeks and this string bean dish.
DC: Both of them are insanely awesome.
DC: And it's right by Pop-Tarts World!
MHKC: it would be a good palette cleanser after you blasted your tastebuds with all those Pop-Tarts
DC: What more could you want!
MHKC: Srs.