Giuliani's Daughter No Altar Boy
by Nate Freeman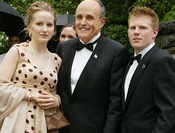 The Post is reporting that Caroline Giuliani, the former mayor's youngest child, was arrested today at the Sephora on 86th and Lexington-near the home of her mother Donna Hanover, Rudy's ex-wife- for allegedly shoplifting from the cosmetics store. The 20-year-old was caught in the act at 3:30 p.m., the Daily News alleges. This is the conversation I had with a Sephora employee shortly thereafter.
"Sephora on 86 and Lexington, how may I help you?"
"Yes, my name is Nate Freeman, I'm a reporter for The Awl-"
"No comment."
"Um, excuse me?"
"Well, what are you calling about."
"I was calling about the incident earlier today involving Caroline Giuliani-"
"I don't know what you're talking about. Have a nice day."
Then she hung up the phone.
Caroline-a student at a university located in Cambridge, Massachusetts-was, last anyone heard, being held at the 19th precinct in Manhattan for processing.