Forbes' 2010 "Hip-Hop Cash Kings" List, With Musical Accompaniment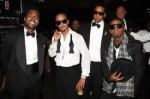 You might not know it from the way that they dress or the kinds of cars they drive, but some rap music artists make a very respectable living. Forbes magazine, in fact, has made an annual tradition out of their listing the biggest earners in the field. This year's edition came out this week. But it's important to remember that these artists also make music. So here's Forbes' list, augmented by each of these very wealthy individual's best recorded musical performance.
1) Jay-Z
2) Diddy
3) Akon
4) Lil Wayne
5) Dr. Dre
6) Ludacris
7) Snoop Dogg
8) Timbaland
9) Pharrell Williams
10) Kanye West
11) Drake
12) T.I.
13) Swizz Beatz
14) Eminem
15) 50 Cent
16) Young Jeezy
17) Common
18) Soulja Boy
19) T-Pain
20) Lil Jon
21) Gucci Mane
22) Rick Ross