Fight Night: Boxing Is a Bad Job, Badass
by Hamilton Nolan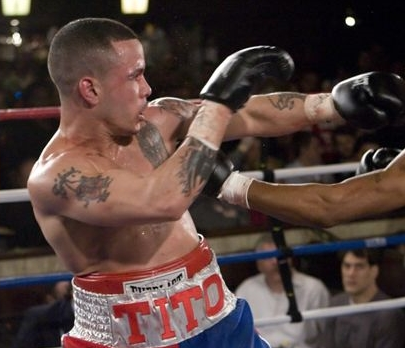 Oh! to be a professional boxer. To train and train and train and train, to sweat and bleed and trade blows upon blows, all in pursuit of the glory of beating an inferior opponent, in front of a horrifying crowd of drunk gangsters, in a basement club in Times Square. Last week I wedged into the packed house at BB King's on 42nd Street for Broadway Boxing, an event featuring up and coming fighters-the level of pro who might make it onto HBO one day, but then again, might not.
The fighters you see may turn out to be worthwhile, may indeed climb the ranks and one day feature on the undercard of some future Vegas pay-per-view bout; or they might be working construction a few years from now, telling all the guys they used to fight, to approving stares. It's that kind of show. (There are actually solid pros on the card too, but let's not ruin the romance).
Not that there is anything wrong with watching these sorts of fights. New York City used to be full of them, in each borough, every weekend. Broadway Boxing is the closest thing the city has left to the regular club fights of yore, I guess, and for that we should appreciate it, even if wandering into BB King's for such an event hits you like the realization that you accidentally went to the wrong club tonight, the club where all the real hardcore fucking Guidos are and where half the not-fun is trying to guess which of the hundreds of muscular baldies are real gangsters and which are fake-ass gangsters of most ridiculous sort, because both are well represented. I stood next to a whole group of menacing-looking twentysomething dudes with unidentifiable Eastern European accents all night. They were actually jocular and well-behaved, and had come to cheer on their friend who was making his pro debut (Stivens Bujaj, Heavyweight, 1–0, whose halfhearted opponent didn't answer the bell in the third round), and when a fortysomething guy came over and started haranguing one of the young guys about how it was absolutely imperative that he model himself closely on the Italian gangsters, who are making all the money out there, the kid replied, "How much closer can I get? I'm Albanian."
It was a hometown crowd-a crowd of people who mostly know one or another of the fighters, meaning the hometown guys are expected to win, and encouraged to do so by the matchmakers, who pull in mediocre out-of-towners to come get their asses whupped under the bright lights of Broadway. Fresno's Loren Myers, a workmanlike 7–8–1, ate southpaw jabs from his New York opponent long enough to give him plenty of time to idly muse on the question, "Why be a boxer, if you're not so good at it?" Charles "God's Child" Wade — a man whose career is so undistinguished that the promoters couldn't even be bothered to find his professional record, billing him simply as "A veteran of 7 bouts" — came all the way from Chicago just to suffer multiple (and very expected) knockdowns at the hands of lean and long-armed knockout artist Joe Smith.
Why? What for? To be booed lustily by a crowd of bloodthirsty homers, such as myself, and that 55 year-old guy with the hairplugs and the Ed Hardy shirt who keeps walking by ostentatiously, as if to say, "Yes, these are designer jeans, despite everything that makes sense in the world"? It's not something I can figure out. Boxing, unlike a job that involves spending hours wasting time on the internet each day, is unforgiving of even the smallest amount of slacking. The difference in talent between two fighters may be only a scarce few percentage points, and that is more than enough to ensure that one man is struck upon the head until he is unconscious. Skipping just those few extra reps in the gym caused you to drop your hands just a few seconds before your opponent which caused you to receive a punch in the face. There are no ribbons for damn-near-as-good as the other guy.
Gabriel "Tito" Bracero, from Sunset Park, went up against Boca Raton's Raymond Betancourt. The two had remarkably similar looks and remarkably similar fighting styles, the only real difference being that Tito was about 5% faster with his punches, and threw them with 5% less wasted motion, and was perhaps 5% more accurate, and the result was that Raymond Betancourt got beaten back and forth across the ring before being knocked out, whereas Tito came off looking sparkling, composed, and ready for prime time. And the 95% that Raymond Betancourt did have? It did not earn him an 'A.' It earned him a concussion.
Tito Bracero, watch for him, he's gonna be something. The night's final fight was anticlimactic. Argenis "La Tormenta" Mendez did in a scrappy but easily overmatched Shamir Reyes; the much taller Mendez peppered Reyes from the outside for eight long rounds, and looked positively bored when Reyes rushed him and tried to throw body flurries on the inside, as if a left hook to the kidney from little Shamir Reyes was far less interesting than daydreaming about what he might be missing on "Law and Order: SVU" that very moment. At the end of the first round Reyes shot forward, and Mendez, who'd been waiting the entire round for that, pivoted like a matador and dropped a right on Reyes' temple, sending him to the mat. It wasn't a devastating blow, but it was beautiful, like a clean judo throw. Reyes tried hard, but didn't have nearly enough to hurt Mendez; Mendez could have ended it early, but his belt wasn't up for grabs, so they both just sort of floated along for eight rounds, the crowd trickling out, congratulating their various friends whose fights had already been won.
The antiquated notion that boxing can make a better man of you is actually true. It can, in fact, teach us to overcome adversity, and trust in ourselves, and all those other grand benefits that might appear in the boilerplate of an Everlast catalogue. But as a full-time job, it's an awful gig. For every millionaire world champ, there are a thousand Charles Wades: Veteran of eight bouts. Winner of not much.
Previously: Douchebag as Role Model: The Case of Paulie Malignaggi

Hamilton Nolan is the media editor of Gawker.