Bruce Springsteen, "The Promise"
Man, I'm psyched to see The Promise, a documentary about the making of Bruce Springsteen's 1978 album Darkness on the Edge of Town, my favorite Springsteen album (which is a little bit like saying, "the favorite part of my heart.") Directed by longtime Springsteen cinematographer Thom Zimmy, it's set to premiere at the Toronto Film Festival next month, along with interesting-sounding documentaries by Errol Morris, Alex Gibney, and Werner Herzog (whose Cave of Forgotten Dreams is about prehistoric cave paintings and is for some reason shot in 3D.) HBO will be airing The Promise for me in October-and for you, if you want to see it too.
The song from which the movie takes its title was written in 1976, but went unreleased until it's inclusion on the 1999 rarities compilation 18 Tracks. Besides being a pretty great song, it serves as a cool sort of musicology document (or maybe just a "Bruceology" document; this is geek stuff, for sure) because its so prototypical of Springsteen's writing from that time period, from the opening lines-"Johnny used to work in a factory…" (this was ten years before Bon Jovi-feh!-would bring his brother, Tommy, to the docks)-to the chords, which are basically the same as those from "Badlands," which did make the cut for Darkness, appearing as the album's opener. You can hear parts of the song cropping up in "Racing in the Street," too, and also in the album's title track. There are distinct references to "Backstreets" and "Thunder Road" from Springsteen's previous album, Born To Run. And similar themes or melodies would show in the title track to the next one, 1980's The River, and "Highway Patrolman," from 1982's Nebraska, and "No Surrender," from 1984's Born In the U.S.A.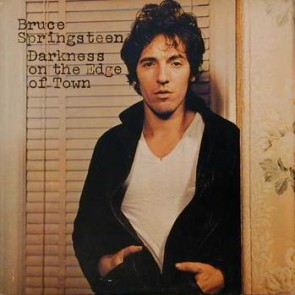 It provides a good look, I think, at how a songwriter puts songs together, using bits of one here, a recycled idea there. And of how a talented artist can make a lot of good work out of a few seminal themes. Of course, people who don't like Bruce Springsteen would probably disagree, and say that this is just evidence that the guy writes the same song over and over again. But, you know, that's only proof that they have a shriveled lump of coal where their heart should be, and that there's no accounting for taste in New Jersey or anywhere else.