Beyond the Tubes: The Legacy of Senator Ted Stevens
by Nate Freeman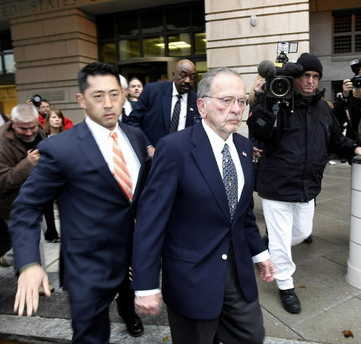 It was not his first plane crash. Ted Stevens had been there before-during a rough touch-down in 1978 at Anchorage International, which would later be renamed for the senator. That first crash left Stevens with minor injuries but it killed his wife, Ann.
The circumstances of yesterday's crash, the one that killed him, when taken in the context of his history, presence and reputation are such that they tempt metaphor and hint at irony. The plane was owned by Alaskan telecom giant GCI (where one of the senior VPs is a former Stevens chief of staff) and was en route to a retreat at the corporation's Agulowak Lodge. It invokes the scandal over the senator's own chalet-in Girdwood, Alaska, home of the Alyeska ski resort-that received an alleged $250,000 in renovations comped by the head of the VECO Corp., an Alaska-based oil field services company.
The gifts led to the senator's conviction for seven counts of felony, a verdict reached while he was in office. The conviction was voided, on grounds of misconduct by the prosecutors.
The work on the chalet was quite substantial. The entire frame had been propped up and a new floor was built beneath it, with two bedroom and two bathrooms. They added a wraparound deck on the second story and a garage with a study. Then came the deck on the first story, and the plastic roof, and the $55,000 lighting system. There were other gifts, too: tool sheds, a new gas grill, a massage chair, a stained glass window, a sled dog, a Land Rover and a backup generator.
The last gift was a trip to an expansive retreat, the plane and lodging provided by GCI. He was, according to the prosecutors, getting paid back for his determined efforts to funnel funding to all corners of Alaskan industry. The billions of dollars he had earmarked for the state had won him the designation of "Alaskan of the Century."
Ted Stevens had a long time to develop these relationships. He was a man who, at the time of the crash, 17 miles north of Dillingham, had been cultivating them for 86 years. Stevens was gruff and salty, and earned a reputation for being a hothead in and out of the senate chambers. After that first plane crash, he hobbled on crutches into a committee meeting and blamed Democratic Alaskan senator Mike Gravel for forcing him to go to Anchorage on the doomed flight, blamed him for trying to crush the bill he was traveling to save-blamed him, ostensibly, for the death of his wife. Stevens once said, "I'm a mean, miserable S.O.B."
A few years after his birth in Indianapolis in 1923, Stevens left for Redondo Beach, California with his divorced mother. There he met Russell Green, the son of the president of the Signal Oil & Gas Company. Russ became a surfing buddy, and after Stevens got done with tours in World War II (he was in the Air Force, appropriately enough) he consulted his friend's father on where to take himself. He attended UCLA-where he joined the Delta Kappa Epsilon fraternity-and then went off to Harvard Law, all of which was partly funded by the G.I. Bill.
A stint at a D.C. law firm got him another gig in Fairbanks, so he drove up with Ann and stayed in the state for good.
His first bid for a spot in the U.S. Senate eluded him-he lost to incumbent Ernest Gruening, former governor of the Alaska Territory and one of its first senators as a state-so he settled into a role in the Alaska House of Representatives, where he eventually became majority leader. Then, when Senator Bob Bartlett died in office in 1968, Stevens was tapped to replace him. He won the election two years later and served until 2008, when he lost what would be his eight term to Anchorage mayor Mark Begich.
But this being the Internet, it would be a mistake to not give the appropriate credence to what may become-at least in the online world-the senator's most enduring legacy: his meme-inspiring speech about the internet being "a series of tubes." On June 28, 2006 Stevens was giving an otherwise inconsequential speech on Net Neutrality, and Public Knowledge intern Bill Herman was recording it for one of his co-workers. That is the source of Stevens' comments that have become the go-to example of the way The Olds see the this whole crazy "internet" thing:
I just the other day got, an internet was sent by my staff at 10 o'clock in the morning on Friday and I just got it yesterday. Why?… Because it got tangled up with all these things going on the internet commercially…They want to deliver vast amounts of information over the internet. And again, the Internet is not something you just dump something on. It's not a truck. It's a series of tubes.
As funny as the clip was, it was also a bit disconcerting-as the chairman of the Senate's Committee on Commerce, Science, and Transportation, Ted Stevens was, in a sense, the number one man in charge of creating Internet policy.
Alex Curtis, the director of policy and new media at Public Knowledge, was amused by the comments and posted them. It was picked up by a blog at Wired the next day, and by the time two weeks had passed footage was beaming into households courtesy of a now-famous piece on The Daily Show. The web was relentless, and soon Stevens had been given the full meme treatment-music videos on YouTube, Techno remixes, I Can Has Cheeseburger-style images, picture montages of the senator, messages accompanied by tubes or trucks, LOLcats, etc.
It seems unlikely that a man as old-fashioned as Ted Stevens-though not deeply conservative, still in touch with the independent Alaskan ethos, a man who maintained a streak of loyalty matched only by his tendency toward vengeance-would cement a reputation through the new economy of amusement that is the meme exchange. He clearly had no clue how the Internet works, yet there's his face flashing between pictures, his voice rasping over trancey synths in a YouTube video that's been viewed almost four million times. His cry will never again irritate his enemies who work in the Capitol chambers, but there he is repeating those words over and over again. And he'll always be there, just a few clicks away, forever-maybe!-available on this endless series of tubes.