Your Helicopter Ride Above New York with Glenn Beck
by Nate Freeman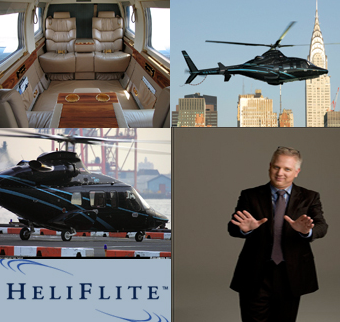 Great news for people that love giving to charity. They're auctioning off a dinner with Glenn Beck and his wife at their home in Connecticut. The proceeds from this opportunity will benefit the Special Operations Warrior Foundation, a non-profit that provides support for the children of Special-Ops personnel killed in training or military missions. Sort of! More specifically, the money will go to the Restoring Honor rally that will take place August 28th in front of the Lincoln Memorial. The winner will also receive a trip on a helicopter over New York City, during which Beck will "point out historical buildings and sights as you soar high above the Big Apple."
To save you the money that you would otherwise be tempted to spend (the bidding has stalled at $70,000) here is the tour that Beck will most likely be giving to the lucky winners.
SCENE
(GLENN BECK, in a white starched shirt and red tie, walks onto a helipad. The sound of whipping propellers chops the air. LUCKY WINNER is standing with his wife, whose hair flails in the gusts. LUCKY WINNER approaches BECK, who embraces him with a hug and yells something into his ear. They step into the helicopter and shut the portal. As the pilot floats the machine above the helipad, and into the airways above Manhattan, BECK begins to point out his favorite "historical buildings and sights.")
BECK
Look down, and you'll see the monoliths of Midtown, where, in Times Square, American lives were nearly lost by a terrorist attack. I often walk the streets and see the common man struggling to make enough money to feed his family, and you know that he can still hold to his heart the American Dream. But when I'm walking to my radio show, I find myself scared for this man, because at any moment a Muslim terrorist could set off a bomb in Times Square. It almost happened! Obama's White House let it almost happen! God, I hate this town.
LUCKY WINNER
[Opens mouth to say something and-]
BECK
Here, we get into the parts of New York I never go to, Greenwich Village, but I've heard that it's a place where "fornication booths" are as prevalent as police stations, and there's a guy on every corner offering abortions for chump change. What kind of a world is this? Same-sex incest and murder and the collapse of the American identity. I actually call this place Death Of American Values Village. And it used to be Green Card Village, where the European communists came and spread that disease to freedom-loving Americans. There was a communist office on every street corner, and it was a dangerous place. And now its morphed into the fascism that makes its way into every bill Obama signs into law!
(They head further south.)
BECK
And here's Wall Street-or, rather, Bernanke's Playground, I like to call it. This stretch of waste and spending couldn't be farther from the heartland, the small towns of America that this country is based on. Wall Street didn't get drunk, Obama-it got wasted. Wall Street! Main Street! Wall Street! Main Street! CEOs and fat cats! With their helicopters and limousines! Gorging on the hard-earned money that blue-collar workers have to tithe over to the Obama administration, who then give it to the pigs, err, wolves, err, cats. The fat ones!
BECK
And now here's Ellis Island-I like to call it Free Pass Island. And there's the Statue of Liberty, now draped in the dark pall of fascism. And it's this statue-given to us by those socialists in France-that is here, off the coast of New York, to mock us for slowly turning into that European-style country, a big government with a spending problem. Her face is pained with the look of a woman wronged! Wronged by the emergence of a Marxist state!
(As the helicopter turns around and heads back north toward Connecticut, there's a long awkward silence. They land. The chauffeur opens the limo doors and drives them to BECK'S Connecticut mansion. Dinner is burgers with a side of freedom fries. Every burger has one American flag stuck in the center on a toothpick, except for BECK'S burger, which has three.)