UPS Allows You To Pay Them Instead Of Paying Baggage-Handling Fees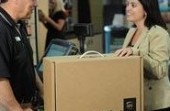 UPS will start selling suitcase-sized boxes at its retail outlets so weary air travelers can ship their luggage from place to place, thus alleviating themselves from the twin hassles of checking bags at the airport and retrieving said bags from luggage carousels after flights. The demographic being targeted here is apparently "people of leisure," since:
To ship the small size box at a maximum weight of 55 pounds between Los Angeles and New York on UPS's ground network would cost about $66, including the price of the box, Rosenberg said. It would take about four days to get there. The large box would ship for about $92, she said. Delta currently charges $25 for one bag weighing less than 50 pounds that is checked in at the airport.
UPS's small box sells for $12.95 and the large one for $17.65, not including shipping.
Keep in mind that this is for a box that is designed to hold a single piece of luggage. Now, the Atlanta Journal-Constitution is naturally going to look at its hometown airline for comparative price points, and I understand that other airlines try to get away with charging a lot for bags (damn you, Virgin America) — almost enough to make the straight economics of this worth it. But if you have that much time to spare, particularly when you consider that said gap would mean that you and any liquids you might need for your daily toilette would be late-arriving, why would you not just, like, drive to your desired destination within the continental U.S.? At the very least you wouldn't be tussling with a stranger over who gets the armrest!