'Treme': A Shouting Match
by Natasha Vargas-Cooper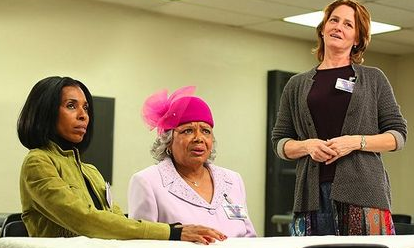 Natasha Vargas-Cooper: Dan Kois! I consider you a top critic. A man of refined taste and considerable insight. How do you defend your love for such a subpar project as "Treme"?
Dan Kois: Natasha! I consider you a canny TV viewer, and a recognizer of quality in all its forms. How do you defend your dismissal of such a quality project as Treme?
Natasha: A Battle of Wits!
Dan: Let us first define the terms of our debate.
Natasha: Personal attacks: allowed!
Dan: Encouraged, you tramp!
Natasha: Okay, out with it! Are you going to tell me it's cause you LUUURRVEE THE MUSICCCCCC?
Dan: Given that I was recently emailed by angry viewers for spoiling a plot point of The Wire's Season 4, it should be noted: THERE WILL BE SPOILERS, PEOPLE. (Also, relax, spoiler assholes.)
Natasha: PSH! SPOILERS! TWO THINGS HAVE HAPPENED THIS SEASON!
Dan: OK! I am not going to make a case for Treme as groundbreaking television, or as a Wire-like masterpiece.
Natasha: Good!
Dan: But I am going to make a case for Treme as a really good show that I always enjoy watching, and that I think could evolve into something great over time. And it's not because I luuurrrvvve the musiccccccc. In fact, the music gets on my nerves most of the time.
Natasha: How many episodes should a TV show take to evolve, Dan Kois?
Dan: As many as it wants, as long as it starts out as something good!
Natasha: How much slack are you going to cut David Simon and The C.C. schlock factory?
Dan: I'm not going to watch "NCIS" in hopes that it is eventually going to turn into "Hill Street Blues." But I will happily watch "Treme," because I like it now, and it contains within it ingredients for a show I might well someday love.
Natasha: Tell me, before all of the internet, what you find SO REWARDING about this labored NPR segment of a show?
Dan: You're so aggressive!
Natasha: Handle it, pussy!
Dan: Here are the things I really like about this labored NPR segment of a show. I REALLY LIKE the following characters: Ladonna, Janette, Antoine, and Toni.
Natasha: "I'm Nina Totenberg, reporting live from Trey-MEHHHHH."
Dan: I SORT OF LIKE the following characters: Albert, Delmond, Creighton, and Annie.
Natasha: Wait, wait, let's break them down by archetype because that's what we are working with here. You are compelled by sassy, scrappy, women, who are like, "Eat it, Katrina! I have dreams of having my own __ in the service industry!" I don't even known who the second stratum are because they are so FORGETTABLE.
Natasha: But please, ENLIGHTEN ME.
Dan: I am compelled by a lot of the women, yes — because the actresses playing them are so great, and because the show has not been shy about putting them through the wringer.
Dan: Are you really going to argue against Khandi Alexander? NO, SERIOUSLY, ARGUE AGAINST KHANDI ALEXANDER. WTF NATASHA ARE YOU LOOKING UP WHO IS KHANDI ALEXANDER? I WILL CUT YOU.
Natasha: I AM GOOGLING HER! Oh whatever! WHATEVER! I unmoved by the plight of the insufferably noble! She is a fine actress. They all are.
Dan: But what is so noble about her?. She is tough, yes, but she is also kind of a bitch, and she lies to her mom, and she cheats on her husband. And she is funny. And she is sad. I think you're setting up a straw black woman. WHAT IS NOT TO LIKE?
Natasha: KOIS! Are you race-baiting me to cover up the fact that there is a significant lack of drama in your precious show about wuvable musicians? You are a scoundrel!
Dan: Hahahaha. Race-baiting is awesome! I feel I have been missing out on an important part of arguing all these years.
Natasha: I will admit that Khandi is luke warm center of the show. Her story line of trying to find her missing brother who was washed away by the storm and the following incompetency is interesting. Dare I say it? Compelling even! BUT THAT IS IT. YOU GET NO MORE FROM ME.
Natasha: This show is about what? What is this about, Dan Kois, besides making people in Brooklyn feel good about sitting through 54 minutes of 'ordinary folk' and 'their charming music'. CASE IN POINT: "You stopped playing with Sonny? Fucking is fucking. But music…" And all the finger wagging! Where is FEMA?! Where are the drug gangs?! Where is the human drama?
Natasha: I'm done now.
Dan: But it IS about ordinary people! And their charming music! I guess I just don't get what is so objectionable about that.
Dan:And where IS FEMA?
Natasha: Touche!
Dan: Wait, are you upset that the show is demonstrating a totally appropriate level of outrage over what happened after Katrina?
Natasha: JUST THE OPPOSITE! I think it misses the outrage! Because it averts the truth!
Dan: Like what?
Natasha: It avoids the nastier parts of the city. It's mentioned and there is some violence and political graft and mean police here and there. But I feel like Simon and crew's whole M.O. is to be like "LOOK HOW NEAT THIS PLACE IS! EVERY ONE JUST WANTS TO HAVE A GOOD TIME! AND YOU GUYS DON'T CARE!"
Dan: So you are indeed asking for Treme to be The Wire Part 2. But it's very determinedly not, and to ask for that is to guarantee yourself disappointment, yes.
Natasha: Why should I not demand the best from my artists, Dan? Why must you enforce the tyranny of low expectations?
Dan: And I think Simon and the C+C schlock factory (TM) are doing something very different from either of the things you're accusing them of:
1. Failing to make The Wire Part 2
2. LOOK HOW NEAT THIS PLACE IS etc.
Natasha: They have subverted real post-Katrina drama for gooey-ness!
Dan: I think they're making a broad-based character drama that attempts to tell the story of a city through PEOPLE, not systems.
Natasha: And sermonizing! Hm. Interesting!
Dan: HOLD UP GIRL.
Dan: Look, I loved The Wire. Even when I hated it, I loved it. But I spent a lot of time annoyed at David Simon through The Wire for his constant jerky interviews in which he would declare that the show wasn't about characters or story, it was about arguments and systems, and people who enjoyed the characters and story were ENJOYING IT WRONG, basically.
Dan: But — while I agreed with the arguments, and was interested in the systems, I CARED about the characters.
Natasha: I did as well! Proving that Simon can do both! I NAMED MY DOG 'BUNK', DAN KOIS.
Dan: Hahahahaha.
Natasha: You know what? I agree with you. I agree that what made The Wire so rich was the characters that made up the systems they worked in!
Dan: SIDE NOTE: How depressing is it to see State's Attorney Rhonda Pearlman as the beleaguered mom of a teenager in a Home Depot ad? BUT THAT'S NOT IT.
Natasha: I do not find any of these characters to have the drama and conflict! They are all too good!
Dan: The characters in The Wire were rich in part because of the systems they worked in, but they were fascinating DESPITE the show's insistence that all that was interesting about them was the systems they worked in.
Dan: And so, for example, in Season 5 of The Wire, only our great good will toward Jimmy McNulty was enough to carry us through a tricked-out plot from a third-tier CBS cop show.
Natasha: It's true! But listen, LISTEN TO ME NOW.
Dan: Listening!
Natasha: These characters seem too resilient! And largely incorruptible. The hardnosed journalist. The gregarious musician. The noble fiddler. What is so wonderful about The Wire, The Corner, and Generation Kill is that you get to see how human drama plays out in this compressed, high stakes situations, which post-Katrina NOLA is rife with!
Natasha: AND YET…
Natasha: AND YET HERE WE ARE, DAN KOIS.
Natasha: One episode away from the finale with little character arch and zero action.
Dan: TWO QUESTIONS.
Natasha: SPEAK THEM TO ME.
Dan: 1. So for real the only TV show you are willing to accept from David Simon is one that uses the exact same tools he's used well before? You're not interested in seeing, say, a slow-paced slice of life character drama? Or is it that you feel that no such show should be set in as ripe a locale as post-Katrina New Orleans?
Dan: THAT IS ONLY ONE QUESTION.
Natasha: YOUR QUESTIONS ARE WRONG.
Natasha: 1. I am for auteurs stretching their wings and getting adventurous! Sure! I didn't disown Martin Scorsese when he went through his strange 'failed musical' period with Gangs of Cameron Diaz and The Aviator.
Natasha: I kept him in my heart! But! Do what works, you know? The man has a gift!
Dan: (It was so sad when he tried to be Baz Luhrmann, yes.)
Natasha: And when he came to The Departed it was like he had returned to his ancestral home! I thought David Simon would be at home in post-Katrina Nola! And I am MAD AS HELL that the isn't getting all David Simon-y about it. I love character dramas! I wrote a book about one (ON SALE JULY 20TH) but these characters are boring, Dan! THEY ARE ZZzzzzzzzzzZZZ.
Natasha: I win.
Dan: Only if I believe you! And I just don't. I really like these characters. I don't mind that they are low-key. I don't mind that the stakes are "low" (in comparison to, say, Generation Kill), because the actors are convincing me of how high the stakes are for them.
Natasha: Let me tell you a story that invalidates all that you are saying. I was in New Orleans — roughly around the time the show is set.
Dan: I WAS TOO, IN EIGHTH GRADE! Oh wait…
Natasha: WHY DON'T YOU FIDDLE ABOUT IT, FAG?
Dan: Carry on.
Natasha: The week I got there and they had called in the National Guard. They called the National Guard because the HOMICIDE rate was uncontrollable, because the rival drug gangs had moved back in to the lower 9th, which still looked like Dresden and there were all these turf fights. It felt like you were walking through a very heady, very unstable place at night. Combustable!
Natasha: Here is a modern tragedy, at the cross sections of Nature and the Government and Music and Drugs and like, John Goodman is moping?
Natasha: PSSSHHHHH to that.
Dan: BUT YET. "And you want to talk to me about a trombone?"
Natasha: Is this something one of the charming musicians said to a sleepy eyed tourist in show of hometown pride? BECAUSE THAT SCENE HAS HAPPENED SO MANY TIMES I'VE GOTTEN CONFUSED.
Dan: It is what David Morse's cop told Toni the lawyer when she was complaining about cops pawning a trombone, and he pointed out that the city was in chaos, murder was on the rise, half of his cops were gone, and the other half were homeless and on the knife-edge of quitting or killing everyone in sight.
Natasha: AND YET.
Dan: You don't think any of these stories feel real? Real to the characters who are living them?
Natasha: These characters are puppets! I feel they serve to manipulate me! In really unsubtle ways!
Natasha: I HAVE A CONFESSION. I want to love this show. I want to savor it and explore it. I want to be on Team Treme. But how long must I wait? How many more speeches must I endure?
Natasha: How many more acts of selflessness must be thrust upon me??
Dan: I HAVE AN ACCUSATION
Natasha: MAKE IT.
Dan: It doesn't seem like you want to love this show.
Dan: It seems like you want to love the show you wish this was.
Natasha: Are you calling me A Liar?
Dan: A show that represents and explores the feeling you had when you were in New Orleans. A show that does for New Orleans what The Wire did for Baltimore.
Natasha: Dan, I will not deny your accusations. I admit. You are correct.
Dan: I guess what I'm saying is little better than "lay back and make the best of it" but in the end that is what I am saying.
Natasha: YOU ARE IRL STEVE ZAHN
Dan: Just because this show is not The Wire does not make it, de facto, bad.
Natasha: I feel that it is also crappy character drama!
Dan: It is hard for me to grow your lack of interest in the characters, I guess, because they seem like pretty rich and interesting constructions to me, about 20x more complicated than the characters in pretty much any other show on television.
Natasha: Here, tell me who the weakest character is and why?! PUT THE DOPE ON THE TABLE DAN.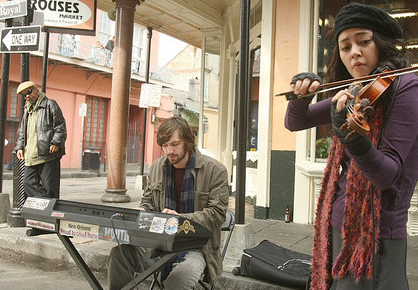 Dan: Sure, let's take the weakest character. I think the weakest character in the show is probably Sonny.
Natasha: Why is he the weakest character?
Dan: He is the weakest, to me, because his storyline runs closest to cliche, and because he can be pretty keening and one-note. And because I've about reached my narrative limit on musicians who do The Drugs. AND YET.
Natasha: I walked into a trap. ABORT! ABORT! ABORT!
Dan: AND NOW IT HAPPENS.
Natasha: Right. And yet the last few episodes have had the best drama and suspense around his actions! CURSES, KOIS!
Dan: Despite, this, I would still argue that he is more complex and thoughtfully drawn than the average character on even the best non-Mad Men shows on TV. He's an outsider desperate to fit in in a place he loves but which isn't all that interested in him. He might be a hero, or he might be a total fake. (Like Don Draper!) He's a good pianist and a bad boyfriend. He conflates his music with his love life in weird and dangerous ways. Also he is sexy as hell.
Natasha: I resent you using Don Draper in this context. Do you not know that that is my weakness?
Dan: Advantage: mine.
Natasha: Savage.
Natasha: The Chief for me, is the biggest failure of Simon's nerve. Or his wrongheaded 'New Direction' because that guy is too pure. Too noble in the face of evil. Too one note. And he could be our greek chorus! He is on the front lines of all the atrocities.
Dan: WHAT THE-HE ALMOST FUCKING KILLED A KID FOR NOTHING WORSE THAN STEALING SOME PIPE.
Natasha: THAT WAS LIKE 43 EPISODES AGO.
Natasha: Listen, I think we figured out where the problem lies. You like Age of Innocence, Kundun and The Aviator and I like Taxi Driver, Goodfellas and Casino. I prefer purity of genre! And you like crap.
Dan: You DID figure it out!
Natasha: Oh, that was too mean! I generally love what you love!
Dan: (Casino and Kundun are BOTH terrible!)
Natasha: CASINO IS ONE OF THE BEST! THROW YOURSELF INTO A RIVER!
Dan: I love you too. I love you the way a New Orleans musician loves a long fucking solo that doesn't advance the plot in the slightest.
Dan Kois writes about movies and plays and non-comic books, too. You can buy his latest, about that Hawaiian guy with the ukulele. We already pimped Natasha Vargas-Cooper's forthcoming book, but here it is again.