by Fratboy Slim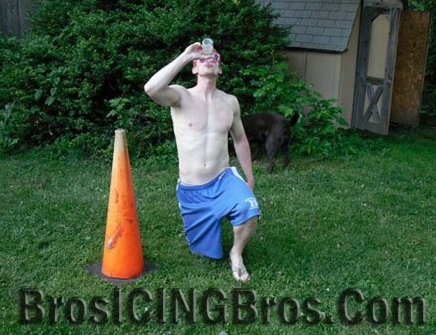 From time to time, we offer free editorial space to common folk with something to say. This is one such time, in which a fratty bro of our acquaintance explains what exactly is going on with bros. Spoiler: It's not good!
You may have heard about this new thing the kids — white males in their 20s, mostly — are doing? DRINKING SMIRNOFF ICE, AGAINST THEIR WILL, AT RIDICULOUSLY INOPPORTUNE TIMES. Seriously.
The rules are simple: hand a Smirnoff Ice (the warmer/more disgusting the flavor, the better) to a friend (your "bro"), and he must get down on one knee and chug the malt beverage, regardless of location and situational appropriateness. HOWEVER. If said friend happens to have a Smirnoff Ice on his person, then the bro who initiated the battle has to chug BOTH Ices.
This is known as an Ice Block.
The obvious questions:
WHERE DID THIS START?
According to this interview with one of the founders of Bros Icing Bros, an online compendium of photos of Bros getting Iced, "While Icing started in South Carolina at some of the frattiest schools in the union (College of Charleston, Wofford College) it has now spread nationwide. Current hot spots are New York, Texas and other Southern fraternity-dominated schools."
The url for BrosIcingBros.com is registered to Jim Greg of Atlanta.
DO PEOPLE WHO ARE NOT IN COLLEGE — WHICH IS TO SAY, PEOPLE WHO THEORETICALLY HAVE ACTUAL RESPONSIBILITIES AND WHO ARE EXPECTED TO NOT BE DRUNK 24–7 — ACTUALLY DO THIS THING?
Shockingly, yes. While commodities traders at Goldman Sachs don't appear to be chugging Ices at their cubicles (yet!), the phenomenon has so far invaded laxer corporate environs. [UPDATE: An icing at Goldman Sachs-on the premises, no less-has just been confirmed by an employee that asked to remain anonymous.] A friend at Vice reports that someone brought a 24-pack into the office just this morning. Bros have been Iced during early-morning meetings at IAC's CollegeHumor office. I've also heard of this going down at advertising agencies, including Wieden+Kennedy, the Portland-based giant behind Nike.
WHY SMIRNOFF? ARE WE SURE THAT THIS ISN'T A CLEVER STEALTH VIRAL MARKETING CAMPAIGN?
Smirnoff Ice, like most malt beverages, has long been considered among "feminine" beverages, despite the attempts of advertisers to change this perception. (Sorry, Mike's Hard Lemonade. Still not buying it!). So I guess the joke is, in part, "bros chugging girly gay drinks, ha ha"?
But no, this doesn't appear to be an in-house guerrilla marketing campaign. For one thing, in all the icing videos, commentary is issued about the disgusting state of Smirnoff, and an icing is usually greeted with "fuck you."
For another thing, alcohol companies tend to dance very carefully around the subject of binge drinking. Take, for example, Miller Lite's new "Vortex Bottle," which has rifled neck-grooves that serve no other conceivable function other than to facilitate the flow of beer into the drinker's mouth. As Slate's Seth Stevenson points out, the ad for the Vortex Bottle "doesn't explicitly mention this benefit (I have to imagine there'd be some dicey liability issues involved in advertising a way to get drunk quicker), but if the bottle truly serves this purpose, word will soon spread."
Elsewhere in the interview with the founder of Bros Icing Bros, it is mentioned that people have been iced "while driving cars." Probably not the behavior a liquor company wants to be associated with. As Ricky Van Veen, the co-founder of CollegeHumor who has taken to walking around his office wearing a fanny pack that holds one Smirnoff Ice as a pre-emptive Ice Block, says, "The last thing Smirnoff wants to do is encourage drinking games/binge drinking."
Still, you can never know. I've left messages with both Smirnoff as well as with its ad agency, JWT, and I will update if they respond.
So basically, if someone hands you a 24-oz, room temperature Green Apple Smirnoff this weekend, it is your duty to take a knee and chug it. Even if you are a lady bro. FOR AMERICA. The more you know.
Fratboy Slim is a bro in New York who doesn't want to lose his job for writing about the joys of icing bros.