Jim Jones, "Hit 'Em Up" (And Jonestown As A Tourist Attraction)
Jim Jones is not a virtuoso rapper. He'll never be able to rhyme with the likes of Jay-Z or Lil' Wayne or his old friend and Diplomats partner-with whom he's recently gotten back together–Cam'ron. Rather, Jones gets by on charisma-inflection, tone, and giving the general impression that he's the coolest dude at the party. Without a great beat, that's not usually enough. But with one, sometimes, it really works.
Produced by Jokey Ent, the song "Hit 'Em Up," from Jones' latest mixtape, The Ghost of Rich Porter, is an example.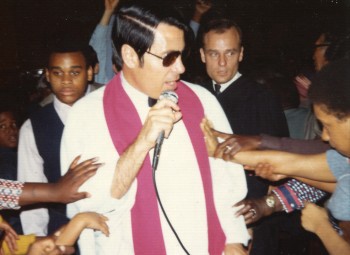 In news regarding another famously charismatic Jim Jones, the cult leader from the 1970s, the Times reported yesterday
that there's a push to turn the site of his old Jonestown, Guyana compound into a tourist attraction. This is where 900 people were murdered or instructed into suicide 32 years ago. And where Jones apparently kept a caged chimpanzee named Mr. Muggs to "terrorize disobedient followers." (He picked the right animal, as we know.) Now, if we can just get the rapper Jones to play a Dipset reunion at the opening of the theme park, with special guest DJ Muggs from Cypress Hill on the turntables…