Dear America, Please Come Visit
by New York City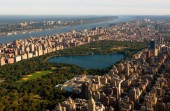 Hey, America, howyoudoin'?
Hahaha, I kid! I know that's the sort of greeting so many of you associate with me, New York City, but I assure you I am much more classy and sophisticated than the impression given by the many television sitcoms and Hollywood exaggerations you have seen over the years. I exude elegance. I am, of course, the Greatest City in the World. You should come see for yourself!
Now, listen, America: I know you're probably a little uneasy about me right now. You resent my associates downtown for the way they wrecked the economy. You have probably heard that there's been a tiny — infinitesimal, really — increase in the crime rate. You're a little tired of all the Jews. I understand, believe me. But you're misplacing your anger.
We are not that different, you and I, America. We have the same values (money trumps everything, only winners matter, misery is best countered by an illogical belief that you will somehow succeed no matter how deeply stacked against you the deck is, etc.), although I might tend to express them a little more loudly. It's just my way! I'm a can-do go-getter with sharp elbows. And I know you admire that!
So why not come stay with me for a week or so? The weather's starting to warm up, and as much as I'm happy to take the euros and riyals that foreign tourists are clamoring to dump into my coffers, I would really prefer to see you, my fellow countrymen. There's something about the special bond we share that makes me feel like — WHAT THE FUCK WAS THAT?
Oh, I'm sorry. It was just an empty gas can someone carelessly discarded near a pack of matches. Did I scare you? I did not mean to. I've been a little jumpy lately is all. I apologize if you were alarmed. Can't be too cautious these days, you know?
Anyway, as I was saying: There is so much to see and do here. I am not knocking the cultural opportunities in your own hometowns — which I'm sure are lovely, in that understated provincial way you do so well; it's adorable, really — but you don't get to the top of the heap by taking half-measures. My museums, my theater district, my many amazing restaurants: They are prized above all others for a reason. It's because they're — HOLY SHIT WHAT THE FUCK IS THAT GUY HOLDING IN HIS HAND? EVERYBODY DOWN!
Whew! Excuse me! I don't know what is going on with my nerves these days. It was very silly of me to mistake that man with the bucket and broom for someone who was up to no good. He is one of the many people who help to keep my streets free of garbage and clutter. I appreciate all the work he does, and I am beyond embarrassed by my reaction just now.
But that brings up an excellent point! I am not just a city where you go to see things and eat well, although of course there's plenty of chances for you to do that. No, I am also a great example of a city as a city, a place with clean streets but a vibrant club scene, a place where so many different people come together in harmony to make a better life for themselves, a town whose energy never sags or falters or — OH MY FUCKING GOD WHAT JUST HAPPENED? DID YOU SEE THAT?
What? A small child chasing after a butterfly? Ugh, so so sorry! You know how you catch something out of the corner of your eye sometimes and your mind envisions the worst possible scenario? I have been sleeping poorly of late — no, nothing for you to concern yourself with, I'll handle it — so I'm more susceptible to that sort of thing than usual.
But that beautiful, vibrant toddler we just saw loping after a flying insect reminds me: I am very family friendly! My parks are tailored for your small children, my zoos are world-renowned, there are parts of my lesser boroughs where you'd almost be convinced that babies run the show! Bring the whole family, because there's plenty —
OH GOD.
OH GOD.
OH GOD, THIS IS REALLY IT, ISN'T IT?
OH GOD, PLEASE HAVE MERCY ON MY SOUL IN THIS MY FINAL HOUR. PLEASE FORGIVE ME FOR MY SINS AND RECEIVE ME INTO YOUR BOSOM WITH THE COMPASSION AND UNDERSTANDING YOU BESTOW UPON ALL MISERABLE SINNERS. I —
Oh. Just a cloud passing in front of the sun ever so briefly. Wow, I am tense. You have any Klonopin on you? Eh, don't worry about it, I know a guy, I'll have a whole bottle in 30 minutes. That's what's so great about me, you can get anything you want at any time!
Listen, I don't want to cut this short, but I think it's probably for the best if I run up to my apartment and bolt the door and spend the rest of the day watching reruns of "Law & Order," may it rest in peace. I really am just not feeling like myself today. Anyway, let me reiterate: This is the most amazing town in the world. You should totally come spend some time here. Please leave any electronic devices at home though; I don't think my heart could handle it.
See you soon!
Love,
New York City
New York City is comprised of Manhattan and a couple of other places. It is the world's cultural capital. First settled by the Dutch in the 17th century, New York — OH GOD, I THINK I JUST CRAPPED MY PANTS! WHO LEFT THIS BUNDLE OF TIED-UP NEWSPAPERS NEAR A TRASH CAN WHERE IT COULD EASILY BE CONFUSED FOR AN INCENDIARY DEVICE? YOU'RE DAMN RIGHT IF I SEE SOMETHING I'M GONNA SAY SOMETHING, PAL! WHAT? FUCK ME? FUCK YOU AND YOUR FAMILY, YOU PIECE OF SHIT. YOU WANNA DANCE? I WILL FUCK YOU UP. BRING IT (continues ad infinitum).