Understanding ChoochGate: New York's Slushy Pension Fund Fiesta
by Mark Bergen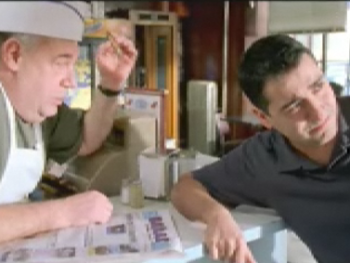 I flocked from LGA to O'Hare earlier this week on a grad school visit. Conversations veered-as they preternaturally do with Chicagoans' stodgy inferiority complex-to contrasts between the two American cities. Since this was a public policy school, the boasting rights were based less on cultural attributes than political corruption. Less deep dish v. thin slice, math rock v. post-punk. Think Blago v. Eliot & Dave. They had a Lt. Gov. candidate dethroned for "allegedly" attacking his prostitute girlfriend with a knife. To which I countered, "we've got our very own girlfriend-slasher too!" Plus, we've got Carl Paladino, a tea-partying gubernatorial hopeful who sent out graphic e-missives of the racist, sexist, NeverSFW variety. Then more of Blago's conniving surfaced and I thought that we New Yorkers were vanquished.
But, alas and hooray! Now we can take the corruption cake.
The SEC (whose employees finally stopped reading Paladino's emails) teamed with Attorney General Andrew Cuomo to bring new charges against a private equity fund and a political consulting firm in our state. Both are deeply awash in cash and political placenta. These charges are part of a nearly 3-year long (!) investigation into nepotistic corruption in the state's $130 billion pension fund.
The charges were brought down on the private equity dealers, Quadrangle Group, for what was described as their involvement in an ongoing "pay to play" investigation. This is, reductively, the sordid-and commonplace-practice of politically connected elites vying for control of billions of public pension funds. Under former state Comptroller Alan Hevesi, Quadrangle, the SEC lawsuit contends, wrangled in a $100 million investment for the NYS Common Retirement Fund. Two deals preceded the handshake. The first was a "sham 'finder' fee" of a cool mil to a former Hevesi advisor. This finagling, as Ben Smith explains, is not a rare occurrence:
Other arrangements walk a finer legal line, though even some of the accused in New York — notably Hevesi's former top political adviser, [Hank] Morris — have argued that while the use of political connections to gain access to pension money may be unseemly, there's no law against it.
The second was a trifle more rare. David Loglisci, the former chief of investment officer of retirement fund, had a brother producing this really rad movie. Chooch, a comedic romp about a Queens dimwit (whose trailer first appears in searches on Spike TV's site (well, right?), stars such notable thespians as Ray 'Boom Boom' Mancini and Joe 'Pepper' Tomczyk.
Chooch's producers were only short a willful distributor to make their low-budget dream come true. Enter Steve Rattner. Quadrangle's founder-a high-profile Democratic fundraiser, schmaltzer, and one-time Obama "car czar"-intervened to finalize the movie and, thereby, pension deal. A former reporter wunderkind for the Times, Rattner has been for some time BFFs with Arthur Sulzberger, Jr.. He used his considerable political heft to score $5 million in fees from the investment-gambling with the treasured retirement funds of thousands of working New Yorkers.
Hevesi's scandal, Smith reports, entangled "three of New York's highest-profile Democratic private equity titans." The SEC-Cuomo lawsuit also roped in Global Strategy Group (GSC), the (perfectly-innocuous-sounding) consulting firm that has worked with a slew of New York politicos, including Cuomo. According to the suit, GSC lobbied for pension investments to shuffle private equity pockets. For the first time, the investigation has reached the current Comptroller, Thomas DiNapoli, for his commingling with GSC.
Quadrangle paid a $12 million fee to the state-and threw Rattner under the bus in the process. GSC forked over $2 million. Although neither firm admitted guilt, both agreed to cooperate with the investigation and dished out the fines, which was nice. Perhaps they didn't spot a problem with their maneuvering. An editor of a private equity publication unloaded to Smith: "In the case of New York the corruption is a lot more brazen." (You hear that, Chicago?!)
Attempting to auction off one of the highest seats in a representative democracy is unequivocally corrupt. But this nepotism is just shameless power-grabbing. Politicizing and plundering the savings of public employees is a far more egregious offense. And, I think, quite worthy of our corruption crown.
Of course, our richest citizen failed to be deterred. A few months ago, Mayor Bloomberg announced he was moving his superlative fortune from Quadrangle over to a Bloomberg-dedicated new startup firm-staffed by a dozen of Steve Rattner's folks at Quadrangle.
Mark Bergen lives on Bergen St. He is moving to Chicago.