The New York Auto Show: Selling Otherwise Straight Cars to Gay People
by Ben Widdicombe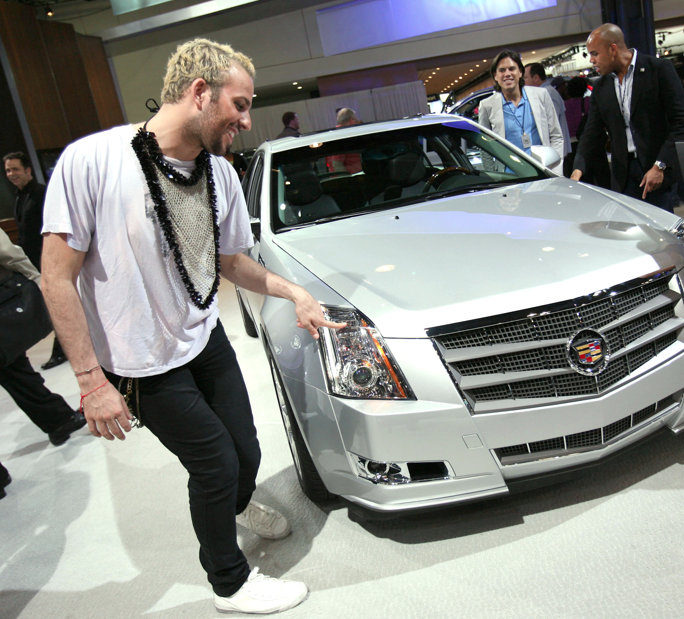 How do you sell a car to a bisexual? And if you're bisexual, how do you want to be sold to?
Major corporations that market directly to the lesbian, gay, bisexual and transgender community tempt us to believe that such slippery questions have firm answers. Otherwise, why were we all standing there at the New York International Auto Show this week, on an unseasonable 80 degree night in April, drinking Cadillac's beer?
Last year, General Motors hosted a gay event in the West Village to promote the new Camaro. Its senior PR and marketing staff duly came in from Detroit and answered questions like the sincere, heterosexual Midwesterners they are. I was thrilled when one executive earnestly told me that, as far as he knew, Saturn was the GM brand most popular with transsexuals. (If men are from Mars and women are from Venus, I suppose it follows.)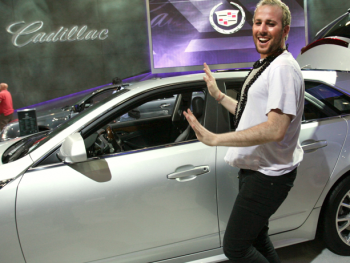 GM's gay event at this year's Auto Show was styled "A Night OUT with Cadillac"-emphasis original. And for hardcore fans of English language styling, the invitation also contained the irresistible sentence: "Later we'll whisk you away by courtesy motorcoach to a VIP afterglow." (That meant free drinks at the gay bar Therapy.)
At the Auto Show I asked Jason Laird-a lanky Aussie recently relocated to Detroit with his wife and daughters, whose title is "Executive Director, Product & Brand" for GM Communications-why his company was pitching the gays.
"We're marketing cars and trucks, and the fact of the matter is, you have a broad cross-section of the community that wants to experience these in different ways," he said.
"Obviously in the LGBT community, you've got people who are very brand conscious; very aware of the product they're buying. The car generally is the most expensive thing you buy after a house, so it makes sense that you would have a direct discussion with any audience that's interested in your product," he said.
The answer seemed factual but unilluminating: if something is equally true of all groups, then it doesn't help us understand the gay situation specifically.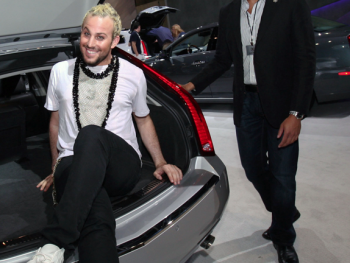 So I turned to one of the gay GM-ers on hand, social media manager and company LGBT spokesman Joe LaMuraglia, who previously founded the homo-motoring Web site Gay Wheels.
"Having covered [GM] prior to making the decision to join them, they were one of the most progressive companies from my perspective, in that they scored well with HRC [Human Rights Campaign], but anyone I ever came in contact with from management all the way down to PR was very welcoming to what we were trying to do," said LaMuraglia.
He also admitted that carmakers like GM really can't know the sexuality of their customers. But he said that GayWheels had partnered with the market research firm Sorgenfrei to try and provide such information through an opt-in survey on their site.
So-Joe!-how do you sell a car to a bisexual?
"It isn't the person's sexuality, it's the person's lifestyle," he said. "And when you're in marketing or market research or product planning, it's all about life-stages and lifestyles. A gay or lesbian couple in their forties with no kids are very different from a straight couple in their forties with four kids. So it's not really that their sexuality has anything to do with the car they're driving, it's more where their life-stage is."
And that, I suppose, is the unexciting truth. Isn't it what we've been fighting for, all these years? With Stonewall and Silence = Death and rioting on Fifth Avenue a week after Matthew Shepard was murdered-weren't we just demanding the right to be treated like any other schmuck with a buck in this country?
Still hoping for a "VIP afterglow" to the matter, I returned to the lanky Aussie for one last facetious question.
"So, does the Cadillac gear shift have a special feature for limp wrists?"
He looked at me sympathetically.
"You could get an automatic," he said.
Ben Widdicombe is a celebrity and pop-culture columnist, based in Manhattan. Our model, pictured above, is Micah Jesse.