Tao of Dow: Awesome Taiwanese Boy Out-Whitneys Whitney; Man-Sized Lizard Has Two Penises
by Simon Dumenco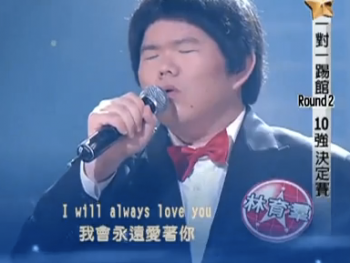 The Awl's Morning Market Report:
• The Dow Jones Industrial Average dipped this morning after yesterday's essentially flat close (at 10970, down 3.5 points for the day), as investors grew increasingly spooked by this AWESOME Taiwanese kid who can out-Whitney Whitney Houston — in her current state, at least. (Just Jared IDs the boy as Lin Yu Chun, and the show he sang on is Taiwan's "American Idol"-esque "Super Star Avenue.") Sure, the kid can belt it out, but is being the next Whitney Houston really a good thing? Especially considering that the actual Whitney Houston has just been hospitalized in Paris with "chronic rhinopharyngitis, a swelling of the mucus membranes in the nose and pharynx"? And does this kid now have to find his own Taiwanese Bobby Brown?
• Justin Bieber futures are down sharply this morning as investors expressed fears that Lin Yu Chun's particular style of bowl haircut could take off as his star rises, potentially reducing market demand for the no-forehead-whatsoever Bieber Bangs look.
• The Nasdaq is also down this morning (after yesterday's close at 2437, up 7 points) because SCIENTISTS JUST FOUND A MAN-SIZED LIZARD THAT HAS TWO PENISES!
Simon Dumenco is The Awl's Senior Wall Street Correspondent and Lin Yu Chun Bureau Chief.