The Greatest Essay Ever Written: How To Be America's Next Top Poet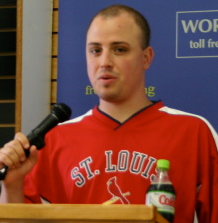 There are about 2000 extremely quotable things in this Jim Behrle essay on how to become America's Most Famous Ever Poet. It is fantastic. May I just quote three???
1. "We might believe that what the media term 'buzz' gets created organically-that everyone just starts tweeting about Jersey Shore episodes on their own, without any prompting. But it actually takes a concerted effort across a spectrum of sources to create the phenomena we have come to know and love. I learned this in the publicity office of a big-time Manhattan publisher, where most of my time was spent on my knees." And!
2. "What was the name of the poet who, one year ago, read a poem at President Obama's inauguration? [A few people name Elizabeth Alexander.] No one knows. But Maya Angelou wrote Clinton's first inauguration poem and segued that into a dream we all dream. If she comes to speak at a university or college, a car must pick her up at the airport-a car with no poets aboard. That's literally written into the contract. Whoever is driving, he or she does so without speaking to Maya Angelou. The contract is very specific. She travels to the venue and away without having to read anyone's poems or comment on any manuscripts. She is driven back to the airport by maybe the same deaf-mute non-poet. And then she is gone, check in hand. That is the dream-a poet so important and renowned that she literally is not contractually obligated to deal with poets or poetry whatsoever.
It is a sweet, sweet dream."
3. "Relentlessness does not come easily to poets. They are generally a stoned and timid bunch, playing with their beards or sitting mousily with hands and ankles crossed. Poets do very little 24/7, except perhaps worry that they're not as widely popular as they should be. Worry does come naturally to the poet-it must be suppressed with booze or sex (or in my case, in which neither of those is a possibility, baseball). And how does one imagine a career being built out of all of these weirds used weirdly? There are many paths through the art. Having enough money to sit in a log cabin all day watching foxes make out, with berries on one's breath. Having an entire university beneath one's command. Ability to drag friends in for a little merlot and sloppy sex with students."
WAIT ONE MORE.
4. "Jay Leno, not Conan O'Brien, is the future. Why? Because Leno is more devious, sinister, and craven. These are things to aspire to be. Jay Leno would reach through your skin and deep into your stomach to fetch an undigested Skittle if he were hungry for one. That's the spirit of Ruthless 24/7 Careerism in a strawberry shell. Make a deal with Russia to not invade Russia and then, when Russia least expects it, invade Russia."