Fight Night: Five Lessons from the New York Golden Gloves Finals
by Hamilton Nolan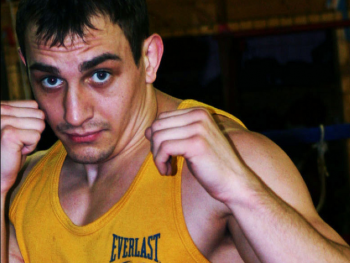 At Madison Square Garden on Friday night, there came five important lessons in as many bouts.
1. 165-pound novice division: Frank Galarza vs. Allen Brunner.
Allen Brunner has a classic boxer's build: long arms and a lean, muscular body. Frank Galarza, a tattooed 24 year-old with a modest mohawk, stood a few inches shorter, with a shorter reach. The fight, it seemed, was Brunner's to lose. But after the bell rang, Brunner (who "trains full time," surprisingly) revealed a Gumby-like style devised by a crackhead and executed by a fighter who was not, alas, Superman. When he came in, he held his hands low, and gave the impression of a fighter blessed with exceptional quickness, ready to slap his opponent with unseen punches from all angles and then dance tantalizingly out of view. Until he started fighting. His long arms became liabilities, as his jabs slowly unfurled like a fire hose, rather than snapping like a piston. He possessed the style, but not the skill, of Muhammad Ali. Galarza fought a sharp, conventional fight for a richly deserved win.
LESSON: YOU ARE PROBABLY NOT MUHAMMAD ALI.
2. 152-pound women's division: Dariana Casado vs. La Tarisha Fountain.
At 32, social worker La Tarisha Fountain was the oldest fighter in the finals. She fought in the classic social worker style: by punching you hard in the fucking face. La Tarisha — unaffiliated with any boxing club — swung and connected with such tremendous power, so consistently, on the head of her 24 year-old opponent, that Dariana was often compelled to reach up and pull her headgear back towards center. La Tarisha's power was demonstrated most clearly by the fact that by the second round, Dariana would jump four feet straight backwards at the merest feint of a right hand. Despite receiving a notable number of head-smashing blows, Dariana persisted in fighting with her lead left hand held low; this provided La Tarisha's hook with a clear path to Dariana's temple, a path it took over and over again. At what point, I wondered, would Dariana finally deign to raise her left hand to her face, protecting herself from permanent brain damage at the negligible cost of making her (ineffective) jab slightly less stylish? She never did. She just kept getting smashed until the end of the fight, which she lost.
LESSON: ALWAYS KEEP YOUR HANDS UP.
3. 152-pound open: Eddie Gomez vs. Cletus Seldin.
Eddie Gomez is a 17-year-old two-time Junior Olympic national champion and a wonderful boxer. Cletus Seldin has a wonderful name. Wonderful things are always good, but in a fight, I can now safely report, being a wonderful boxer is the more valuable attribute. Gomez, looking every bit on the verge of turning pro, blasted Cletus with crisp, hard left hooks, straight rights, jabs, movement, and…well, he just did everything well. Cletus, a personal trainer, was a straight-ahead, game fighter who tried to hang tough, but clearly stood no chance. By the third round, after Gomez had stuck a right hand straight through Cletus' facegear to let him taste more Everlast-flavored leather than any man ever should, Cletus had had enough. He continued with the match, but he stopped punching, having seen that Gomez counterpunched him every time he swung. Alas, after he stopped punching, he continued to get hit anyhow. It just made things that much easier for Gomez.
LESSON: NEVER STOP PUNCHING.
4. 141-pound women's division: Nisa Rodriguez vs. Kathleen Walsh.
Nisa Rodriguez, 19, had won the Gloves two years ago; now, she was making a comeback nine months after giving birth to a son. Kathleen Walsh, 20, had been to the Gloves finals three times before, but never won; here she was, hoping the fourth time was the charm. This fight clearly had the human interest angles well-covered. It also had an extremely loud lady sitting directly behind me screaming "Take her top off Nisa!" for no discernible reason. (The woman later switched to "Take her kufi off!" Kathleen Walsh was not wearing a kufi). Nisa was a smooth fighter with long arms, long legs, good footwork, and accurate punches; Kathleen was more of a power fighter, and got off some good hooks for the first two rounds, but she tended to loop her punches and get beat with straight rights, and found herself gassed by the third round, and Nisa simply came on stronger, and overwhelmed her. Turns out the fighter just nine months out from giving birth was actually in better shape.
LESSON: DON'T UNDERESTIMATE MOMS.
5. Superheavyweight novice division: Mitchell Senat vs. Elijah Thomas.
The last and most awful fight of the night pitted the two heaviest men in the entire finals against each other. Neither of them could box a lick. Mitchell Senat, despite being the bigger man, was simply scared, and threw a preposterously small number of punches, preferring instead to circle awkwardly and cower in fear. His opponent Elijah was only very slightly better than Mitchell, but as Mitchell's reticence towards the entire concept of boxing became clear, Elijah grew brave, advancing and throwing wild hooks and haymakers that occasionally made glancing contact, but mostly just exposed him as the poor, poor fighter he was. "You did good Mitch!" shouted a polite, lying relative of Senat's at the end of the worthless bout, which he lost. "Superheavyweight," in boxing lingo, means "Guys who should really lose 30 pounds."
LESSON: JUST BECAUSE YOU'RE BIG DOESN'T MEAN YOU'RE BAD.
Previously: The Glorious Racism of Boxing

Hamilton Nolan is the media editor of Gawker.