Very Recent History: The Greensboro Sit-Ins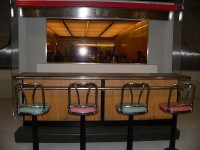 Before we move on to the minutiae of the day, let's take a moment to recognize a rather significant anniversary: It was 50 years ago that four African American college students took seats at the whites only lunch counter of the Woolworth's in Greensboro, North Carolina, and asked to be served. The Greensboro sit-ins were a vital part of the civil rights movement.
Within a week 1,000 protesters and counterprotesters packed the store. By the end of March "sit-ins" had spread to 55 cities in 13 states. By mid-April the Student Nonviolent Coordinating Committee had been established to expand student involvement. And by the end of July, when the Greensboro Woolworth's counter was finally desegregated, this form of nonviolent protest had become one of the central strategies of the American civil rights movement.
The building that used to be the Greensboro Woolworth's opens today as the International Civil Rights Center and Museum. Former Times executive editor Howell Raines returns to his old paper to discuss the role media coverage played in opening America's eyes to the struggle, and speculates as to how it might differ today.