The New 'Observer': Very Bro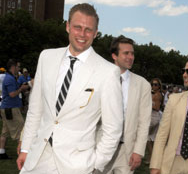 The New York Observer, once sort of a fruity, faggy, Jewy, weekly too-smart-for-its-own-good rag, always with just a little too much Yiddish, has had a real change in flavor this year! Kyle Pope came over as editor from his post-Portfolio break, and then he hired his buddy Chris Stewart (also formerly of Portfolio, and author of Hunting the Tiger! About the "dark, bloody world of Serb paramilitaries"!). And today they announced the hire of a new managing web editor, the awesomely-named Tyler Thoreson, late of the late (and, in my minority opinion, heinous) men.style.com.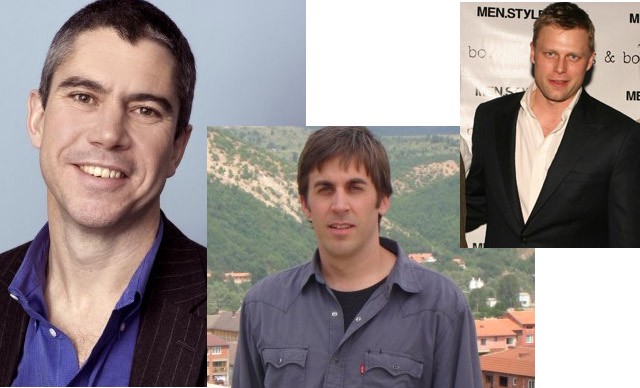 This is Kyle (in a rather dated picture), and Chris, and Mr. Thoreson. (I know. But. He really has a last name you just want to use!)
Disclosure: I don't really know any of them! They seem nice! And given the fratty attitude of the paper's publisher, Jared Kushner-at least back when he was single-one wonders what the Observer is like now with dudes just bein' dudes, talkin' about dude things. Their experiences too-Thoreson had been at men.style.com since 2004, Stewart has written about corruption in Iraq, etc., and there are apparently babies and wives galore-are a real macho change for a paper that publishes mincing Simon Doonan. (Though Thoreson's Twitter proves he really does care about fashion, so.)
There's also a change in pace for all of them. Though Pope worked long and hard at newspapers, of the three of them, they largely have magazine and magazine environment experience. In an age when publishers don't allow real budgets for copy-editing, at least as evidenced from today's otherwise pleasant printed paper, one wonders how the very real work-flow differences at a newspaper is taking its toll on the dudes.
IMPORTANT UPDATE: Mr. Thoreson's old (and infamous) email address? It was: kegmeister@***.com. So, I guess, well, wow.