11 p.m., 2010. It ends.
10:36 p.m., 1994 Oh, ABC. Who do you think wants to go "behind the scenes" on Lost? Are you even sure any of us want to go in front of the scenes?
10:28 p.m., 1967

10:16 p.m., 2008 "The American International Group has agreed to cut employee bonuses by $20 million and will distribute about $100 million on Wednesday."
10:06 p.m., Year One A.D.

9:54 p.m., 2004:

9:45 p.m., 1985: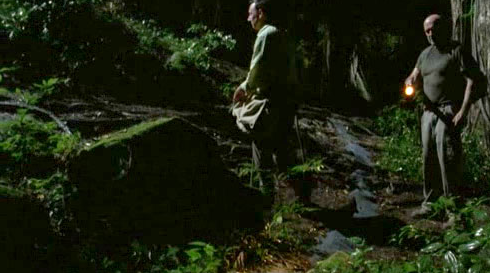 9:41 p.m., 2010 "The nation's top intelligence officials warned Congress on Tuesday that terrorists are 'certain' to attempt another attack on the U.S. within the coming months."

9:37 P.M., 1964 I understand how people travel in time so readily and frequently-but why did all those VW vans make it from the past? Why not, then, trees? Or birds? Or cats that have snowball guns? What matters, really, when dead people get to have long conversations?

9:20 p.m., 1453 You guys, IDK.
9:07 p.m., 2007 Okay, let's stick to what we know tonight. 1. A guy named Jack aged substantially in the middle of a transatlantic flight. 2. Um. No, that's it. Oh wait: Also we learned that CGI is expensive.
9:01 p.m., 1972 We've seen Juliet die like 1000 times already now. Baffled. Angry. Slightly aroused. Annnnnd this does indeed look like the first leaked five minutes! Score one for the accuracy of Internet leaks, or at least for the failure of ABC to seed a fake leak.
8:58 p.m., 1964 Okay, I got the woman collecting cans and glasses for a living off my car so I could drive to my safe TV place in Brooklyn. And now… God, why did I think I wanted to watch this show? I don't even understand the parts of the show I'm seeing at the end of the pre-show explainery mess. Also, where's HURLEY.
It is 8:12 p.m., 2010 The pregame, hour-long warmup show has begun-where they try to remind you of the plot points that you forgot in the endless interregnum? I don't remember either! This means it's time to drive to Brooklyn to my safe place where I watch TV! Lemme know what happens, okay?