I Don't Care About Your Band Name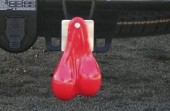 There are not enough band names to go around! So says the Wall Street Journal, which notes that
The last decade's digital revolution not only transformed the way people listen to music, it changed the way bands establish identities. In the past, identically named acts often carved out livings in separate regions, oblivious or indifferent to one another. Now, it takes only moments for a musician to create an online profile and upload songs, which can potentially reach listeners around the world.
Lawyers say that has raised the stakes in trademark disputes, which almost always hinge on which band first used the name commercially, and where.
This seems remarkably unlikely to me. I mean, how hard is it to come up with a unique band name? Armed with only Google, a rhyming dictionary, and an urgency to get a post done, I challenged myself to come up with ten new group monikers for which there were no registered alternatives. It took three minutes. Granted, you might not have the same topical knowledge of current events or remarkable ear for what makes a great name as I do, but, really, with a little effort you too can find the perfect identity for your little music combo. Watch and learn.
Hello Kitty Episiotomy
Tweet a Bag of Dicks
Autistic Rectum Disorder
Big Black Bodyman
Chooch of the Redeemer
Chris Farley Lego Rock Band
Stoatscrötum
The Dubai Assassins
Ninja Culinary Academy
Timmy and the Tumbltards*
See? It's that simple! In fact, if you want any of these, grab 'em up now. Just send me some of the t-shirt money when you hit the big time.
*Joke about Tumblr taking this name back from you goes here.