A Look Back: Ten Years of Branding Mort Zuckerman As A Boring Monster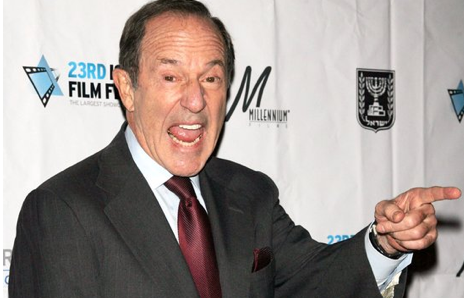 Over the last ten years, the New York Post has called Daily News owner Mort Zuckerman a cheapskate, a tyrant, an illegal maid-payer, a friend to unsavory characters, a bad businessman, a racist, a friend of terrorism, a firer of pregnant women, a publisher who uses his editorial page for the his own real estate interests, a constructor of dangerous buildings, the provoker of staff suicides, as well as wild-eyed, mercurial, panicky, a cheater of readers, a scoffer at laws, a "horrible, nickel-and-diming boss," and the publisher of boring publications. And now, they want him as the Senator from New York. Yes! Today's Post editorial declares that "the emergence of real-estate magnate — and Daily News Publisher — Mortimer Zuckerman as a potential candidate for the United States Senate is an event all New Yorkers of good will can welcome….. without qualification… Zuckerman's entry into the race would — on Day One — markedly improve the quality of the candidate pool." Let's look back at the last ten years!
• Sightings! MORT Zuckerman — right after announcing he would no longer match Daily News employee's 401(k) retirement contributions — lunching at the expensive Four Seasons restaurant . . .
 — February 12, 2009, Page Six
• EVERY big newspaper has conflicts of interest — yet most publishers manage to be subtle about promoting their extracurricular agendas. Our distinguished opposites at the Daily News, however, seem guided by the principle that "desperation is blind."
How else to explain yesterday's shameless column in the News headlined, "How to get NY building again"? The piece called for a publicly backed fund to bankroll commercial real-estate projects — but the article didn't note that this could be the salvation of News publisher Mort Zuckerman.
 — February 24, 2009, Steve Cuozzo
• Newsweek is said to be considering a dramatic drop in its circulation….. Folio noted that the strategy is risky and could backfire, as Newsweek executives don't want to be perceived as the next U.S. News & World Report, the money-losing, Mort Zuckerman-owned magazine that is becoming a monthly next year.
 — December 10, 2008, Keith Kelly
• Mort Zuckerman's slumping US News & World Report finally tossed in all pretense of trying to stay in the newsmagazine business.
-June 11, 2008, Keith Kelly
• Epstein, who owns a ranch in New Mexico and a 100-acre island in the U.S. Virgin Islands, has palled around with the likes of Bill Clinton, Prince Andrew and Daily News owner Mort Zuckerman. He has agreed to plead guilty to soliciting prostitution in Florida.
-October 18, 2007, Dareh Gregorian and Matthew Nestel
• Daily News Editor-in-Chief Martin Dunn has struck again, axing longtime veteran Kevin Hayes…. Hayes became the third top editor to get the ax in the last three weeks. As Dunn scrambles to save his own job and try to prove to the mercurial owner, Mort Zuckerman that he is till capable of shaking things up at the floundering tabloid.
-June 27, 2007, Keith Kelly
• ROSIE O'Donnell isn't going anywhere, she told the audience of "The View" yesterday. Despite reports in Mort Zuckerman's Daily Bulk that she is being offered a serious role on the cable TV drama "Nip/ Tuck," "Don't anybody worry where Rosie's going-she's right here," she said.
 — December 8, 2006, Michael Starr
• THE Daily News has done it again, axing their award-winning syndicated columnist Lenore Skenazy, a 13 1/2-year veteran of the paper. … Even in the permanently demoralized newsroom, this one really upset insiders. They see it as one more move by owner Mort Zuckerman's minions to toss a loyal staffer to the wolves in order to meet his budget numbers.
-December 1, 2006, Keith Kelly
• WE normally ignore the mistakes of our competitors at Mort Zuckerman's New York Daily Bulk. But some blunders are so boneheaded, they cannot be overlooked. Yesterday, the News' gossip column ran an item about the party crasher known as Shaggy (real name Steve Kaye) whose exploits have been chronicled here for years. We've also run his photo several times. The News also ran a photo. But instead of the mop-topped, white, middle-age Kaye, the News ran a photo of Shaggy, the young black hip-hop artist known for his hit, "It Wasn't Me." Indeed, it wasn't he.
 — November 29, 2006, Page Six
• THE typically demoralized newsroom of Mort Zuckerman's Daily News sank to new lows with the word that the paper had lost its once mighty lead over The Post in daily circulation.
After hearing the news Monday morning, a stunned and furious Zuckerman summoned Martin Dunn, the editor-in-chief and associate publisher, and Mark Kramer, the new CEO who arrived from the New York Times in January, to an emergency meeting that afternoon.
"There is a lot of trepidation, everyone is worried about what Zuckerman is going to do next," said one insider. "He's kind of a panicky guy."
-November 1, 2006, Keith Kelly
• DAILY News owner Mort Zuckerman can't escape his bitter former editor-in-chief Ed Kosner — even at his Hamptons estate. Kosner, whose new memoir, "It's News to Me: The Making and Unmaking of an Editor," paints Zuckerman as a horrible, nickel-and-diming boss who's secretly obsessed with The Post, is holding his book-launch party at Jerry Della Femina's East Hampton estate. Incredibly, it's just two doors down from Zuckerman's oceanfront spread.
-August 24, 2006, Page Six
• YESTERDAY, the Daily News' jihad to drive Larry Silverstein from Ground Zero hit a brick wall, as the developer conditionally accepted the Port Authority's proposal to split up the site. So, it's a good time to ask: What's been behind the paper's malicious "Larry's Got To Go" campaign?… There's no way to know what's in the heads of the paper's editors, but it doesn't take a psychiatrist to grasp how their antics can only please Mort Zuckerman, the News' chairman, publisher and principal owner.
-April 26, 2006, Steve Cuozzo
• DAILY Snooze chief Mort Zuckerman is being blasted for axing staffers on maternity leave in the latest bloodbath at his faltering U.S. News & World Report. Nine editorial types were fired in the past week, including Sara Sklaroff and Linda Kulman, who were on maternity leave.
-October 7, 2005, Page Six.
• IS Mort Zuckerman using the Daily News editorial page to fatten his deep pockets? An editorial in last Friday's News blasted Assembly Speaker Sheldon Silver for killing the West Side stadium, threatening to hinder new office construction nearby and trying to veto the No. 7 train extension. The piece claimed Silver was "killing New York City" to protect Lower Manhattan, which he represents. But sources say Silver is privately fuming over the screed and believes publisher Zuckerman is behind the attack because of his real-estate ambitions.
 — July 6, 2005, Page Six.
• AS Nero fiddled, Rome burned. And as the Scratch 'n' stiff scandal continues to rattle loyal readers of the Daily News, the paper's billionaire Chairman and CEO Mort Zuckerman, remains adrift, literally aboard a yacht in the Pacific.
"Mr. Zuckerman is out of the country," said one of the assistants who answered the phone at the billionaire's 50-story skyscraper on Lexington Avenue where his real estate holding company, Boston Properties is based.
In Zuckerman's absence, he's sent Daily News Chief Operating Officer Les Goodstein and the associate publisher, Editorial Director Martin Dunn to the barricades to take the heat.
Branding experts say that's not a good move.
-March 25, 2005, Keith Kelly
• The Daily News' botched numbers-game contest has given the brand a black eye and succeeded in ticking off some of the paper's most loyal readers — the polar opposite of what such brand-building contests aim to accomplish, experts said.
Thousands showed up outside the Daily News offices yesterday to voice their displeasure — even though the fine print in the contest rules seems to legally absolve the paper owned by billionaire real-estate developer Mort Zuckerman from having to cover the error.
-March 22, 2005, Keith Kelly
• LOSERS: Mort Zuckerman. His $5.5 billion real estate company is downgraded by UBS, which told investors to reduce their positions.
-July 18, 2004
• In a glaring front-page blunder, The Daily News yesterday reported that a staggering 1,700 cops and firefighters have filed lawsuits against the city for health problems stemming from 9/11 — when only nine such suits are in the courts. … Yesterday's error could have been avoided had editors at Mort Zuckerman's troubled tabloid read their own stories. A November 2003 Daily News story reported that hundreds of 9/11 lawsuits had already been withdrawn.
-May 25, 2004, Bill Hoffman and Tom Topousis
• Daily News owner Mort Zuckerman must have been embarrassed about the paltry 3 percent pay increase he passed out to the paper's long-suffering staffers — the first raise the penny-pinching real estate mogul has handed to his newspaper minions in three years.
The money appeared in the latest pay packages with no explanation.
-February 4, 2004, Keith Kelly
• For weeks, Mort Zuckerman was the toast of the town.
Then he was toast.
The Daily News owner never saw it coming, losing out in the bidding for New York magazine more quickly and painfully than he could have imagined — because he badly miscalculated the situation and underestimated his rivals.
&mdsah;December 18, 2003, Keith Kelly and Erica Copulsky
• Sightings: BRUCE Wasserstein dining at Coco Pazzo the night before he bought New York magazine, while the mag's losing suitor, Mort Zuckerman, cluelessly chowed at another table . . .
-December 26, 2003, Page Six
• A former live-in maid suing Daily News publisher Mort Zuckerman for allegedly illegally firing her claims in court papers she worked exclusively at his Fifth Avenue apartment — but had been paid by another of his publications, U.S. News & World Report.
Jacqueline Astudillo, 35 never ventured into any office of the magazine, but was on the U.S. News corporate payroll for the entire two years she worked for Zuckerman, according to papers filed by her lawyer, Saul Zabell.
-May 22, 2003, Keith Kelly
• Move over, Martha Stewart — another media mogul is accused of profiting from information unavailable to the general public.
Mort Zuckerman, co-owner of the Daily News and editor-in-chief of U.S. News and World Report, is charged in a lawsuit with pulling millions from a Lipper & Co. hedge fund before its meltdown made news, Business Week reports.
Lipper & Co. is run by Kenneth Lipper, who was a top aide to Mayor Koch and whose hedge funds were popular with the rich and famous.
-January 16, 2003, Keith Kelly
• THE editorial page of the New York Daily News, like that of the New York Post, calls for an unyielding stand against terrorism.
Since Sept. 11, the Daily News has urged New Yorkers to remain vigilant against terrorism but not to overreact — and above all, not to panic. "Our responsibility . . . entails a refusal to panic, to cower," it said on Oct. 13, among similar patriotic pitches.
The message does not appear to have reached Boston Properties, whose chairman, Mort Zuckerman, is also chairman and co-publisher of the Daily News.
The once dramatically lit, prism-shaped top of Boston's Citigroup Building at Lexington Avenue and 53rd Street — home to tenants like Citicorp, Merrill Lynch and Bank of America — has been dark since the terrorist attack.
-July 16, 2002, Keith Kelly
• We hear… THAT Marla Prather, the ex-wife of Mort Zuckerman, is dating Jonathan Schiller, the law partner of David Boies who bought Zuckerman's house in Washington.
-December 12, 2001, Page Six
• WRITING a gossip column that won't offend any of Mort Zuckerman's friends is taking its toll on Mitchell Fink. The Daily News scribe's lead item yesterday trumpeted that Sarah Jessica Parker [Carrie Bradshaw] will break up with fianc John Corbett [Aidan Shaw] on "Sex and the City." Fink must have been dozing at his desk when PAGE SIX broke that story way back on Aug. 29.
-October 25, 2001, Page Six
• PAGE SIX gets action. A day after we called the Daily News to find out why owner Mort Zuckerman belongs to a group devoted to the elimination of gossip, he quit the organization. Until yesterday, Zuckerman was listed as an advisor to Words Can Heal, the brainchild of Orthodox Rabbi Irwin Katsof, who's based on West 56th Street. The group — whose "vision" is "to reduce verbal violence and gossip" — asks all Americans to pledge: "I will try to see how gossip hurts people, including myself, and work to eliminate it from my life."
-September 7, 2001, Page Six
• When Mort Zuckerman dispensed his ax-men to U.S. News & World Report in an effort to revive the faltering weekly magazine, he also decimated the ranks of minority writers on the staff by 50 percent. Two of the 21 people fired were African-Americans — Frank McCoy and Jeannie Thornton…. That reduces the African-Americans on the 200-plus-person editorial staff to two people — under 1 percent.
-June 18, 2001, Keith Kelly
• If you walk near construction at Daily News owner Mort Zuckerman's 5 Times Square, you may want to be wearing a hard hat.
The 37-story tower developed by Boston Properties, of which Zuckerman is CEO, topped off last week — but not before a flurry of Buildings Department citations for, among other things, "failure to safeguard public and property."
 — May 1, 2001, Steve Cuozzo
• President Clinton apparently razzed Daily News owner Mort Zuckerman over that fake photo depicting Clinton and Cuban dictator Fidel Castro shaking hands.
A source close to Clinton said the president ran into Zuckerman in New York over the weekend and "gave him a bit of a hard time."
But Zuckerman wasn't taking any blame. He told the president, "Hey, you see the paper about the same time I do most days," the source said.
The fake photo, for which the Daily News later apologized, fooled Clinton, who briefly thought it was real.
-September 12, 2000, Marilyn Rauber
• MAYBE Mort Zuckerman should stick to developing property and publishing his dull U.S. News & World Report and even duller Daily News. I understand that Zuckerman's latest foray into back-room diplomacy has just cost him the services of one of the News' most popular op-ed columnists, Sidney Zion.
-August 9, 2000
• The apparent suicide of a tough, hard-working executive in Mort Zuckerman's publishing empire shocked friends and colleagues who described her as "loyal" and "thoroughly professional."…. Suicide seemed out of character for Jensen, said another who'd worked for years with her at Atlantic Monthly, which Zuckerman recently sold. … Indeed, Jensen's outspokenness about what she saw as financial mismanagement in Zuckerman's shrinking empire may have been what landed her in trouble with the top brass, friends say.
-November 20, 1999, Keith Kelly and Laura Williams