Our Second-Favorite Parenting Columnist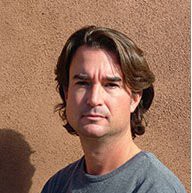 This rundown of one j-school student's favorite newspapers points us to "one of the country's most non-sequitur parenting columns." It is called Daddy Needs A Drink, and it lives at the Santa Fe Reporter, and, indeed! Here is Rob Wilder on the matter of his very young son's surprising new hair choices:
London has been growing his locks long for many many moons. Hell, I've been growing mine too and even sported a Vandyke to give me that "rock me sexy Jesus" look, but dreads? On a white boy? Never saw it coming, I swear: My beautiful sonchild sporting a mullock (mullet + dreadlock) and morphing into a Boulder hippie, trying to score weed on a lonely street corner, all while wearing socks with leather flip-flops.
Did you get stuck at the beginning there, when you found out his son's name is London? Love it.