Goldman Sachs Issues a Strong Buy on The Cheesecake Factory!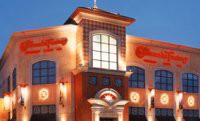 Yesterday, Goldman Sachs sent out their market research advisory on the restaurant industry in the Americas, with "five themes that will dictate restaurant stock performance in 2010." The outlook? SUNNY! There will be a "high end resurgence"! Also, an extremely high chance of people desiring cheesecakes!
We did not know that The Cheesecake Factory, which will kill you, as Ezra Klein points out, was the high-end pioneer in the marketplace of foods! Compared to Wendy's, I guess it is.
But here it is, as Goldman's #1 notion for '10:
High end resurgence — affluent guests driving sales outperformance at the higher end. CAKE (CL-Buy) is best positioned to benefit from this trend.
Oh and there is something in there about "sustained high unemployment" weighing everything down but SHH, I'M EATING CHEESECAKE.
Incidentally, Goldman discloses in the report that it owns more than 1% of common equity of THE CHEESECAKE FACTORY-and more than 5% of Burger King Holdings, Inc.??? Who knew. Also they noted that they do the investment banking for Tim Hortons? The world is really weird.