Gluttony, with Mary HK Choi: Tohato Caramel Corn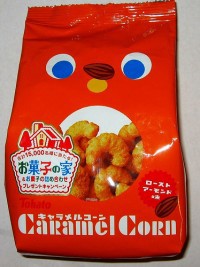 I mean, just look at him. Why WOULDN'T you eat whatever was in this little mogwai's belly? You know it's going to be amazing. And sweet! And just this once devoid of petrified baby fish complete with tiny skeletons and the beady eyeballs that you run the risk of meeting when you cop an Asian Bag o' Snack that you're unfamiliar with.
Thing is, Tohato's OLD SCHOOL. The packaging's been recently Japanthropomorphized but the logo and product's remained unchanged for decades. And the flavor profile's totally non-threatening. It's a Hi-Chew-level of challenging-the next level from being up on Pocky and Yan Yan. It's some Toblerone shit.
But just as Starburst is a pat, unimaginative, broad-stroke "fruit" experience if you've sampled the brightly masterful pastiche of top notes on a Hi-Chew, Tohato Caramel corn (available in O.G caramel, peanut, almond, and varying limited-edition milkshake flavors) straight MURDERS any domestic product in the non-popcorn, extruded, maize-based, sweet snackfood lane. A lane that at last lazy-ass cursory perusal ONLY included Pirate's Booty: Caramel.
PBC is aiiiiiiiight but for sure, veggie is punishment flavor, and the newer Sea Salt and Vinegar and Bermuda Onion offerings only spike hopes high enough to incite ANGER and white cheddar is palatable only because of the generousness of the desiccated cheesepowder coverage. At the end of the day, the stuff is all DIETFOOD and unmistakably related to those edible, starch-based packing peanuts: joyless. You should basically go eat a clementine.
If PBC is a chubby grub that curls tightly into a quarter-sized coil with a brittle caramel exoskeleton that shatters like crème brulee lid and digs into your molars to build up like stalagmites, Tohato's Caramel Corn is a newborn's pinky. It's EXACTLY the dimensions of bootleg shrimp you get in weird, mayo-based Euro airline salads or them tiny joints IKEA sells you on that one shrimp sandwich thing that is gross. The candied shell is much lighter here and cracks one million times at first breach and mixes in perfectly with innards rendered custardy by salivary amylase because this caramel has the magic ingredient of a GANG of esters, like eleven types of lipids, and a bajillion emulsifying somethings and most definitely transfat. And it has the added piquancy of being produced on equipment that TOTALLY processes tree nuts. Like, HEAVY.
The almond flavor (my favorite) is like coconut, toastiness, butter, caramel, SALT, eggycornyfluff and tastes more like the SMELL of NYC street vendors' "nuts for nuts" than the nuts themselves. They are available for A LOT OF MONEY at $2.49/2.82 oz. bag at H Marts nationwide. AND if you go here, you can download super mega HELLA cute Tohato Caramel Corn distraction wallpaper which is really where all these Japanese snack companies lay waste to earnest-ass American web sites, where the branding makes you feel guilty about feeding garbage to your children while 100% slinging non-food.