Chris Anderson's Third Big Idea: "Atoms & Bits"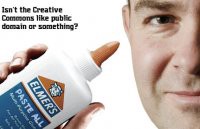 Perhaps you were wondering what Wired editor Chris Anderson is up to, after putting forward ideas called "The Long Tail" and "Free"? Well, now we know! His new idea is called "Atoms & Bits." He will be giving it away… for free. (Oh and a book deal. And some speaking gigs. Whatever.) But what is "Atoms & Bits," besides a good name for a futuristic dog food brand? You can find out at a breakfast coming soon!
JOIN US FOR A SPECIAL BREAKFAST PRESENTATION
CHRIS ANDERSON, WIRED EDITOR IN CHIEF
Best-Selling Author of The Long Tail and Free
PREVIEWING HIS NEXT BIG IDEA: ATOMS & BITS
Transformative change happens when industries democratize. In recent years publishing, broadcasting and communications have undergone a cataclysmic shift, increasing the range of participants and participation in everything digital. Now the innovation models from the universe of bits are extending to the world of atoms, too. Thanks to low-cost DIY factories in China, anyone with a good idea and bit of expertise can create products for users anywhere in the world. The entrepreneurial potential of a million garage tinkerers is about to be unleashed on global markets-no tooling required. "Three guys with laptops" used to describe a web startup. Now it describes a company that makes things, too.

Friday, December 11 | 8:30–10 AM
The WIRED Store
415 West 13th St, between 9th Avenue & Washington St
RSVP to [redacted]
Sponsored by: American Airlines
This event is complimentary. Space is limited.
My mind is certainly blown.