My mom says clothes look good on me.
OSCAR-NOMINATED BAD GRANDPA
Posted on January 16, 2014 at 9:21 am
0
LITERALLY IT'S JUST POST SECRET RIGHT
ONLY WITH VENTURE FUNDING
AM I TAKING CRAZY PILLS
Posted on January 15, 2014 at 12:58 pm
3
extremely not surprised about the 20+ unread messages
Posted on January 13, 2014 at 9:09 am
3
I haven't seen this movie, but I think writing within movies (and to a lesser extent, in-narrative writing in books and other prose) is generally pretty dire! I'm not sure why that is, since it is as a rule created by writers. Maybe grappling with meta-writing is a tricky business, maybe the writers are trying to create writing that isn't in their own style and it comes out all clunky, maybe you make it more "writer-y" (generally, more overwrought and self-counscious) to mark it out as a creation of one of your characters according to his/her own personality and talents. Conveying the written word in an audio-visual medium probably has its own problems too, of course.
Posted on January 10, 2014 at 2:10 pm
1
Would be very interested to know what percentage of the people who aren't in the workforce might generously be considered "retired" -- i.e. over, say, 60 -- even if not working at the age they are wasn't considered part of their retirement plan 10 years ago.
Posted on January 10, 2014 at 9:55 am
0
@flossy yeah, I also am stopping by to guess "tattoo artist," as it seems to fit with the other cultural signifiers offered. It's probably the least interesting of the dilemmas offered by the letter writer, so I was a little glad to see that it apparently nagged at Polly, just like it nagged at me.
Posted on January 7, 2014 at 7:10 pm
1
Speaking as a non-driving person, it always amazes me that we have essentially ceded the job of doling out our government IDs to the various state agencies in charge of licensing drivers. The only thing that amazes me more is that nobody seems to think this is weird. Like, when drivers licenses for undocumented immigrants was a Big Argument a few years ago, and people were like "Do you want illegal immigrants to have government issued IDs" or "Do you want people who live here driving around without a license?" depending on their side, I just wanted to scream "WHY ARE THESE TWO THINGS THE SAME THING???"
Posted on December 10, 2013 at 7:20 pm
0
A+ for both examples of mayors "leading" involving strikebreaking!
Posted on December 2, 2013 at 2:10 pm
0
Just chiming in here to agree with Polly, because this letter did really speak to my history. My girlfriend my junior and senior year of college was unmedicated bipolar who had been hospitalized in high school; as is often the case with dating bipolars, when she was up it was amazing and fun and when she was down (which was a larger and larger portion of the time as our relationship wore on) she didn't want to do anything but stay home and didn't want to spend time with anybody but me, and I if I wanted to leave the apartment or hang out with anyone else it was basically the worst thing I could do to her. I wanted to end things after about a year but was terrified that dumping her would cause her to go completely off the rails. So I handled it terribly: I got into a grad school on the other coast, we had a short "well I guess it's going to be done when I graduate" conversation (she was a couple years behind me), then continued living in denial/couplehood for the next six months and I studiously deflected any hints she might drop about moving out to California with me (going so far as to sign up for a shitty university-owned graduate apartment specifically because I was forbidden in the lease from having anyone live with me).
And you know what happened after I snuck out of town? She got her shit together, got on good meds, changed her majors and got on an entirely new career path to which she's better suited, met somebody new and eventually married and had kids. She was fine. Meanwhile, I spent the next 2-3 years failing at academia, romance, social life, and adulthood, all things that I had been very certain that I was going to be great at once I no longer had this troubled girlfriend and co-dependent relationship "holding me back." She said to me, when she wrote me to tell me she was seeing someone, that she had always known that she'd get into a new relationship before I did. It turned out, really, that it wasn't about me, or mostly wasn't about me; she was just in a really shitty place and I was the one she was dating at the time. I don't want to go so far as to say that me dumping her was the catalyst she needed to get her life in order, because that too probably would be giving me too much credit. Who knows, maybe things would've gotten better for her if we had stayed together. But my dumping her was certainly not the terrible hammer blow that I narcissistically assumed it would be.
Posted on November 26, 2013 at 1:28 pm
6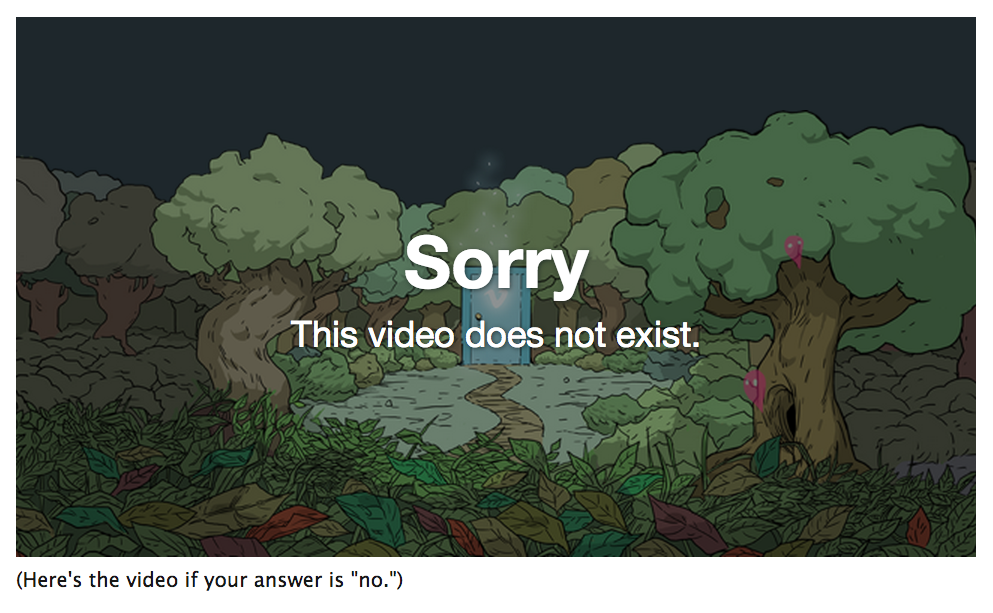 GOOD WORK EVERYONE WE ERASED IT FROM THE TIMESTREAM
Posted on November 4, 2013 at 12:10 pm
5